Katie Zaferes Earns 2018 ITU World Triathlon Series Overall Silver Medal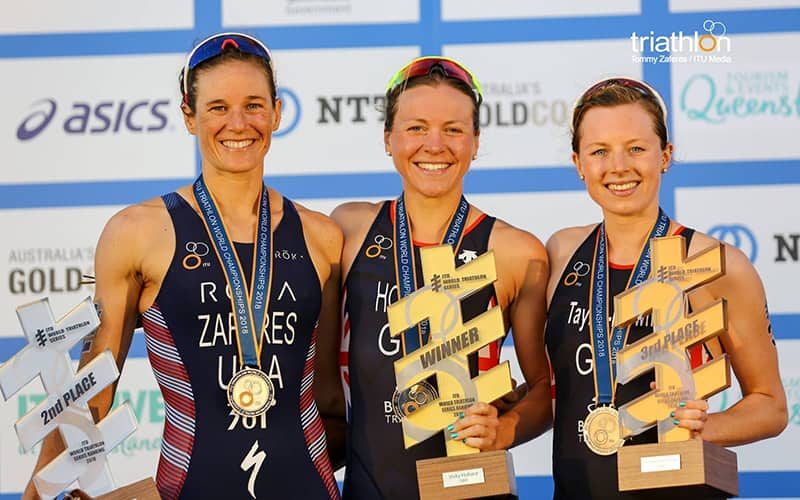 The 2018 ITU World Triathlon Series overall podium (L-R): Katie Zaferes (USA), silver; Vicky Holland (GBR), gold; Georgia Taylor-Brown (GBR), bronze.
GOLD COAST, Australia — Katie Zaferes earned the 2018 ITU World Triathlon Series silver medal on Saturday in Gold Coast, Australia, wrapping up a career-best season that has been defined by consistency. With her bronze-medal finish here at the ITU World Triathlon Grand Final, she closed the series ranked No. 2 behind only Great Britain's Vicky Holland, who was crowned world champion.

The ITU World Triathlon Series (WTS) is a season-long battle for the world championship crown, and the leader at the end of the series is named world champion. The Grand Final is the last race of the series, and is weighted more heavily in the rankings than regular-season WTS races.

Zaferes (Santa Cruz, Calif.) entered the Grand Final ranked No. 1 in the world, with Holland a close second. No other athlete was close enough in the rankings to compete for the series crown, meaning that between Zaferes and Holland, whoever finished ahead of the other in Gold Coast would be named world champion.

After a thrilling three-woman battle on the run, it was Australia's Ashleigh Gentle who grabbed the Grand Final victory on home soil. Holland was the runner-up and resulting world champion, while Zaferes finished third on the day to claim the world silver medal.

The Grand Final course featured a 1,500-meter swim, 38-kilometer bike and 10-kilometer run centered at Broadwater Parklands in Southport. Zaferes had an excellent swim, exiting the water in third alongside Holland and her British teammate Jessica Learmonth. The other four U.S. women in the race — Kirsten Kasper (North Andover, Mass.), Summer Cook (Thornton, Colo.), Taylor Spivey (Redondo Beach, Calif.) and Chelsea Burns (Seattle, Wash.) — also swam well to put themselves in the mix at the first transition.

An eight-woman lead pack formed on the first lap of the bike, including Zaferes, Kasper and Spivey; Holland, Learmonth, Jodie Stimpson and Sophie Coldwell from Great Britain; and Norway's Lotte Miller. The leaders held strong for four of eight laps, but were eventually reeled in by the chase. With a huge group heading into the second transition together, the race was to be won on the run.

After a bumpy transition that saw Zaferes struggle with a shoe, she bridged up to the front of the field with Gentle and Holland right on her shoulder. On the second of four laps, the American surged ahead and looked like she might run away with it — but Gentle and Holland were quick to turn on the gas on the back half of the course. Coming through the finish chute, it was an all-out sprint between the Australian and the Brit for the victory. Gentle broke the tape with a time of 1 hour, 52 seconds flat, with Holland two seconds behind her. Zaferes crossed the line 31 seconds later in the bronze-medal position.

"Today I tried a different tactic on the run, because I knew my typical way wasn't going to beat Vicky," Zaferes said. "I tried something different and I didn't beat her either, but I'm proud of myself for taking the risk for that. For the season, I'm just proud of myself for being solid the whole way."

Zaferes reached the podium in six of the eight races that made up the 2018 WTS season. Not only has she been consistent in 2018, but she has steadily worked her way up the world rankings for several years. Zaferes finished the 2015 season ranked fifth in the world; the 2016 season ranked fourth; the 2017 season ranked third; and the 2018 season ranked second.

"Every year I'm getting better and learning a little bit more, so I can't fault myself for that. I felt a taste of it today, where I can go and how to get there and what I need to get better with," Zaferes said. "You learn every race."

The U.S. women had an outstanding showing overall in the Grand Final, as three women placed in the top-10 and four in the top-13. Kasper, Spivey and Burns were all well-positioned at the end of the bike. Kasper ran her way to a fifth-place finish in 1:53:28, and matched her No. 4 overall series ranking from 2017.

Spivey crossed the line in seventh with a time of 1:53:28, and finishes the season with a career-best No. 8 WTS ranking. Burns was 13th in 1:54:06, finishing in the top-15 for just the fourth time in her WTS career. She ends the series ranked No. 22.

Cook had a disappointing race, finishing 41st in 1:59:32, but had a solid season overall to conclude the series at No. 25.

"It's amazing to have this many U.S. women working together," Kasper said. "We all motivate each other, and it's great to see that many of us up in the top-10. For (the Tokyo 2020 Olympic Games), we're going to have a really strong team. It's going to be a really competitive qualification period — but no matter what, it's exciting because we'll be in the mix."

To view the complete 2018 ITU World Triathlon Series rankings, visit wts.triathlon.org/rankings.

The four-day ITU World Triathlon Grand Final concludes tomorrow in Gold Coast with the Age Group Standard-Distance World Championships, the U23/Junior Mixed Relay and the elite men's Grand Final race. Visit goldcoast.triathlon.org for a detailed schedule, and click here for all start lists.

ITU World Triathlon Grand Final

1,500m swim, 38k bike, 10k run


Elite Women — Complete Results
1. Ashleigh Gentle (AUS), 1:52:00
2. Vicky Holland (GBR), 1:52:02
3. Katie Zaferes (Santa Cruz, Calif.), 1:52:33


U.S. Finishers
3. Katie Zaferes (Santa Cruz, Calif.), 1:52:33
5. Kirsten Kasper (North Andover, Mass.), 1:53:15
7. Taylor Spivey (Redondo Beach, Calif.), 1:53:28
13. Chelsea Burns (Seattle, Wash.), 1:54:06
41. Summer Cook (Thornton, Colo.), 1:59:32

2018 ITU World Triathlon Series — Final Rankings
1. Vicky Holland (GBR), 5,540 points
2. Katie Zaferes (Santa Cruz, Calif.), 5,488
3. Georgia Taylor-Brown (GBR), 4,183
4. Kirsten Kasper (North Andover, Mass.), 3,887
5. Jessica Learmonth (GBR), 3,810
About USA Triathlon
USA Triathlon is proud to serve as the National Governing Body for triathlon, as well as duathlon, aquathlon, aquabike, winter triathlon, off-road triathlon and paratriathlon in the United States. Founded in 1982, USA Triathlon sanctions more than 4,300 events and connects with more than 400,000 members each year, making it the largest multisport organization in the world. In addition to its work with athletes, coaches, and race directors on the grassroots level, USA Triathlon provides leadership and support to elite athletes competing at international events, including International Triathlon Union (ITU) World Championships, Pan American Games and the Olympic and Paralympic Games. USA Triathlon is a proud member of the ITU and the United States Olympic Committee (USOC).