United to Tokyo: Brad Snyder and the Transition to Paratriathlon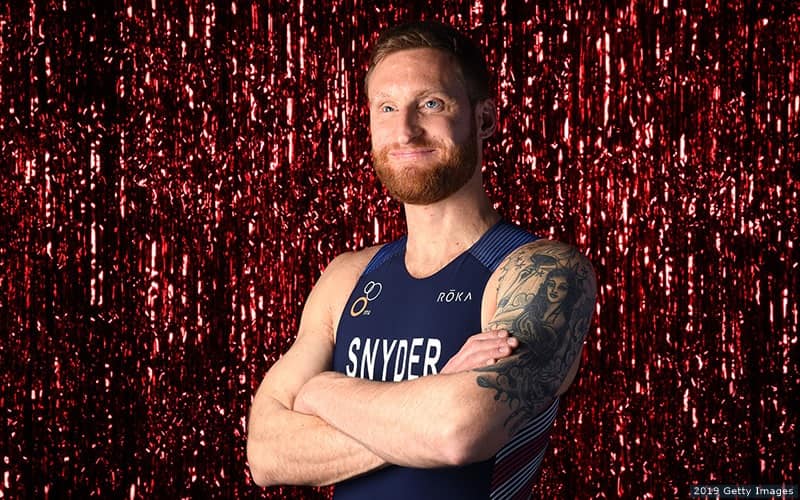 Brad Snyder is a U.S. Navy veteran, seven-time Paralympic medalist in swimming, and current member of the Toyota U.S. Paratriathlon National Team. A 2006 graduate of the U.S. Naval Academy, where he was captain of the men's NCAA Division I swim team, Snyder enjoyed his time competing in the water. In 2011, while serving with the U.S. Navy in Kandahar, Afghanistan, Snyder was blinded during an explosive incident. One year to the date of his accident, he won a gold medal in swimming in the men's S11 400-meter freestyle at the Paralympic Games London 2012. He went onto compete again in swimming at the Rio 2016 Games, earning a total of five gold medals and two silvers in his two Paralympic appearances.

In 2018, Snyder announced his transition to paratriathlon and has been thriving ever since. In two years of elite paratriathlon competition, Snyder has amassed a World Paratriathlon Series medal, a Paratriathlon World Cup medal and back-to-back podiums at the CAMTRI Paratriathlon American Championships. USA Triathlon recently caught up with Snyder to reflect on his Paralympic career to date and learn more about his short- and long-term goals in paratriathlon.

USAT: Can you share a little bit of background about how you got involved in Paralympic sport after your injury in Afghanistan?

Brad Snyder: I got injured in 2011. By then it was not the military's first rodeo as far as how to help someone go through this process, get back on their feet and move in the right direction. There are quite a few resources available to people in my situation, whether at Walter Reed National Military Medical Center (Bethesda, Md.) or Brooke Army Medical Center at Fort Sam Houston (San Antonio, Texas), or wherever else. A lot of people were trying to throw resources at my family and me about getting into sports. I think they recognized that sports are a familiar area for everybody who is in the military. We do a lot of physical training in the military, push-ups, sit-ups and running, which is an integral part of the military culture.

It is kind of a natural fit to start with sports to begin a rehabilitation process. Whether you are dealing with a loss of limb, a traumatic brain injury, or in my case blindness, I think there is a recognition in the rehabilitation space that you must cope with physical changes to your body and a shift of identity. Sports are a familiar place, and we are all competitive. If you can figure out how to get around the track or up and down the pool, it does not matter what your ability level is. There is still this competitive spirit that's brought out. It is a great place to work on that physical recovery and that mental re-identification.

When I was injured, the Warrior Games were an ongoing initiative and joint venture between the U.S. Olympic & Paralympic Committee and the Department of Veterans Affairs. I quickly asked to join the Navy team for the upcoming Warrior Games. I loved that everyone involved was excited to present to me the opportunity to do blind sports. Prior to my injury, I would not have known that blind individuals could do any sport. It was a function of my own ignorance, but I was grateful to have the opportunity to jump in. Fun story: I started with shot put and discus throw, and finally someone had the good idea to get me in the pool.

USAT: You were a competitive collegiate swimmer before your injury, and that is where you started your Paralympic career. What drew you back to the pool after losing your vision?

Brad Snyder: There were a lot of challenges posed by my blindness, and there was an under-appreciated dynamic that my family must go through this process as well. My mom is watching her son, who used to be capable of all these things, and she starts to worry if I will find the right clothes, how will I grocery shop, how will I feed myself, and how will I raise a family. My sister always looked up to me as a person who always has it under control, who always knows where he is going. She sees me as a hero who always will know the right answer or help her out in a sticky situation. However, now [after my injury] I could not even get out of bed. She had to see me struggle. It is earth-shattering. I needed to show my mom I would be okay, that I would be independent and thrive. I needed to show my baby sister that I am still going to be her rock, and show her how to navigate adversity, pick up the pieces, and move forward.

I think a lot of people in my community were looking at me. Our society does not have a relationship with disability. Our instant gut reaction is to pity them. "Ugh, it must be so hard to be in a wheelchair," or "Ugh it must be awful to be blind, I can't imagine what it would be like." I know I can speak for the disabled community when I say, we do not feel that way. I certainly did not feel that way when I was first blinded. I felt like I was given a second chance at life, and I wanted to figure out how to thrive. How to figure out how to be blind and still have a job, a family, and all those things. I was more optimistic about the future. I just needed a vehicle to show people that I am going to be fine, so do not feel sorry for me. Swimming was an awesome opportunity for me to do just that. Swimming has always been a part of my identity since I was a little kid. I started competitively swimming at the age of 11 and had the opportunity to go to the U.S. Naval Academy. I was the captain of our team that beat Army all four years I was there, and every year since. For me to jump into the pool and swim back and forth, fast and smooth — that showed people that I am going to be fine, I am still me.

The whole Paralympic dynamic was not part of the intention, but it came to fruition. It was fortunate in many ways that at the time I was injured, the Paralympic Games in London were right on the horizon.

USAT: What does it mean to you to represent Team USA as an athlete after doing so as a member of the U.S. Armed Forces?

Brad Snyder: It is different coming to the team after having a career, but it means something extra to me. My armed services were me dedicating myself to something bigger than me. There is an extra level of reward and satisfaction that my contributions, my racing and my medals have brought credit and honor to the United States. It one thing to win a race and everyone thinks it is cool, but it is another entirely when a country says, "I'm proud to be an American alongside athletes like Brad Snyder, Melissa Stockwell, or whoever else. I think it's an amazing dynamic and carries an extra weight.
Moreover, every athlete has a responsibility to be a role model, leader and example of what hard work and sportsmanship looks like. I take a lot of pride in not only competing well for my country, but also trying to turn that into a platform for leadership.

USAT: What personal traits did you develop from your military service that you think have helped you succeed as an athlete?

Brad Snyder: What I took away from the military is resilience. Resilience has a couple facets to it, one being physical. As athletes, we train to the point of exhaustion sometimes because in paratriathlon, there are hour-long races. You are going to hit that red line somewhere in the race, and if you are not prepared you will crumble. However, if you train and know how that redline feels, you're able to push through it on race day. That is what I mean by physical resilience. You train yourself in a way where you can handle the adversity and what you are putting yourself through on the racecourse, which is definitely something the military does very well.

More than that, resilience means being able to go into chaotic, uncertain and scary environments, and being able to thrive anyway. Combat or the battlefield is an inheritance of all three things. You can mission plan for months and months, but the moment you put boots on ground the mission will not go the way you planned it. You will have to deal with uncertainty and how to react in a way that you understand the consequences on the battlefield are lethal. You are protecting the people next to you, trying to protect your forces, and your country. If you make a mistake, someone can get killed, and that is a big deal. Being able to learn how to navigate that space, navigate uncertainty and fear, is an integral part of how we train in the military. Coping with the uncertainty and fear and still being able to thrive despite that.

I have found that sporting arenas are not so different. The Paralympics can be scary — there is chaos. You can plan it all day long, but once you get in the Paralympic Village, there are going to be curveballs. I think we can all see that with COVID, there are a lot of curveballs. The athletes who are able to deal with that uncertainty and that chaos are going to thrive, and the athletes who are not resilient are going to struggle. I think that is something I have been able to lean on in my athletic career, to give me an advantage over my competitors.

USAT: What motivated you to start competing in paratriathlon, even with such a successful swimming career?

Brad Snyder: It goes back to what I said about redlining. That concept applies across all domains. If you are not training to the edge of your capabilities, not pushing yourself, you are not going to push yourself beyond what you are capable of. You will remain static. If you go out and do 10 push-ups every day, you are never going to know if you can do 100. You must push the boundaries of your capabilities and move the needle. I set out to have an amazing London Games and enjoy that experience to the fullest. After London, I set out to win all three freestyle events in Rio and break a world record. When I finished the 100m freestyle in Rio, I did not feel like there was anything else I wanted to accomplish. There was always the 'Can you do it again?' type of deal, but I my heart was not in that. However, I was not done being an athlete. I was not done pushing my redline. There was always this lingering idea of switching to paratriathlon. It is a new challenge, but there is enough familiarity with the first 10 minutes of the race in the water. Getting up on a tandem bike and then guided running, those things I was not super familiar with. But I felt I had the ability to do well, so I started the challenge over at the bottom. I wanted to work my way up, and it has been a gratifying process. I did not know what I was doing when I first started. However, year after year and race after race, I have been able to make incremental improvement, and I'm happy with where I am within three-and-a-half years.

USAT: The men's PTVI (visually impaired) category seems like it's getting more competitive every year. Do you like that challenge?

Brad Snyder: I certainly love it and think it's a lot of fun. I had a breakout race in Yokohama, Japan, in 2018. There were four of us on the run all within 30 seconds of each other with multiple lead changes in the last 30 seconds. It was an exciting race, all four athletes were redlining, exhausted and in pain. Everyone was throwing themselves at the finish line and it was a cool, exciting thing. I am a competitor first, I certainly want to win, but I love a good contest more than anything. I'd rather get sixth in a great race than first in a non-competitive one. I am excited for our category, which is maturing. There is not much of a gap, with over 50 athletes in the field showing promise. It is a very competitive category for the foreseeable future.

USAT: Who is guiding you right now? The athlete-guide relationship is really unique — how do you go about finding a good pairing, and how do you know when you've found something that works?

Brad Snyder: It is tough. As the field has matured, so has the caliber of guiding. A number of our competitors in England and Europe all have guides who have competed in World Triathlon, some being former pros and Olympians. First and foremost, it pushes the need for you to have the highest caliber guide you can find. But to really answer this question, it must be someone that you thrive with and communicate well with. You must have a similar energy level and match your individual strengths. For example, being a swimmer, is important for me to get out in front of the field in the water to get the best advantage I can. I am not the best runner in the field, so it's important to get out ahead as much as possible. So, that's really what I am looking for in a guide. I have been racing with Colin Riley for the past three years, he is an outstanding athlete. However, this season I switched over to Greg Billington, a 2016 U.S. Olympian. He guided Aaron Scheidies in a few races this year and stepped in to be my guide as well.

Follow Brad's journey on Instagram @bradsnyderusa.

As part of USA Triathlon's #TokyoUnited campaign, we are sharing the stories of U.S. elite triathletes in the lead-up to the Tokyo Olympic and Paralympic Games this July and August. Follow @usatriathlon on Instagram, Facebook and Twitter to find these stories and more Olympic- and Paralympic-themed #TokyoUnited content.