Morgan Pearson is Ready for His Moment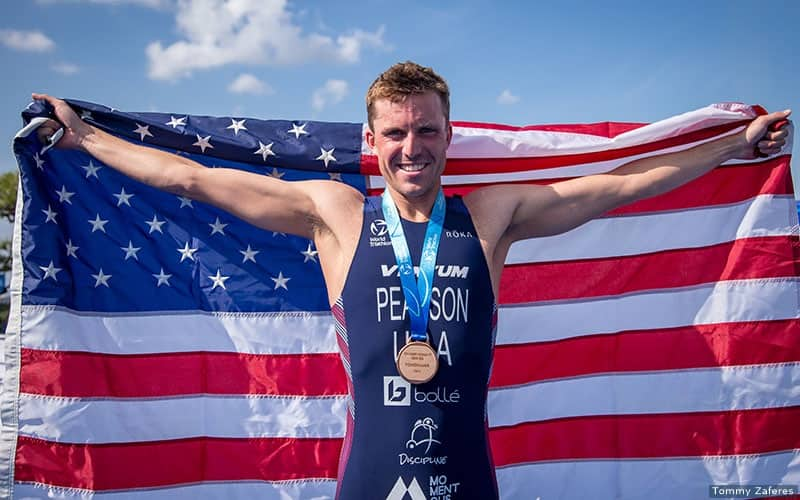 May 14 in Yokohama, Japan. It's past midnight on the east coast in the U.S. and Morgan Pearson, the former University of Colorado All-American runner who became a pro triathlete only three years ago, has just passed 26 runners on the first lap of the run at the World Triathlon Championship Series Yokohama to move into ninth place.
"WOW... @_Morgan_Pearson is FLYING #WTCSYokohama," tweeted four-time U.S. Olympian Hunter Kemper.
How many more people could he catch?
Eighth. Seventh. Sixth. Pearson only needed to finish in the top eight and he'd qualify for the Tokyo Olympic Games.
Fifth. Fourth. Pearson kept making his way to the front.
Third.
With a blistering 29 minute, 30 second 10k — that's a 4:45 per mile pace — Pearson earned bronze, qualified for his first Olympic Games and loudly announced to his World Triathlon Championship Series competitors he's a new force to be reckoned with.
The inspiring performance lit up social media, particularly among the running community.
"Watching the recap of the Yokohama race, @_Morgan_Pearson made up 35 POSITIONS on the run to finish 3rd, and qualify for the Olympic Games. The man is a competitor. Probably the fiercest I know," tweeted Noah Droddy, a 2:09 marathoner also living in Boulder.
Jonathan Gault, a journalist for LetsRun.com, weighed in, tweeting Pearson's running credentials: "Morgan Pearson is heading to the Olympics in the triathlon. His running accomplishments: 17th at NCAA XC in 2013 as the #2 man on Colorado's NCAA title team (also 25th in '15 when Colorado was 2nd), 2019 USATF Club Nats XC champ, ran 62:15 to win 2020 Michigan Pro Half Marathon."
Emma Coburn, a fellow University of Colorado alum and 2016 Rio Games bronze medalist in the steeplechase, messaged him congratulations.
Soon, media requests from outlets across the country flowed in. But Pearson was especially proud his inspiring performance caught the eyes of his peers in the running community.
"That's something I take a lot of pride in. I've stayed engaged in the running world long enough and I think I can kind of bridge that gap between running and triathlon," said Pearson, who has toyed with the idea of someday trying to qualify for and run at the U.S. Olympic Track and Field Trials in the 10k. "I know I'm not going to bring in crazy numbers of fans by myself, but I hope that more runners notice our races, my friends get excited to watch the races and they see triathletes, they see the times we're running and they're like, 'wow, that was pretty cool.'"
The world-class run speed was always there for Pearson. It's what always made him such a tantalizing triathlon prospect and a Collegiate Recruitment Program athlete. Just wait until the swim and bike come along, coaches said.
Pearson turned pro in 2018 (after winning USA Triathlon Age Group Nationals in 2017) and finished seventh in his first race, the Mooloolaba ITU World Cup in Australia. He anchored the U.S. at last year's Mixed Relay World Championship in Hamburg, clocking the fastest run split of the entire field, to help the U.S. earn silver. He's steadily improved since 2018, and last year, with most of the racing calendar wiped away because of the pandemic, Pearson dialed in on improving his bike and swim.
If Yokohama showed the gains he's made, his silver medal performance at the AJ Bell 2021 World Triathlon Championship Series Leeds on June 6 showed the world he's a bona fide medal contender in Tokyo. With the back-to-back medals, Pearson is the first U.S. man in history to earn multiple podiums in World Triathlon Championship Series racing (Jarrod Shoemaker and Matt McElroy are the only other Americans to podium).
"Ever since I became pro, every race I've started, it's always been about qualifying for the Olympics," said Pearson, who is proud to represent the U.S. at the Olympics and proud of the direction the U.S. men are heading after years of being overshadowed by the strength of the American women. "You look at (Matt) McElroy, he got a podium in Leeds two years ago and that was an inspiration for me. Kevin McDowell has been a huge help to me since I started, giving me a ton of advice. We're all supporting each other, we're all rooting for each other, pushing each other. We're moving in the right direction."
Stephen Meyers is the Content Manager at USA Triathlon and Editor in Chief of USA Triathlon Magazine.