Competing in her Second Olympics, Katie Zaferes Chases Gold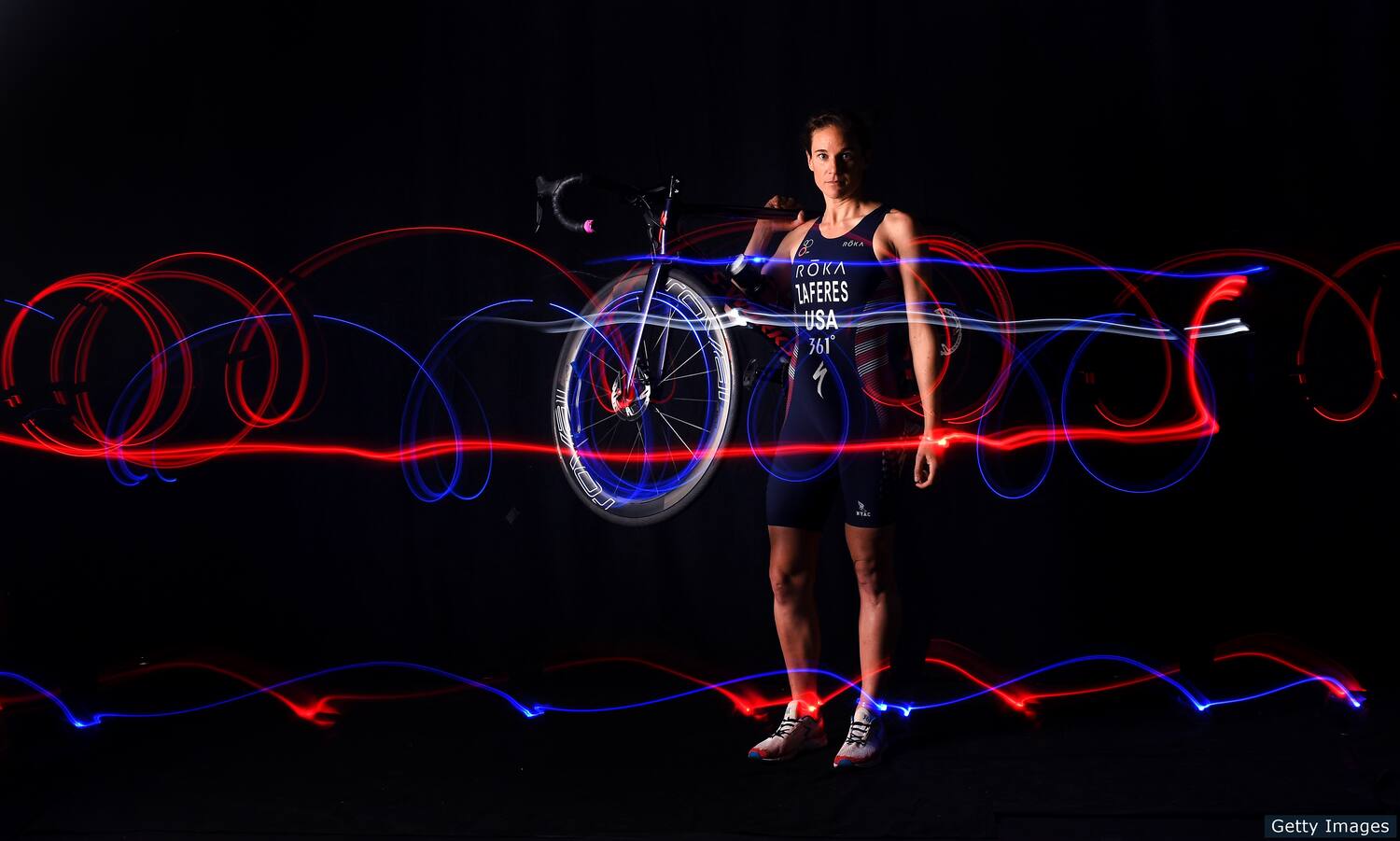 This article originally appeared in the summer 2021 edition of USA Triathlon Magazine. Check out here to read all Olympic Games Tokyo content.
"I never thought I'd be in this situation for Tokyo 2020/21," Katie Zaferes wrote in mid-May, after missing her last chance to automatically qualify for the U.S. Olympic triathlon team.
Instead of earning the requisite podium finish in Yokohama, Japan, the 2019 world champion placed 22nd while 23-year-old upstart Taylor Knibb clinched the second of three U.S. berths for the Tokyo Olympic Games.
That left Zaferes' Olympic fate solely up to four people on the U.S. selection committee. The criteria? Discretionary.
Five years earlier, Zaferes was in the exact same position: waiting for the committee to award her the last berth on the 2016 Rio Olympic team. Back then, she was just a third-year pro.
But now in June of 2021, Zaferes had superlative qualifications. Every year, she had made a remarkable — and remarkably linear — progression at the highest echelon of the World Triathlon Series rankings.
She rose from fifth in 2015 to fourth in 2016 to third in 2017 to second in 2018 — and, two weeks after a major bike crash that left her with a broken nose, 23 stitches in her gums, and a shoulder and leg so banged up that she had to swim one-armed for half of the lead-up to the last race of the 2019 season — she didn't just settle for a top-12 finish in the Grand Final to score the minimum points necessary to clinch No. 1 in the world, she won the entire race and, of course, the World Triathlon Series title.
During this quad, Zaferes had not only sculpted a sterling triathlon resume out of a semi-illustrious past as a second-team All-America in the steeplechase at Syracuse University, but she was also the last American woman in the elite field with Olympic triathlon experience.
This story should have been about how she surprised no one by clinching the first U.S. Olympic triathlon berth two summers ago. That was the plan, and Zaferes is a consummate planner. She likes a clear schedule. She races best on courses she's seen. She breaks down all the steps to success into minuscule bits. She keeps at least three journals at a time for different aspects of her career and life. She fills them all out differently — sometimes with a fine-tipped pen, sometimes in pencil and later in pen. She visualizes. A lot. She rehearses. A lot. She reflects. A lot. She's developed finely-tuned instincts about how much she can push and when it's best to back off in training.
She has built an incredible "database of experience," said Joel Filliol, her coach since 2014, and, in training has learned how to "disconnect the desire to be a completionist" from knowing how to train for a good performance.
But no one saw the crash coming in the penultimate event of 2019 — the first automatic Olympic qualifier — least of all Zaferes.
At the Tokyo Test Event, on a straightaway early in the ride, she looked back to shout something, when her wheels turned and went into a barrier, stopping her cold.
"I remember trying to decide: Can I keep going? A group passed. Blood was streaming. OK, I'm stopping," Zaferes said.
En route to the hospital, "I remember learning the results of the women's race in the ambulance," she said.
It was complicated. The top two finishers held hands across the finish line. The ITU (now known as World Triathlon) rulebook prohibited the hand-held finish as "a contrived tie." They were disqualified and everyone else moved up two places. Even without the boost to fifth place, Summer Rappaport was the top American in the top eight, so Rappaport claimed the first Olympic berth.
Zaferes thought: "I didn't just screw up qualifying for the Olympics, but did I just ruin my chance of being world champion?"
She went back to the crash scene the next day. It wasn't far from the athlete hotel, on an unremarkable stretch of road with few barriers. Zaferes had just happened to nail one. She and her husband, Tommy, a semi-retired pro triathlete and photographer for World Triathlon, tried to make the best of it. Doctors said she could eat whatever she could manage.
"(So) of course, Tommy and I go to eat [Japan's famous] fluffy pancakes — a terrible decision. I think I'd like to redo that experience without stitches in my mouth," Zaferes quips.
Back at the team's secondary training base near Lake Geneva, proper swimming was out of the question. Her shoulder didn't have much range of motion. Healing would take time.
"But we didn't know if we had time," Filliol said.
Zaferes maximized what little there was. Between single-armed pool sessions, she had her stitches taken out in Lausanne. While there, she checked out the course for the season finale. Realizing the notorious hill was steeper than those she trained on, she and Tommy immediately told Filliol to find a steeper hill.
In that 2019 Lausanne final, she proved fearless. To her relief, no one elbowed her broken nose in the swim. With one kilometer to go on the run, in a two-person breakaway with Jessica Learmonth of Great Britain, Zaferes accelerated for the win.
Bill Hursey, a 6-foot-3 Northrup Grumman systems analyst, waited to embrace her.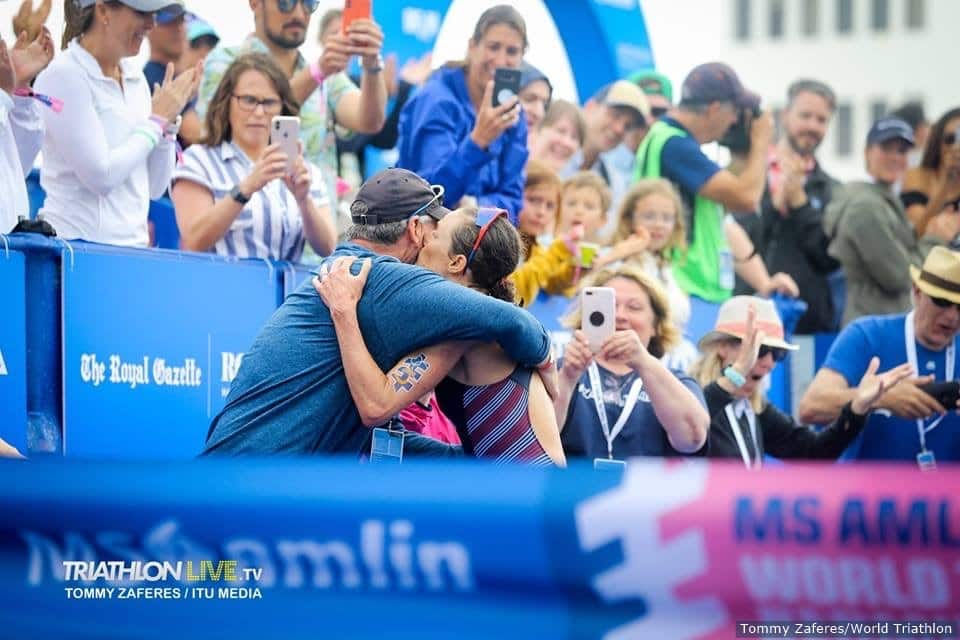 Bill was the one who talked Katie into doing her first triathlon, on Father's Day 2007, in Carroll County, Maryland. Bill was the one who struggled in the swim and wasn't abashed when his lap-counter yelled, "Try backstroke!" in his triathlon debut. Bill was "Dad," who eventually talked two of his three daughters into racing because, Katie assumed, he just wanted company.
It wasn't entirely true. According to her mom, Mary Lynn, Bill kept pondering something Katie's club swim coach told The Baltimore Sun in November 2006, when Katie was one of Maryland's best high school distance runners and a top club swimmer.
"Honestly," the coach told The Sun, "I think she has Olympic potential in the triathlon."
"Imagine if she had a bike" he'd tell her parents.
"Bill was like, 'Hmm, yeah, let's see what happens if she has a bike,'" her mother recalled.
She did get a bike and she was quickly discovered by Barb Lindquist, the 2004 U.S. Olympic triathlete who had just launched USA Triathlon's Collegiate Recruitment Program. Yet if Bill hadn't persuaded Katie into sticking out the program's first week of residency at the U.S. Olympic Training Center in Colorado Springs, her life, she said, "would definitely be more predictable."
She would have likely taught physical education, gotten a Master's degree in health, and married a different man. Instead, she made the 2016 Rio Olympic team three years after turning pro, and that article was resurfaced for posterity.
In Rio, however, Zaferes underperformed.
"Before Rio, I was listening and doing," Katie said. "I was focused on my limitations. I forgot my strengths. Now, when I race, I think: 'Let's see what I can do,' rather than: 'This is what I need to do.'"
After Rio, Zaferes also became highly proactive and fully invested in every part of her program. Her training group includes world champions Vincent Luis of France (2019, 2020), Mario Mola of Spain (2016, 2017, 2018), and Non Stanford of Great Britain (2013).
But when COVID-19 hit in March 2020, the world paused and everyone scattered.
The first three months, Filliol said, "we're in a holding pattern, dialing back, but not really recovering. It wasn't like the off-season. We had to be ready to restart when we got the green light. For Katie, at the pinnacle of her career, it was particularly difficult because there's few goals that she wants to achieve."
When racing resumed, Zaferes strung together a trio of respectable results, albeit unremarkable by her standards: fifth in Hamburg in September despite lingering uncertainty whether athletes would be let into the country; 11th a week later in the Czech Republic; sixth in Italy in October. The upcoming Yokohama race, on May 15, was potentially iffy due to the global pandemic situation.
Still training on April 8, Zaferes went for a run in Girona, Spain — carrying her phone, which she rarely does. It rang. She didn't recognize the number. Probably spam, she thought. It rang again. She ignored it. When she got home, Tommy was waiting by the door. He said Bill had a medical emergency at a store back in Maryland and was in intensive care.
A couple hours later, Bill passed away at age 60. Katie couldn't just hop on a flight. She first needed a COVID test. The clinic was closed. The results took time. Finally, she flew to Maryland where, for 10 days, she did little to no training. In Spain, coach Filliol thought, "Maybe she won't come back."
But she did, on a Friday. On Saturday, she planned to do a 75-minute easy run. She ended up doing a hard 95-minute tempo run. On Sunday, a similar thing happened on the bike. Filliol was checking in all the time.
"There was positive energy and she was motivated," Filliol said. "She was really seeking out structure. Having a routine and training partners takes some of the thinking out. She wanted to join others for everything."
Tommy was surprised by her strength. "She's been on fire," he said at the time, "her training has been incredible."
The truth? "I just really didn't want to run alone," Katie said.
Either way, the Yokohama Olympic qualifier marked the first race without her father. Zaferes fought to stay in it from the start.
"The first lap of the swim I felt empty, but I stayed focused," she said. On the bike, she got to the front group, only to get tangled in another rider's crash. By the end of the bike, she nearly caught the front pack. She told herself to "stay calm, believe, keep moving up one stroke at a time, one pedal at a time, one stride at a time."
"I was really proud of not giving up," she said.
Zaferes was still No. 1 in the world after Yokohama.
The Olympic selection committee had the option to announce early discretionary nominations by May 20. It didn't.
Zaferes had 88 days to prepare for Rio. For Tokyo, the June 16 decision meant she had 41.
Regardless, Filliol said, "She's shown that she's capable of winning pretty much any race. She knows she doesn't need her lifetime-best performance. That's a real asset, to go into a 'goal race,' knowing that you have achieved it before and you don't need perfection to achieve it again. She also has more than one way to be successful because she's very balanced across the three disciplines and doesn't depend on a particular thing happening in the race."
Ultimately, Zaferes said, "I love what I do. I don't feel like I'm at the top of my capabilities."