Triathlon Mixed Relay to Make Its Debut at Tokyo Olympic Games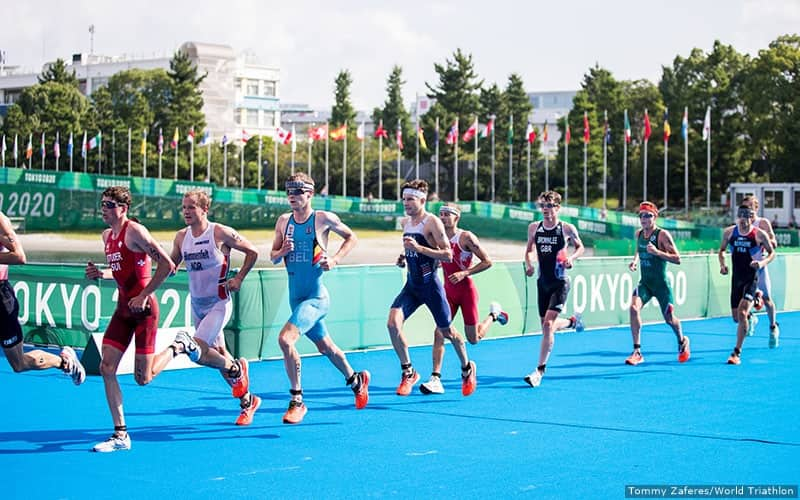 TOKYO — The thrilling debut of the Triathlon Mixed Relay will take place this Saturday at the Olympic Games Tokyo 2020, with Team USA ready to contend for the first Olympic medals ever awarded in the event. The race is scheduled for Saturday, July 31, at 7:30 a.m. in Tokyo, which is Friday, July 30, at 6:30 p.m. ET.

The race will air live on USA Network, and a livestream is also available on the NBC Sports App and NBCOlympics.com. Barb Lindquist, 2004 U.S. Olympian, and Joe Maloy, 2016 U.S. Olympian and member of the U.S. team that won the 2016 ITU World Mixed Relay Championships, will provide pre- and post-race commentary from the USA Triathlon Facebook page from 4:45-5:15 p.m. ET (pre-race) and 8-8:30 p.m. ET (post-race). Click here to learn more.

Each of the 17 countries on the start list will field a Mixed Relay team of two men and two women, with the order as: female/male/female/male. In the Olympic race, each athlete will complete a super-sprint triathlon consisting of a 300-meter swim, draft-legal 6.8-kilometer bike, and 2-kilometer run before tagging off to the next teammate.

Team USA's final four-person roster for the Mixed Relay event will not be announced until 5:15 a.m. JST on race morning (just over two hours before race start), but the selections will come from among the five members of the U.S. Olympic Triathlon Team who competed in the individual events earlier this week. While each country made its initial team submissions on Thursday, race-morning roster changes and order shifts are permitted and may play into the strategy for any team.

Kevin McDowell and Morgan Pearson will race as the only two U.S. men on the Olympic roster, while two of the three U.S. women — Taylor Knibb, Summer Rappaport and Katie Zaferes — will toe the line. Zaferes won a bronze medal in the women's individual event earlier this week.

This relatively new triathlon discipline was formalized in 2009, when the first World Championships were held in Des Moines, Iowa, A year later, the Mixed Relay made its debut at the Singapore 2010 Youth Olympic Games, and in 2017, it was announced that the event would be added to the program of the Olympic Games Tokyo 2020. In addition to the annual World Championships, held in Hamburg, Germany, since 2013, World Triathlon launched the elite World Mixed Relay Series in 2018.

Mixed Relay racing is fast-paced and strategic — rewarding athletes who have flawless transitions, strong technical skills and superior short-course speed. With each athlete taking two laps on the bike and two on the run before hitting the tag zone, the race is highly spectator-friendly and made-for-TV.

The U.S. is historically strong in the Mixed Relay format, earning five World Championship medals since 2009 — including gold in 2016, and most recently, silver in 2020. The U.S. team also took bronze at the 2019 Tokyo ITU World Olympic Qualification Event, which was held on the Olympic course at Odaiba Marine Park.

The Americans will face tough competition from three-time defending world champions France, who also won the 2019 Tokyo test event. Australia has been on the World Championships podium every year since 2015, except in 2020, when it did not field a team. Great Britain is one to watch after taking silver at the 2020 World Championships — and the British team will likely be buoyed by two athletes who won individual Olympic silvers earlier this week, Alex Yee and Georgia Taylor-Brown.

Flash Quotes — Mixed Relay (Pre-Race)

On what it's like to compete as a team in the Mixed Relay:

McDowell: "I don't think there's really words to describe the Mixed Relay. Triathlon is normally an individual sport, but there can be a lot of team aspects when you're out training together with teammates. So, to get to line up on the course with actual teammates, working together, it's pretty special. You're not out there just fighting for yourself, you're fighting for your teammates and country — one team, going after one result together. The camaraderie and the buildup and everything, it's just like nothing else I've experienced."

Knibb: "There is a lot of strategy involved, so it's a real opportunity for growth, because countries are still learning as they go. I feel like in three years it will look drastically different, and I'm excited to see how it evolves."

Zaferes: "It's super awesome to compete in the Mixed Relay because it's just so much fun having teammates and racing with your country. It's just a whole different vibe — because of course you want to do well for yourself in the individual, but when you're racing in the Mixed Relay, you're wanting to do well for your whole team and for the USA. It makes it a little more special."

On what makes the Mixed Relay a great spectator sport:

McDowell: "It's extremely dynamic. You have so many more players out there with it being mixed gender, and it's a lot more fast-paced. Sometimes in the individual race there are longer stretches of time where not much action is happening — but the Mixed Relay is so short and dynamic, there are always things happening and things that you'll miss if you aren't paying attention."

Knibb: "It's short and fast, so with our minimal attention spans these days, that's very helpful. It's also very unpredictable, with more opportunities to mix things up."

Rappaport: "The Mixed Relay is just so dynamic. Things are always changing, and you have athletes with different strengths going head-to-head in different legs. Things can change really fast, and there's almost always a really exciting finish. I think it will be a great way to draw spectators into the sport, especially now that it's at the Olympics."

On the atmosphere and camaraderie among the members of the U.S. Olympic Triathlon Team:

Pearson: "We're all really excited for Katie, who was third in the individual — and Kevin also had a great race, so I think we're all feeling pretty confident in each other. We all want to do well in the relay, and we're all really focused for it."

Rappaport: "The team atmosphere between the five of us is amazing. We're five people who really support each other, are proud of each other's accomplishments and pick each other up when we aren't having the best day. It's been great to share this experience with them."

Zaferes: "The team atmosphere here has been so amazing. It's been really fun to be hanging out with everyone and taking in this whole Olympic experience together. It's the first time the Mixed Relay is in the Olympics, and just to have that camaraderie amongst us while we're here has been really nice. It's fun and we're all excited to do something big here and know we have a great opportunity, and we're going to take full advantage of that."

For more information about USA Triathlon at the Olympic Games Tokyo 2020, visit usatriathlon.org/tokyo2020.

About USA Triathlon
USA Triathlon is proud to serve as the National Governing Body for triathlon, as well as duathlon, aquathlon, aquabike, winter triathlon, off-road triathlon and paratriathlon in the United States. Founded in 1982, USA Triathlon sanctions more than 4,000 events and connects with more than 400,000 members each year, making it the largest multisport organization in the world. In addition to its work at the grassroots level with athletes, coaches, and race directors — as well as the USA Triathlon Foundation — USA Triathlon provides leadership and support to elite athletes competing at international events, including World Triathlon Championships, Pan American Games and the Olympic and Paralympic Games. USA Triathlon is a proud member of World Triathlon and the United States Olympic & Paralympic Committee (USOPC).