USA Triathlon Announces 2020 U.S. Olympic Triathlon Team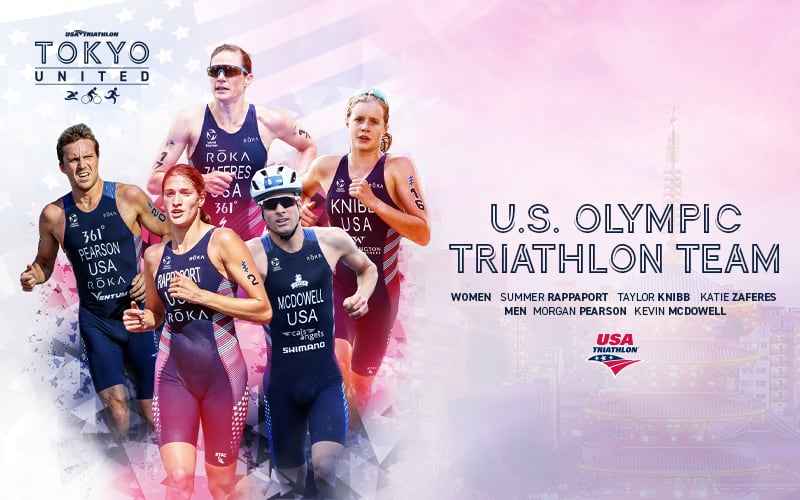 COLORADO SPRINGS, Colo. — USA Triathlon today announced its 2020 U.S. Olympic Triathlon Team, comprised of the five athletes who will represent the United States in triathlon competition at this summer's Olympic Games Tokyo 2020. Kevin McDowell (Geneva, Ill.) and Katie Zaferes (Cary, N.C.) were newly announced to the roster, joining Summer Rappaport (Thornton, Colo.), Taylor Knibb (Washington, D.C.) and Morgan Pearson (Boulder, Colo.), who were already qualified.

The five members of the Tokyo-bound team have a wealth of experience and success on the international race circuit, with a combined 32 World Triathlon Championship Series medals, 30 World Triathlon Cup medals and 12 World Triathlon Mixed Relay Series medals between them.

"Our athletes, like Olympic hopefuls across the world, had to put their dreams on hold when COVID-19 caused the postponement of the Tokyo Games to 2021. The perseverance they have shown during a time of so much uncertainty and change has been amazing to witness," said Rocky Harris, USA Triathlon CEO. "We have multiple athletes capable of podium performances in the individual events in Tokyo. We will also see the Triathlon Mixed Relay — an action-packed race that brings a team atmosphere to what is typically an individual sport — make its long-awaited Olympic debut. For all of these reasons, I believe we are going to witness the most unique and inspiring Games in history, and we encourage the entire multisport community to get behind our athletes and support Team USA before, during and after the Games."

"I am fired up by the talent and potential of this team, and excited to finally see our athletes in Tokyo in just a few weeks," said John Farra, USA Triathlon High Performance General Manager. "I want to take a moment to thank the team behind the team — the coaches, physios, dietitians, massage therapists, sports psychs, bike mechanics and USA Triathlon's corporate partners — as well as family and friends, who have provided support in so many forms to help these athletes' dreams become a reality. Finally, I would be remiss if I didn't acknowledge the very difficult decisions that the Games Athlete Selection Committee faced in order to finalize this team. USA Triathlon has an incredibly deep field of athletes, with more individuals deserving of a nod than there are spots available to Tokyo."

Toyota is a Proud Partner of USA Triathlon, as well as the International Olympic Committee (IOC), International Paralympic Committee (IPC) and U.S. Olympic & Paralympic Committee (USOPC).

"As a founding partner of USA Triathlon, we are proud to support the announcement of the 2020 U.S. Olympic Triathlon Team," said Dedra DeLilli, group manager, sponsorship, integration & auto shows, Toyota Motor North America. "The naming of the team who will represent the United States on the world's biggest stage has been a long time coming and is such an exciting moment for this elite group of athletes. Their perseverance and resilience on the road to Tokyo is extraordinary and we congratulate each of the athletes as they go for the gold."

Qualification Process
USA Triathlon designated two Auto-Selection Events for the U.S. Olympic Triathlon Team, in which athletes had the opportunity to auto-qualify for Tokyo by meeting specific criteria. The two Auto-Selection events were the 2019 ITU World Olympic Qualification Event on Aug. 4, 2019, and the 2021 World Triathlon Championship Series Yokohama on May 15. Rappaport became the first woman to qualify for the U.S. Olympic Team with a fifth-place finish at the 2019 Tokyo event. Knibb joined Rappaport on the women's roster by way of her victory May 15 in Yokohama, Japan, while Pearson claimed the first spot on the men's team thanks to a bronze-medal performance in Yokohama.

At the conclusion of the World Triathlon Olympic Qualification Period on June 14, based on the World Triathlon Olympic Rankings, the U.S. officially earned three spots for women and two spots for men. With Rappaport and Knibb already qualified for women and Pearson already qualified for men, that left one female spot and one male spot open to be named via discretion by USA Triathlon's Games Athlete Selection Committee, taking into account an athlete's full resume of results since the start of the Olympic Qualification Period (May 2018). McDowell and Zaferes were ultimately selected for the discretionary spots. For a complete explanation of U.S. Olympic Triathlon Team qualifying, click here.

Triathlon at the Olympic Games
Triathlon at the Olympic Games will include individual competitions for men and women, as well as a Mixed Relay, which makes its debut as an Olympic medal event. In the individual events, athletes cover a 1,500-meter swim, 40-kilometer bike and 5-kilometer run. In the Mixed Relay, four athletes from the same country (two men, two women) compete on a team. Each athlete covers a 300m swim, 6.8k bike and 2k run before tagging off to the next teammate, with the fastest combined time winning the race. The U.S. is historically strong in the Mixed Relay format, winning five World Championship medals including gold in 2016.

The Olympic men's triathlon competition is scheduled for Sunday, July 25, at 5:30 p.m. ET (Monday, July 26 at 6:30 a.m. Tokyo time). The Olympic women's event is set for Monday, July 26, at 5:30 p.m. ET (Tuesday, July 27 at 6:30 a.m. Tokyo time). The Mixed Relay is set for Friday, July 30, at 6:30 p.m. ET (Saturday, July 31 at 7:30 a.m. Tokyo time).

Taylor Knibb (Washington, D.C.)
Knibb, 23, is the youngest woman ever to qualify for the U.S. Olympic Triathlon Team. She has been the U.S. National Team's youngest member since she first made the team in 2017. A triathlete since childhood, she grew up competing in USA Triathlon's youth and junior elite circuit while running for her school's cross-country and track teams (Sidwell Friends School in Washington, D.C.) and swimming with Nation's Capital Swim Club. She went on to win the 2016 and 2017 Junior World Championships and the 2018 Under-23 World Championships — one of just three women ever to capture world titles at both the Junior and U23 levels. Knibb is a 2020 graduate of Cornell, where she ran NCAA track and cross-country for four years while balancing her elite triathlon career. She also joined the Cornell swim team her senior year. Today, Knibb trains in Boulder, Colorado, with Origin Performance Squad, an elite international training group coached by Ian O'Brien.

Summer Rappaport (Thornton, Colo.)
Rappaport, 29, was the first athlete to qualify for the U.S. Olympic Triathlon Team in 2019. She grew up in Colorado and attended Mountain Range High School in Westminster, achieving first team all-conference honors in both swimming and cross-country. She went on to compete in NCAA Division I swimming and cross-country at Villanova University. As a collegiate swimmer, Rappaport placed in the top eight of the Big East Championship in each of her four years. Throughout her cross-country career, she earned 2011-12 Academic honors, 2012 All-Mid-Atlantic Region, 2012 All-Big East, and placed fourth at the 2013 Big East Championships in the 5,000. After college, she was recruited to triathlon through the USA Triathlon Collegiate Recruitment Program and began competing as an elite in March 2014. She is a five-time World Triathlon Championship Series medalist and 13-time World Triathlon Cup medalist. Rappaport trains with The Triathlon Squad, an elite international training group coached by Paulo Sousa.

Katie Zaferes (Cary, N.C.)
2016 U.S. Olympian
Zaferes, 32, grew up in Hampstead, Maryland, and was a multi-time state champion in track & field at North Carroll High School. She went on to compete in track & field and cross-country for Syracuse University, specializing in the steeplechase and breaking multiple school records. She was later identified by USA Triathlon Collegiate Recruitment Program founder Barb Lindquist, who recognized her steeplechase background as a strong foundation for success in triathlon. Zaferes began competing at the elite level in 2013 and made her Olympic debut at the Rio 2016 Games, where she finished 18th. Zaferes has risen steadily through the international rankings throughout her career, placing fifth overall in the World Triathlon Championship Series in 2015, fourth in 2016, third in 2017, and second in 2018, before capturing her first career World Triathlon Championship title in 2019. She is the No. 1-ranked athlete in the World Triathlon Olympic Qualification Rankings heading into Tokyo. Zaferes lives in Cary, North Carolina, and is coached by Joel Filliol.

Kevin McDowell (Geneva, Ill.)
2015 U.S. Pan American Team Member, 2010 U.S. Youth Olympian
McDowell, 28, grew up participating in USA Triathlon's youth and junior elite triathlon circuit as part of the Chicago-based Multisport Madness Triathlon Team. He was USA Triathlon's Junior Athlete of the Year in 2009 and 2010 and represented Team USA at the 2010 Youth Olympic Games in Singapore, where he earned silver in the individual event and bronze in the Mixed Relay. He went on to win a bronze medal at the 2011 Junior World Championships. Later that year, he was diagnosed with Hodgkin's Lymphoma, and took six months off to complete chemotherapy. A year later, he returned to elite competition, making his senior-level World Cup debut. He would go on to win gold at the 2014 FISU World University Triathlon Championships, and silver at the Pan American Games Toronto 2015. McDowell is now a seven-time World Triathlon Cup medalist and recently celebrated 10 years cancer-free. He currently lives and trains in Colorado Springs, Colorado, and is coached by Nate Wilson.

Morgan Pearson (Boulder, Colo.)
Pearson, 27, is originally from Spring Lake, New Jersey, where he grew up as a competitive swimmer, ocean lifeguard and promising high school runner. He went on to run cross-country and track & field at the University of Colorado at Boulder, where he was a seven-time All-American. He got his start in elite triathlon through USA Triathlon's Collegiate Recruitment Program, which identifies top NCAA swimmers and runners who have the potential to excel as triathletes. After winning the overall title at the USA Triathlon Age Group Sprint National Championships in 2017, he debuted as an elite triathlete in 2018. He is experiencing a breakout 2021 season, winning bronze in Yokohama on May 15 and silver in Leeds, England, on June 6, to become the first U.S. male ever to earn multiple World Triathlon Championship Series medals. Pearson currently trains in Boulder and is coached by Dean Golich.

All U.S. Olympic Team nominations are pending final approval by the U.S. Olympic & Paralympic Committee. For more information about USA Triathlon at the Olympic Games Tokyo 2020, visit usatriathlon.org/tokyo2020. USA Triathlon will produce and distribute its Tokyo 2020 Media and Fan Guide in the coming weeks.

The 2020 U.S. Paralympic Triathlon Team will be named on Tuesday, July 6.

About Tokyo United
USA Triathlon is promoting its elite athletes in the lead-up to, during and beyond the Tokyo Olympic and Paralympic Games with its Tokyo United campaign. Tokyo United showcases the resilience, determination and teamwork shown by U.S. Olympians and Paralympians, and the communities surrounding them, on their path to the Games. Tokyo United also refers to the common experience shared by the USA Triathlon family over the last year — from amateur athletes, race directors, coaches and clubs whose racing plans were upended, to U.S. Olympic and Paralympic hopefuls whose dreams were deferred — and the many ways we lifted each other up in hopes of a more promising 2021.

The three-phased campaign begins with United to Tokyo, showcasing each U.S. Olympic and Paralympic triathlon hopeful's journey from childhood to the biggest stage in sport — along with the family and support systems that helped them along the way. The second phase, United in Tokyo, brings together the entire multisport community and the global Olympic and Paralympic family to support Team USA at the pinnacle of competition, and to revel in the long-awaited Olympic and Paralympic moment. The final phase, United Beyond Tokyo, will celebrate the achievements of the 2020 U.S. Olympic and Paralympic Teams before passing the torch to aspiring triathletes with Olympic and Paralympic dreams for the Paris 2024 and Los Angeles 2028 Games.

About USA Triathlon
USA Triathlon is proud to serve as the National Governing Body for triathlon, as well as duathlon, aquathlon, aquabike, winter triathlon, off-road triathlon and paratriathlon in the United States. Founded in 1982, USA Triathlon sanctions more than 4,000 events and connects with more than 400,000 members each year, making it the largest multisport organization in the world. In addition to its work at the grassroots level with athletes, coaches, and race directors — as well as the USA Triathlon Foundation — USA Triathlon provides leadership and support to elite athletes competing at international events, including World Triathlon Championships, Pan American Games and the Olympic and Paralympic Games. USA Triathlon is a proud member of World Triathlon and the United States Olympic & Paralympic Committee (USOPC).