U.S. Mixed Relay Team Earns Silver at Tokyo Olympic Games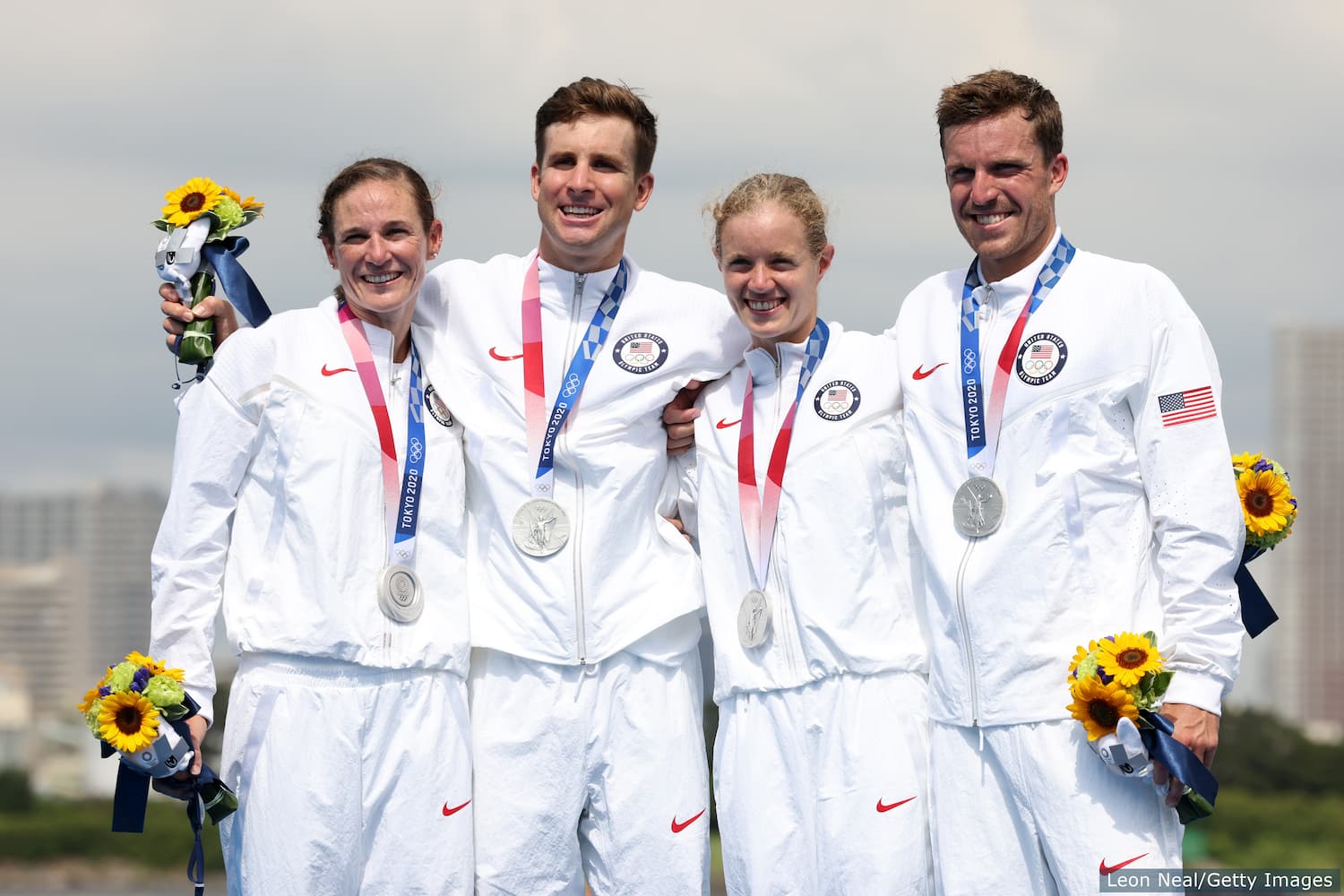 TOKYO — In a thrilling race, the United States earned the silver medal Saturday morning in Tokyo at the inaugural Triathlon Mixed Relay at the Olympic Games Tokyo 2020.
Great Britain won gold, while France earned bronze in the exciting and fast-paced event, which made its Olympics debut in Tokyo's Odaiba Marine Park.
The silver is the fourth medal in U.S. triathlon's history at the Olympic Games, and the first for U.S. men. Katie Zaferes won the bronze in the women's individual race on Tuesday, while Gwen Jorgensen won gold at the Rio 2016 Games and Susan Williams earned bronze at the Athens 2004 Games.
Zaferes teamed up with Kevin McDowell, Taylor Knibb and Morgan Pearson to form the U.S. team. Sixteen countries competed, each fielding a team of two men and two women, with each athlete completing a super-sprint triathlon consisting of a 300-meter swim, draft-legal 6.8-kilometer bike, and 2-kilometer run before tagging off to the next teammate.
Mixed Relay racing is fast-paced and strategic — rewarding athletes who have flawless transitions, strong technical skills and superior short-course speed. With each athlete taking two laps on the bike and two on the run before hitting the tag zone, the race is highly spectator-friendly and made-for-TV.
"Being able to share this with the world is really awesome. We love this event, we know how exciting it is. We know how much it takes to have four athletes show up at the same time, on the same day and be ready to go, especially after all of us racing our own individual races. I'm getting chills just talking about it," Zaferes said. "Having the camaraderie and racing as a team just gives you so much energy and it makes it even more significant. You're literally putting everything out there. When you race for yourself it's one thing, but when other people are relying on you it's a whole other feeling. It brings a pressure, but when you nail it, it's absolutely incredible."
The U.S. team nailed its execution, racing near the front throughout the relay, with Pearson 21 seconds behind Great Britain's Alex Yee — the silver medalist in the men's triathlon event — when he started the final leg after being tagged by Knibb.
France's Vincent Luis nearly caught Pearson in the swim, and eventually passed Pearson — and Yee — midway through the bike, using an aggressive attack to put France in the lead position. Luis and Yee came into transition with a 5-second lead on Pearson, setting up an epic all-out-sprint to the finish on the final run.
Yee quickly took a commanding lead, while Pearson — a former All-American runner at the University of Colorado Boulder — passed Luis halfway through the run to get the U.S. to silver.
"I just passed him and didn't look back. Vince is one of the best athletes in the sport — he's a world champion — I knew he wasn't going to give up, and he has a good kick," said Pearson, who lives and trains in Boulder, Colorado. "I wanted to save a little gear. I didn't look back until about 150 (meters) to go and didn't see him and I was like 'Oh my gosh, we're getting a silver medal.'"
For Pearson, the silver medal offers redemption after he finished a disappointing 42nd in the men's individual race.
"It was in the back of my head. It took away my confidence. I asked the team, 'Can you tell me that you believe in me?' Just because I needed it. They did that. Maybe they thought I was joking, but I wasn't. I needed them to reassure me and it really helped. By the time the race started, I was pretty confident," Pearson said.
Pearson, 27, also wanted to make his family proud, particularly his older brother Andrew, who passed away in March.
"This is for my brother and my family. They've been the No. 1 support for me. My mom is my No. 1 fan. Growing up, going to cross country races, she's like hiding in the woods in random places just so she can cheer for me," Pearson said. "I hope they're proud of me. I hope my older brother is watching and proud of me, too."
The U.S. battled against Britain throughout the race, as Zaferes gave the U.S. a narrow lead over Britain's Jessica Learmonth on the first leg. Zaferes tagged McDowell, who raced against Britain's Jonathan Brownlee, the two-time Olympic medalist.
McDowell, 28, grew up participating in USA Triathlon's youth and junior elite triathlon circuit as part of the Chicago-based Multisport Madness Triathlon Team. He represented Team USA at the 2010 Youth Olympic Games in Singapore, where he earned silver in the individual event and bronze in the Mixed Relay.
"Back in 2010, I was hoping the Mixed Relay would one day be in the Olympic Games and if it was I wanted to be there," said McDowell, who in 2011 was diagnosed with Hodgkin's Lymphoma, and took six months off to complete chemotherapy. A year later, he returned to elite competition, making his senior-level World Cup debut. He recently celebrated being 10 years cancer-free. "To share (this experience) with these people ... I have no words. These are incredible humans."
McDowell completed his leg 9 seconds behind Brownlee, who tagged Georgia Taylor-Brown, the silver medalist in the women's triathlon, who then extended Britain's lead. McDowell tagged Knibb, the 23-year-old, who used her strong bike skills to pull away from France's Cassandre Beaugrand and give Pearson a shot at chasing Britain.
"We knew what we needed to do. We didn't have to do anything fancy, anything special. We just had to go and race ourselves," McDowell said. "We had really good camaraderie coming in here and we've all been healthy and fit and we knew we had done everything to prepare and execute."
Olympic Games Tokyo 2020 — Mixed Relay
4x 300m swim, 6.8k bike, 2k run

1. Great Britain 1:23:41
2. United States 1:23:55
3. France 1:24:04
About USA Triathlon
USA Triathlon is proud to serve as the National Governing Body for triathlon, as well as duathlon, aquathlon, aquabike, winter triathlon, off-road triathlon and paratriathlon in the United States. Founded in 1982, USA Triathlon sanctions more than 4,000 events and connects with more than 400,000 members each year, making it the largest multisport organization in the world. In addition to its work at the grassroots level with athletes, coaches, and race directors — as well as the USA Triathlon Foundation — USA Triathlon provides leadership and support to elite athletes competing at international events, including World Triathlon Championships, Pan American Games and the Olympic and Paralympic Games. USA Triathlon is a proud member of World Triathlon and the United States Olympic & Paralympic Committee (USOPC).