Junior and Youth Elite Triathletes Shine at 2021 ZONE3 USA Triathlon Youth & Junior Nationals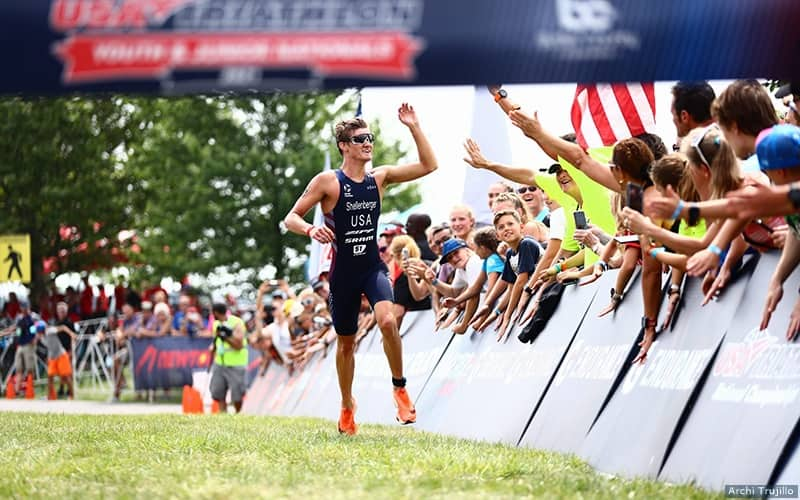 WEST CHESTER, OHIO — The nation's top up-and-coming triathlon stars showcased their talent Saturday at the 2021 Zone3 USA Triathlon Youth & Junior Nationals, held at Voice of America Park in West Chester for the ninth year, returning for the first time since 2019 after the 2020 event was canceled due to COVID-19.

More than 1,000 youth triathletes ages 7-19 are racing at Voice of America Park this weekend, and Saturday featured the draft-legal Junior Elite Nationals for high performance athletes ages 16-19 and draft-legal Youth Elite Nationals for athletes ages 13-15. Saturday also included youth age group races for athletes ages 13-15 and 16-18.

This weekend's races are all being held with COVID-19 safety measures in place according to USA Triathlon's Safe Return to Multisport initiative.

Drew Shellenberger (Tempe, Ariz.) captured the men's junior elite title, while Naomi Ruff (West Chicago, Ill.) won the women's junior elite title. Jimena De La Pena (Manor, Texas) won the girls' youth elite national title, while Eli McWard (Prosper, Texas) won the boys' youth elite race.

Athletes qualified for these races via their performances at the 2021 Youth Elite and Junior Elite Cup series. The draft-legal format is similar to the style of racing contested at the Olympic Games and other elite World Triathlon competitions.

Shellenberger covered the 750-meter swim, 20-kilometer bike and 5-kilometer run in a time of 56 minutes, 2 seconds – handily ahead of runner-up Nicholas Holmes (Glendale, Wis.) who finished second in 57:17. Reese Vannerson (Sugar Land, Texas) rounded out the podium, with a time of 57:21.

For Shellenberger, Saturday's win was a return to the top spot on the podium at Youth & Junior Nationals. The 2017 Youth Elite national champion, Shellenberger placed third at the 2018 Junior Elite Nationals and second at the 2019 Junior Elite Nationals.

"It's been four years since I took that top spot. I'm super excited to be back again. I can't believe it actually came to fruition. I've been training really well so I couldn't be more excited," said Shellenberger, who is a member of USA Triathlon's Project Podium, a men's elite development program based at Arizona State University in Tempe, Arizona. "I'm most proud of sticking to it on that middle half of the run. It's so hard to stay focused on that part of the run. I feel like I stayed focused pretty well. That's something that Parker (Spencer, head coach of Project Podium) and I have been working super hard on. That really came to help and I really drew on that experience in the middle part of the run. It couldn't have gone any better."

In the women's junior elite race, Ruff used a strong swim and the day's fastest 5k run (17:20) to win the race with a time of 1:03:30 — 4 seconds ahead of Freya McKinley (The Woodlands, Texas). Faith Dasso (New Braunfels, Texas) rounded out the podium with a time of 1:03:46.

"It feels awesome to be a national champion. I know I just had to give everything this last race and I'm really happy with how it turned out," Ruff said. "I'm originally a swimmer, so I know I had to push that swim and hold on, on the bike, and give everything on the run."

In the girls' youth elite race, De La Pena covered the 375m swim, 10k bike and 2.5k run in a time of 33:38. Ruth Pardy (Sioux Falls, S.D.) finished second in 34:02 and Mia Wentzy (Sioux Falls, S.D.) took third in 34:07. De La Pena exited the swim 4 seconds behind Pardy and Wentzy, rode an even bike split with the pair and then dropped the hammer on the run, covering the 2.5k in 8:42 — only 10 seconds slower than McWard's winning run time in the boys' youth elite race.

McWard won the boys' youth elite race with a time of 31:17 to hold off Blake Bullard (Roanoke, Texas) who finished second in 31:36. Evan Mahrous (Sioux Falls, S.D.) placed third in 32:05.

McWard's strategy coming into the race?

"Have a good swim. Crush the bike. Rely on my run. I knew I could do it," he said.

And his advice for new youth triathletes?

"Just have fun, most of all. If you're running and not having fun, you're not doing it for yourself," McWard said.

Also on Saturday, athletes ages 13-15 and 16-18 competed in the youth age group races, covering a 300-meter swim, non-drafting 10-kilometer bike and 2.5-kilometer run. No qualification was required to participate.

The fun in West Chester began Friday night with a live watch party for the first-ever Triathlon Mixed Relay event at the Olympic Games Tokyo 2020. More than 100 youth and junior athletes, their family members and coaches joined four-time Olympian Hunter Kemper to watch the U.S. earn the silver medal in the first-ever Olympic Triathlon Mixed Relay.

The racing action at the Zone3 USA Triathlon Youth & Junior Nationals continues on Sunday, with the youth age group races for athletes ages 7-12. Ages 7-10 will complete a 100m swim, 5k bike and 1k run, while 11- to 12-year-olds will complete a 200m swim, 10k bike and 2k run. Youth paratriathletes will also compete Sunday morning, taking on the same course as the 11-12 age group.

The weekend concludes with the Youth and Junior Elite Mixed Relay. Relay teams are made up of four competitors (two boys, two girls), which each team member completing a 250m swim, draft-legal 5k bike and 1.2k run before tagging off to the next athlete. Fifty relay teams are scheduled to compete.

For more information on the Zone3 USA Triathlon Youth & Junior Nationals, visit usatriathlon.org/yjn2021 or download the digital event program.

2021 Zone3 USA Triathlon Youth & Junior Nationals
Junior Elites: 750m swim, 20k bike, 5k run
Youth Elites: 375m swim, 10k bike, 2.5k run

Junior Elite Girls — Full Results
1. Naomi Ruff (West Chicago, Ill.) 1:03:30
2. Freya McKinley (The Woodlands, Texas) 1:03:34
3. Faith Dasso (New Braunfels, Texas) 1:03:46

Junior Elite Boys — Full Results
1. Drew Shellenberger (Tempe, Ariz.) 56:02
2. Nicholas Holmes (Glendale, Wis.) 57:17
3. Reese Vannerson (Sugar Land, Texas) 57:21

Youth Elite Girls — Full Results
1. Jimena De La Pena (Manor, Texas) 33:38
2. Ruth Pardy (Sioux Falls, S.D.) 34:02
3. Mia Wentzy (Sioux Falls, S.D.) 34:07

Youth Elite Boys — Full Results
1. Eli McWard (Prosper, Texas) 31:17
2. Blake Bullard (Roanoke, Texas) 31:36
3. Evan Mahrous (Sioux Falls, S.D.) 32:05

Youth Age Groups 13-18 — Full Results
300m swim, 10k bike, 2.5k run

Age 13
Female winner: Abby Poe (Bridgeville, Pa.) 35:14
Male winner: Alexander Pletcher (San Diego, Calif.) 33:00

Age 14
Female winner: Averi Duncan (Lubbock, Texas) 36:39
Male winner: Conor Fisher (Allentown, Pa.) 32:43

Age 15
Female winner: Maddie Fisher (Midlothian, Va.) 34:43
Male winner: Cameron Frazier (Dublin, Ohio) 33:21

Age 16
Female winner: Zoe Poe (Bridgeville, Pa.) 34:22
Male winner: Ben Brown (Morrisville, Pa.) 32:21

Age 17
Female winner: Alexandria Meyers (Quincy, Ill.) 36:13
Male winner: Luke Moore (Arlington, Texas) 32:41

Age 18
Female winner: Paige Black (Findlay, Ohio) 39:28
Male winner: Liam Dwyer (Loveland, Ohio) 34:21

About USA Triathlon
USA Triathlon is proud to serve as the National Governing Body for triathlon, as well as duathlon, aquathlon, aquabike, winter triathlon, off-road triathlon and paratriathlon in the United States. Founded in 1982, USA Triathlon sanctions more than 4,000 events and connects with more than 400,000 members each year, making it the largest multisport organization in the world. In addition to its work at the grassroots level with athletes, coaches, and race directors — as well as the USA Triathlon Foundation — USA Triathlon provides leadership and support to elite athletes competing at international events, including World Triathlon Championships, Pan American Games and the Olympic and Paralympic Games. USA Triathlon is a proud member of World Triathlon and the United States Olympic & Paralympic Committee (USOPC).