Battle for Olympic Selection Continues at World Triathlon Championship Series Leeds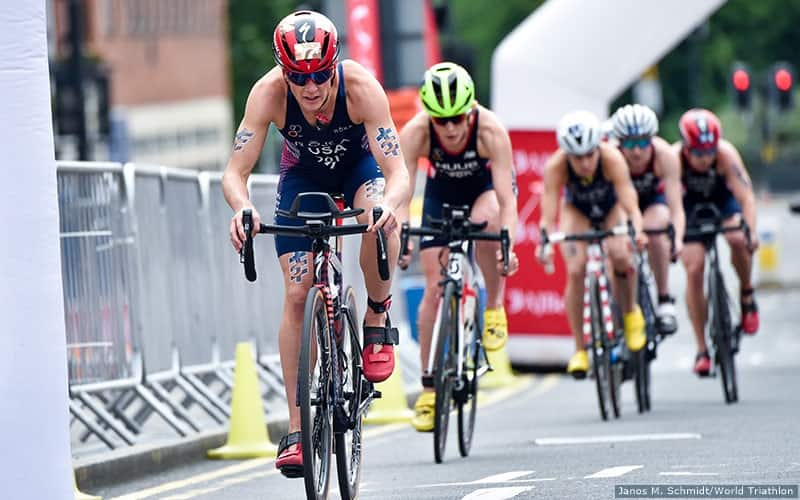 Katie Zaferes earned silver in Leeds in 2019, as part of a historic season in which she won the overall World Triathlon Series title.
LEEDS, England — With less than two weeks until the full U.S. Olympic Triathlon Team is named, seven Americans will look to make a statement this weekend at the AJ Bell World Triathlon Championship Series in Leeds, England. The event is the final WTCS race, and the second-to-last race overall, in the Olympic and Paralympic qualification window. A World Triathlon Para Series race is also scheduled in Leeds.

Paratriathletes kick off the action Saturday, June 5, at 9 a.m. ET (2 p.m. local time). On Sunday, June 6, the elite women take center stage starting at 8:08 a.m. ET (1:08 p.m. local time), followed by the elite men at 10:54 a.m. ET (3:54 p.m. local time). All events will be broadcast live at TriathlonLIVE.tv; monthly and annual subscriptions are available for purchase. The races will also be streamed live on FloTrack with a subscription.

For the elite World Triathlon Championship Series race, athletes will cover a 1,500-meter swim in Roundhay Park's Waterloo Lake, followed by a nine-lap, 40-kilometer ride and four-lap, 10-kilometer run through the park. The World Triathlon Para Series event is a sprint-distance, featuring a 750m swim, 20k bike and 5k run.

World Triathlon Championship Series — Women

Summer Rappaport (Thornton, Colo.) and Taylor Knibb (Washington, D.C.), the two U.S. women who have already punched their tickets to Tokyo, are not racing in Leeds.

The third and final women's spot on the 2020 U.S. Olympic Triathlon Team will be named via discretion by USA Triathlon's Games Athlete Selection Committee on June 16, making this weekend's event an opportunity for three U.S. women to make their case for selection. Leeds is not an Olympic auto-qualifier for the U.S. team — rather, results here may factor into discretionary selection among an athletes' full resume of results since the start of the Olympic Qualification Period (March 2019).

Taylor Spivey (Redondo Beach, Calif.) is the top American on the start list at the No. 2 spot, behind the Netherlands' Maya Kingma. Spivey placed fourth overall in the 2019 World Triathlon Series standings, was the top U.S. woman in fourth at the 2020 World Championships in Hamburg, Germany, and also placed fourth at the 2021 WTCS opener in Yokohama on May 15. Spivey is familiar with success in Leeds, earning her first career WTCS medal, a silver, here in 2017 and placing fourth in 2019.

Katie Zaferes (Cary, N.C.), the 2019 world champion and current Olympic Qualification Rankings leader, will also line up in Leeds after earning silver here in 2019. Zaferes had a dominant 2019 season, winning five of eight WTS races and claiming the series title. She is on the hunt for redemption after a 22nd-place showing in Yokohama in May.

Kirsten Kasper (North Andover, Mass.) is also on the start list. After recovering from multiple injuries, Kasper returned to the international podium on May 23 for the first time since 2018 with a bronze-medal performance at the World Triathlon Cup Lisbon.

The U.S. women will face stiff international competition from Flora Duffy, the 2016 and 2017 world champion from Bermuda; Vicky Holland, the 2018 world champion from Great Britain; and Lucy Charles-Barclay, a three-time IRONMAN World Championship silver medalist and one-time IRONMAN 70.3 World Championship silver medalist who is making her debut on the World Triathlon circuit. For the complete women's start list, click here.

World Triathlon Championship Series — Men

Morgan Pearson (Boulder, Colo.), who became the first man to qualify for the 2020 U.S. Olympic Triathlon Team with his bronze in Yokohama last month, is the top American on this weekend's start list at No. 3. The U.S. will send three men to Tokyo if three men remain in the top-30 of the World Triathlon Olympic Qualification Rankings by June 14. Currently, Pearson ranks No. 16, Matt McElroy (Huntington Beach, Calif.) is No. 18, and Eli Hemming (Kiowa, Colo.) is No. 28. The three athletes named to the U.S. Olympic Team are not necessarily the same three athletes who earn country quota spots. The final two spots on the team will be named via discretion by USA Triathlon's Games Athlete Selection Committee on June 16.

McElroy heads to Leeds fresh off a fifth-place finish at the World Triathlon Cup Arzachena last weekend. McElroy had a historic race in Leeds in 2019, taking silver to become the first U.S. man in a decade to medal in a World Triathlon Championship Series race. With Pearson's bronze in Yokohama last month, he and McElroy join Jarrod Shoemaker, who accomplished the feat in 2009, as the only U.S. men in history to medal at the WTCS level.

Also on the start list are U.S. National Team member Seth Rider (Germantown, Tenn.), who has a career best WTCS finish of 12th, and Chase McQueen (Columbus, Ind.), who is making his WTCS debut.

The U.S. men will face tough competition from Vincent Luis, the 2019 and 2020 world champion from France; current WTCS leader Kristian Blummenfelt of Norway, who took gold at the series opener in Yokohama; and 2016 Olympic gold and silver medalists Alistair and Jonny Brownlee of Great Britain. Click here for the complete men's start list.

World Triathlon Para Series

Twelve American paratriathletes will also compete in Leeds in search of hardware and Paralympic ranking points — which help the U.S. earn country quota slots for the Paralympic Games and may factor into discretionary selection for the U.S. Paralympic Team. The full U.S. Paralympic Team will be named in early July.

Three U.S. athletes who won their respective categories at the World Triathlon Para Series opener in Yokohama on May 15 — Kendall Gretsch (Downers, Grove, Ill., PTWC), Kelly Elmlinger (San Antonio, Texas, PTS4), and Melissa Stockwell (Colorado Springs, Colo., PTS2) — will be on the hunt for back-to-back victories. Hailey Danz (Colorado Springs, Colo., PTS2) will present stiff competition her teammate Stockwell, as while Danz did not race in Yokohama, she has medaled in every World Triathlon Para Series start since 2017.

Chris Hammer (Elkins, W.V.) will toe the line in the men's PTS5 category for the first time since 2019, when he won bronze at the World Paratriathlon Championships in Lausanne, Switzerland. Grace Norman (Jamestown, Ohio, PTS5), 2016 U.S. Paralympic gold medalist, also returns for the first time since taking bronze in Lausanne.

In the men's PTVI category, seven-time world champion Aaron Scheidies (Seattle, Wash.) and guide Ben Collins (Seattle, Wash.) will face one of the strongest international fields of the day, along with compatriot Brad Snyder (Baltimore, Md.) and his guide, 2016 U.S. Olympian Greg Billington (San Francisco, Calif.). Elizabeth Baker (Signal Mountain, Tenn.) and guide Jillian Elliott (née Petersen; Gig Harbor, Wash.) will make their 2021 season debut in the women's PTVI category.

Also set to compete in Yokohama are Howie Sanborn (Denver, Colo., PTWC), 2017 U.S. national champion in the men's PTWC category; Adam Popp (Arlington, Va.), three-time World Cup medalist in the men's PTS2 category; and Eric McElvenny (Pittsburgh, Pa.), 2019 national runner-up in the men's PTS4 category.

Click here for all paratriathlon start lists.

About USA Triathlon
USA Triathlon is proud to serve as the National Governing Body for triathlon, as well as duathlon, aquathlon, aquabike, winter triathlon, off-road triathlon and paratriathlon in the United States. Founded in 1982, USA Triathlon sanctions more than 4,000 events and connects with more than 400,000 members each year, making it the largest multisport organization in the world. In addition to its work at the grassroots level with athletes, coaches, and race directors — as well as the USA Triathlon Foundation — USA Triathlon provides leadership and support to elite athletes competing at international events, including World Triathlon Championships, Pan American Games and the Olympic and Paralympic Games. USA Triathlon is a proud member of World Triathlon and the United States Olympic & Paralympic Committee (USOPC).