USA Triathlon to Host Fifth Annual National Triathlon Week from June 21-27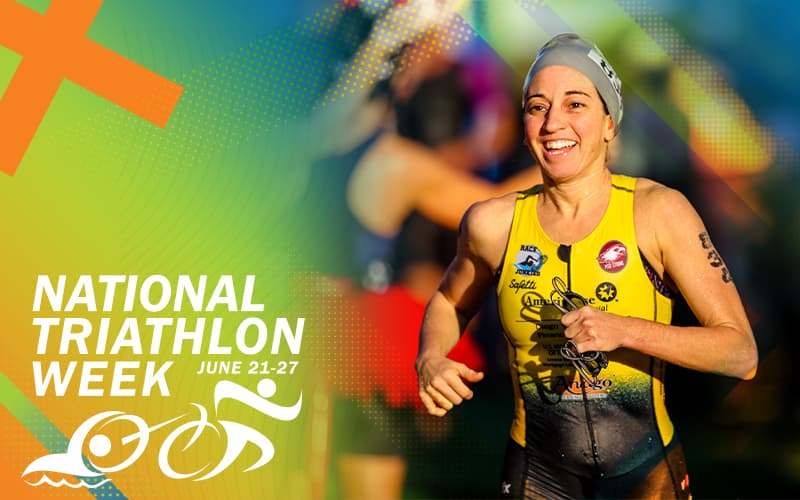 Photo credit: Fixed Focus Photography
COLORADO SPRINGS, Colo. — USA Triathlon today announced the dates for the fifth annual National Triathlon Week, a nationwide initiative to celebrate the sport of triathlon and all its constituency groups. The largely social-media-based campaign brings the multisport community together from June 21-27 — not only to swim, bike and run, but also to share experiences, inspiring stories, advice and support.

The complete schedule, along with ideas for how to participate, are available on the official landing page for National Triathlon Week: usatriathlon.org/triweek. Throughout the week, athletes are encouraged to get involved and celebrate the sport by posting on social media with the hashtag #TriWeek and tagging @usatriathlon. During National Triathlon Week in 2020, social posts about #TriWeek garnered more than 33 million impressions with a total reach of nearly 5 million.

With this summer's Olympic and Paralympic Games Tokyo 2020 quickly approaching (the Olympics are scheduled for July 23-Aug. 8, and the Paralympics from Aug. 25-Sept. 6), this year's National Triathlon Week will include ample Olympic- and Paralympic-themed content.

Fans can look forward to athlete features and a behind-the-scenes look into the lives of Tokyo-bound triathletes as part of USA Triathlon's #TokyoUnited campaign. USA Triathlon will join in the global celebration of Olympic & Paralympic Day on Wednesday, June 23, and will also open registration that day for the Virtual Tri to Tokyo presented by MANSCAPED.

"This year, National Triathlon Week is all about celebration. The multisport community is buzzing now that we're able to gather safely again — not only to race, but also to share in the daily joys of the triathlon lifestyle," said Thomas Lenneberg, USA Triathlon Marketing Director. "What's more, we have a thrilling Olympic and Paralympic Games coming up this summer, and #TriWeek is a chance for us to give a huge, collective cheer to our U.S. athletes as they prepare to represent us on the world stage."

A different multisport-related theme will be featured each day of National Triathlon Week, with daily prizes from USA Triathlon's corporate partners offered on the @usatriathlon social media channels:

Monday, June 21: Time to Tri Day
Tuesday, June 22: Community Appreciation Day
Wednesday, June 23: Olympic & Paralympic Day
Thursday, June 24: Swim Day
Friday, June 25: Bike Day
Saturday, June 26: Run Day
Sunday, June 27: Race Day

Individuals are invited to participate in #TriWeek in a variety of ways, from amateur and elite athletes sharing stories and photos on social media to certified coaches, officials and race directors offering their expertise. USA Triathlon will suggest activities that fit each day's theme, encouraging members to join the celebration by sharing photos on their own social media channels of themselves training and racing, using #TriWeek.

Video and editorial content will be shared daily on USA Triathlon's website and social channels, including inspiring age-group features showcasing the multisport community's #PowerWithin. USA Triathlon will also share content that promotes diversity, equity, inclusion and access in multisport as part of the organization's Together We Thrive campaign — including a video feature on Clarice Lorenzini, the only currently competing Asian-American female professional triathlete.

Virtual Tri to Tokyo Presented by MANSCAPED
Registration opens Wednesday, June 23 (Olympic & Paralympic Day) for this team-based virtual event that runs from July 19-Sept. 12. The Virtual Tri to Tokyo challenges participants to complete a total of 5,843 miles of swimming, biking and running — the distance from the U.S. Olympic & Paralympic Training Center in Colorado Springs to Tokyo's Odaiba Marine Park, which will host the triathlon competitions for the Olympic and Paralympic Games Tokyo 2020.

Lifetime Membership Contest
For the fifth consecutive year, athletes can enter to win a USA Triathlon Lifetime Membership by sharing their multisport journey and demonstrating how triathlon has helped them discover their Power Within. Submissions must either be emailed directly to communications@usatriathlon.org (subject line: "#TriWeek Power Within") or shared on social media, tagging @usatriathlon and using the hashtags #TriWeek and #PowerWithin. Previous Lifetime Membership winners have included Sue Reynolds (Bloomington, Ind.), Stephanie Van Bebber (Fairfax, Va.), Kyle Roberts (Aiken, S.C.), and Megan Tuncer (Kensington, Md.).

How Can I Find Out More?
Visit usatriathlon.org/triweek to learn more about National Triathlon Week. This online hub features a detailed explanation of all seven themed days, ideas on how to participate both online and in your community, frequently asked questions, Lifetime Membership Contest information and more.

About USA Triathlon
USA Triathlon is proud to serve as the National Governing Body for triathlon, as well as duathlon, aquathlon, aquabike, winter triathlon, off-road triathlon and paratriathlon in the United States. Founded in 1982, USA Triathlon sanctions more than 4,000 events and connects with more than 400,000 members each year, making it the largest multisport organization in the world. In addition to its work at the grassroots level with athletes, coaches, and race directors — as well as the USA Triathlon Foundation — USA Triathlon provides leadership and support to elite athletes competing at international events, including World Triathlon Championships, Pan American Games and the Olympic and Paralympic Games. USA Triathlon is a proud member of World Triathlon and the United States Olympic & Paralympic Committee (USOPC).