MANSCAPED™ Becomes Official Grooming Partner of USA Triathlon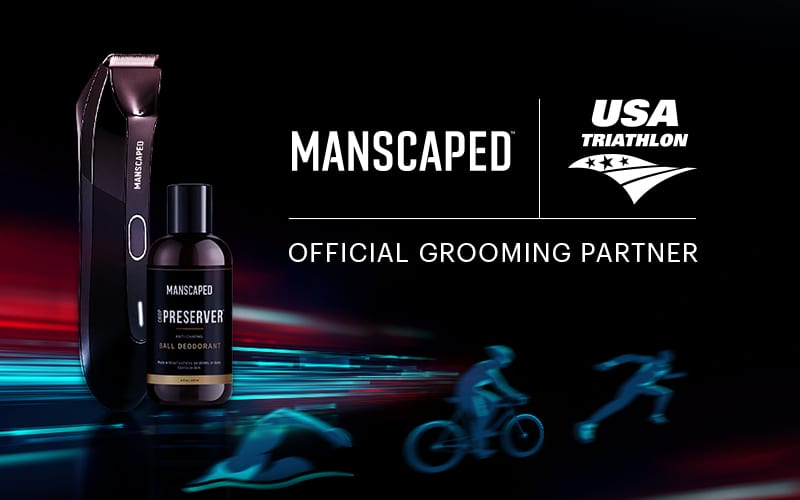 COLORADO SPRINGS, Colo. — USA Triathlon today announced it has partnered with the California-based company MANSCAPED™, which produces industry-leading men's grooming products including electric trimmers, razors and formulations, as its official Grooming Partner through 2021.

MANSCAPED will offer an exclusive standing discount to USA Triathlon Annual Members, as well as additional promotions throughout the year, and will produce a national commercial spot featuring USA Triathlon elite athletes.

The company will also serve as the presenting partner of the Power Within Virtual Tri to Tokyo, a team-based virtual event that challenges participants to complete a total of 5,843 miles of swimming, biking and running — the distance from the U.S. Olympic & Paralympic Training Center in Colorado Springs to Tokyo's Odaiba Marine Park, which will host the triathlon competitions for the Olympic and Paralympic Games Tokyo 2020. The Virtual Tri to Tokyo is scheduled to run from July 19-Sept. 12, and registration will open on June 23.

"The USA Triathlon team is made up of some of the greatest endurance athletes in the world. We're completely honored to be able to support them with the return of sport's biggest stage this summer," said Joey Kovac, Senior Director of Marketing at MANSCAPED. "Our products help unlock that race day confidence and allow these elite competitors to be ready for anything out there, without the need to worry about down there."

A partner of the Testicular Cancer Society, MANSCAPED is dedicated to raising awareness of men's health issues and cancer risk while sharing the importance of early detection and self-screening. To learn more about MANSCAPED's commitment, click here. The company also provides discounts to members of the U.S. Armed Forces, first responders and healthcare workers.

"USA Triathlon is thrilled to partner with MANSCAPED, a company that values and prioritizes men's health, wellness and hygiene, without taking itself too seriously," said Victoria Brumfield, USA Triathlon Chief of Staff and Chief Sport Development Officer. "We look forward to introducing MANSCAPED's best-in-class grooming products, along with a heavy dose of entertainment value, to the USA Triathlon multisport community."

MANSCAPED is a partner of several other iconic national and international sports teams and organizations, including global mixed martial arts giant UFC, the National Football League's San Francisco 49ers, the National Hockey League's Montreal Canadiens and Ottawa Senators, Germany's professional handball club Füchse Berlin, and professional football clubs the Wolverhampton Wanderers (Premier League), the Shamrock Rovers (League of Ireland Premier Division), and Hibernian F.C. (Scottish Professional Football League).

MANSCAPED products are available for purchase at MANSCAPED.com, on Amazon, and in Target and Best Buy stores across the United States. Direct-to-consumer shipping is also available in more than 30 countries.

About MANSCAPED™
Founded by Paul Tran in 2016, San Diego, California-based MANSCAPED is the global leader in men's grooming and hygiene below-the-waist, trusted by over 2 million men worldwide. The product range includes only the best tools, formulations, and accessories for a simple, effective, and elevated male grooming routine. MANSCAPED offers a one-stop-shop at manscaped.com and direct-to-consumer shipping in more than 30 countries, spanning the United States, Canada, Australia, New Zealand, the United Kingdom, the European Union, Norway, and Switzerland. Select products and unique bundles can also be found on Amazon with Prime and pickup options available. Retail placement includes Target and Best Buy stores throughout the U.S. and Hairhouse locations in Australia. For more information, visit the website or follow on Facebook, Instagram, Twitter, TikTok, YouTube, and Triller.

About USA Triathlon
USA Triathlon is proud to serve as the National Governing Body for triathlon, as well as duathlon, aquathlon, aquabike, winter triathlon, off-road triathlon and paratriathlon in the United States. Founded in 1982, USA Triathlon sanctions more than 4,000 events and connects with more than 400,000 members each year, making it the largest multisport organization in the world. In addition to its work at the grassroots level with athletes, coaches, and race directors — as well as the USA Triathlon Foundation — USA Triathlon provides leadership and support to elite athletes competing at international events, including World Triathlon Championships, Pan American Games and the Olympic and Paralympic Games. USA Triathlon is a proud member of World Triathlon and the United States Olympic & Paralympic Committee (USOPC).