Meet the First NCAA Varsity Triathlete to Qualify for the Olympics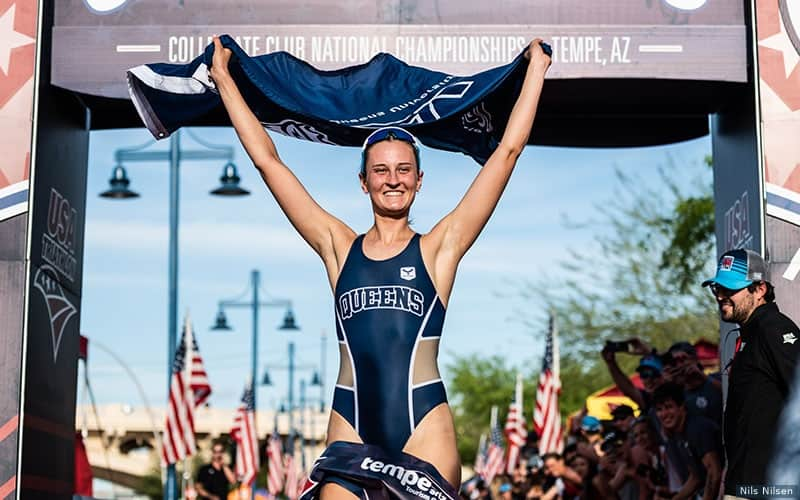 The Olympic rings that hung over her as she swam countless laps in the Queens University of Charlotte pool are now becoming a reality for Anabel Knoll.
In May, Knoll made history, becoming the first NCAA varsity triathlete to qualify for an Olympic team. Knoll will represent Germany in the 2020 Tokyo Olympic Games next month, competing in the individual Olympic triathlon and the mixed relay, which is making its Olympics debut.
Knoll qualified for the Olympics by placing first in the Deutschland Triathlon on May 26, securing the final women's spot for the German Triathlon Team. A 2019 Queens University of Charlotte graduate with a degree in biology, Knoll contributed to multiple NCAA and Collegiate Club national titles for Queens, including a mixed relay title in 2019.
Knoll's Olympic qualification accomplishment is not only a monumental individual achievement, but also a major milestone for Queens triathlon, USA Triathlon and the sport of triathlon at the NCAA level. An Emerging Sport for Women since 2014, triathlon is poised to soon become a full-fledged NCAA Championship Sport, offering female collegiate athletes around the country to compete in draft-legal triathlon.
"What Anabel has achieved right now, that is the tip of the iceberg," said Queens University of Charlotte's head triathlon coach, Sonni Dyer.
Knoll came to Queens after spending two years at another U.S. university where she participated in cross country and track. After hearing about the opportunity of triathlon as an NCAA Emerging Sport, she contacted Dyer. Knoll had a strong background in triathlon and wished to pursue the sport as far as she could.
This also gave her the chance to have training partners for all three disciplines and with other triathletes versus piecing together training sessions. Racing on the collegiate level allowed her to be around liked-minded student-athletes and also develop a more well-rounded mentality.
"When I was at Queens, I realized there was more important things than triathlon. I was always super focused but it helped me stay calm and relaxed and to not get under pressure like 'OK triathlon's the only thing in my life,'" Knoll said.
In addition to providing domestic students the opportunity to compete in triathlon at the next level, the NCAA Emerging Sport attracts many international athletes as well, including Knoll.
"The student athlete experience, both for the internationals and for the domestic students is greatly enhanced by having one another and learning from one another and seeing the work ethic of one another and collaborating with one another," Dyer said.
After suffering multiple injuries in her athletic career, including a broken elbow in February 2020, Knoll was surprised by her qualification for the Games.
"There will be more downs than ups. You have to overcome the low points before you can reach something great," Knoll said.
Interested in helping to identify and recruit the next women's varsity collegiate triathlon program? Inquiries may be directed to Tim Yount, USA Triathlon Chief Sport Development Officer, at tim.yount@usatriathlon.org.
Other NCAA athletes competing at the international
level
Several athletes have competed in NCAA triathlon and have represented their country on the international level. Here are a few:
Tereza Zimovjanová
Zimovjanová, representing the Czech Republic, is a future Olympic hopeful. Zimovjanová competed in triathlon for Queens University of Charlotte, graduating in 2019. She contributed to multiple NCAA National titles, winning the individual title in 2018 and was a part of the 2018 mixed relay national championship team.
Hannah Henry
Henry competed for Arizona State University and the Canadian National Team. Henry graduated in 2021 from ASU and contributed to multiple NCAA national titles. She won the individual title two years in a row (2017 and 2018). She also represented Canada in the 2016 and 2018 ITU Junior World Championships.
Gillian Cridge
Cridge is a rising sophomore at the University of San Francisco. She is the 2019 Junior Elite National Champion and represented the U.S. in the 2018 and 2019 ITU Junior World Championships.
Katie Gorcyzca
Gorcyzca graduated from Arizona State University in 2019 and contributed to multiple NCAA National Championships. She represented the U.S. at the 2018 FISU University Games and was named the 2016 Women's U23 Triathlete of the Year.