Registration Now Open for USA Duathlon Virtual Run-Bike-Run Presented by RaceX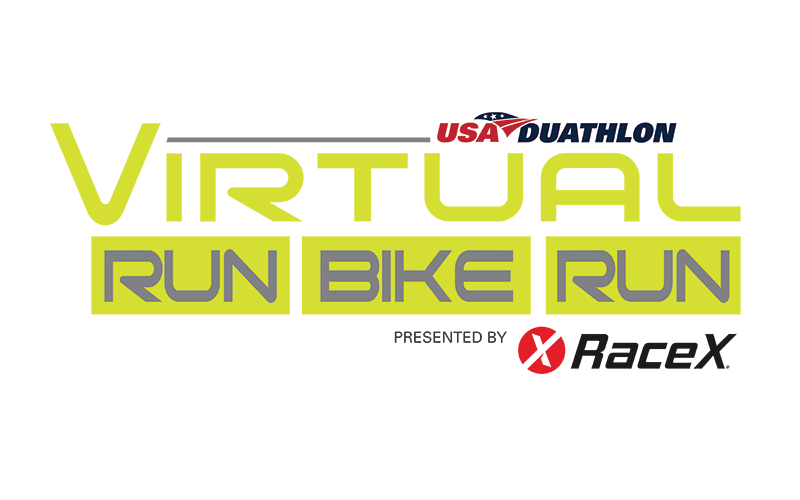 COLORADO SPRINGS, Colo. — USA Triathlon today announced the opening of registration for the second annual USA Duathlon Virtual Run-Bike-Run presented by RaceX, a virtual multisport challenge set for April 15-May 3.

The event is free to enter. Participants have the option to make a $35 donation to the USA Triathlon Foundation and receive a finisher's medal, or a $55 donation to receive a finishers' medal and a USA Triathlon-branded premium wall-mounted medal hanger. All donations will go to the USA Triathlon Foundation's general fund to help open pathways for all to swim, bike and run.

The 19-day challenge offers beginner and experienced athletes alike the opportunity to test themselves at the start of the racing season — whether they plan to return to in-person racing in 2021 or tackle their first-ever multisport event. Athletes can complete the challenge on their own time and at their own pace, from anywhere in the world. Registration is open now, and athletes can sign up at any point until the conclusion of the challenge on May 3. Click here to register.

The Virtual Run-Bike-Run is a cumulative challenge, and participants can track their progress on the FitRankings platform using run and bike leaderboards sortable by total mileage, time and elevation gain. Athletes will receive messages from USA Triathlon and FitRankings as they hit overall running and cycling milestones toward traditional duathlon distances: sprint (7.5-kilometer run and 20-kilometer bike) and standard (15k run, 40k bike).

The virtual event also serves as a precursor to the USA Triathlon Duathlon National Championships, a weekend of in-person racing set for May 22-23 in Tuscaloosa, Alabama. As athletes complete the cumulative distances in the Virtual Run-Bike-Run, their progress will be displayed on a map of the Duathlon Nationals standard-distance race course in Tuscaloosa. For more information about Duathlon Nationals, which does not require qualification and which will adhere to USA Triathlon's Safe Return to Multisport guidelines, click here.

"While multisport athletes across the U.S. will be able to race in-person this year, 2020 revealed the importance of virtual racing in helping attract new athletes to our sport," said Rocky Harris, USA Triathlon CEO. "The USA Duathlon Virtual Run-Bike-Run presented by RaceX enables athletes to test their racing legs on their own time, from their own backyards, as they gear up for a busy season. We also invite beginners who may have newly discovered or rediscovered the joys of running and cycling in 2020 to dip their toes into multisport racing for the first time with this virtual challenge."

"The USA Triathlon Foundation spent much of 2020 focused on supporting members of the multisport community who were acutely impacted by COVID-19," said David Deschenes, USA Triathlon Foundation Executive Director. "As we look ahead to a brighter future, we are proud to be able to continue that community support while focusing on broader programs and initiatives that advance our mission of opening pathways for all to swim, bike and run. We are grateful to those who choose to give back to the sport with a donation to the USA Triathlon Foundation as part of their participation in the USA Duathlon Virtual Run-Bike-Run."

Athletes can complete the entire challenge on one day or work toward their cumulative distance goal over multiple days or weeks. Workouts may be uploaded to the Virtual Run-Bike-Run platform, powered by FitRankings, at any time throughout the challenge. Run and bike activities can be synced to the platform automatically via most GPS-enabled fitness devices, smartphone apps and smartwatches — including Wahoo, Garmin, Apple Watch, Fitbit, Misfit, Polar, Suunto, Google Fit, RunKeeper, Apple Health and MapMyFitness. Manual uploads are also available.

Workouts may be completed outdoors or indoors, while observing all local social distancing and safety guidelines: spin bikes and stationary bikes, bike trainers and treadmills are all acceptable.

The Virtual Run-Bike-Run is presented by RaceX, USA Triathlon's Official Predictive Analytics Technology Partner. One participant will be selected at random to win a one-year subscription to RaceX PERFORMANCE valued at $228, which provides fully optimized race pacing plans, predictions, what-if analysis, and race-rehearsal tools powered by predictive analytics and AI, as well as athletes' own genetics and training data.

TrueForm, a global leader in non-motorized treadmill development and running education, is a supporting partner of the Virtual Run-Bike-Run. The first 100 people to register for the event and select the $55 USA Triathlon Foundation premium finisher's package will receive a $100 gift card, redeemable at trueformrunner.com. Compeed, USA Triathlon's Exclusive Blister Care Partner, is a contributing partner of the event.

Athletes are encouraged to share their progress with members of the nationwide multisport community as they complete the Virtual Run-Bike-Run, using the hashtag #VirtualRBR on social media.

To learn more and register today for the USA Duathlon Virtual Run-Bike-Run presented by RaceX, click here.

About USA Triathlon
USA Triathlon is proud to serve as the National Governing Body for triathlon, as well as duathlon, aquathlon, aquabike, winter triathlon, off-road triathlon and paratriathlon in the United States. Founded in 1982, USA Triathlon sanctions more than 4,000 events and connects with more than 400,000 members each year, making it the largest multisport organization in the world. In addition to its work at the grassroots level with athletes, coaches, and race directors — as well as the USA Triathlon Foundation — USA Triathlon provides leadership and support to elite athletes competing at international events, including International Triathlon Union (ITU) World Championships, Pan American Games and the Olympic and Paralympic Games. USA Triathlon is a proud member of the ITU and the United States Olympic & Paralympic Committee (USOPC).