Growing as an athlete: Triathletes find comfort and hope in gardening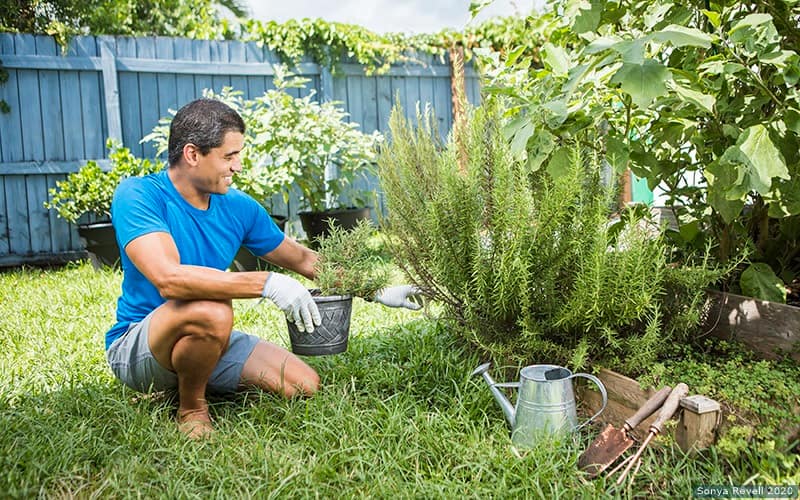 This article originally appeared in the Fall 2020 issue of USA Triathlon Magazine.
As a competitive age group triathlete, Leonardo Brea has always known that, when it comes to triathlon, you truly reap what you sow.
Every winter, the Miami-based Brea trains diligently, in hopes of harvesting a spring PR. But this year, in early March, it looked like all that training was for naught. One by one his goal races were canceled. With his schedule free, Brea started looking around for another PR to tackle. He found it in the backyard plot his wife had started a few years ago and abandoned as they'd both been too busy to tend to it.
The summer's hottest triathlon cross-training activity has been gardening. From pros to casual age-groupers, athletes are skipping the gym (if it's even open) and instead heading into the yard to till up beds and pull weeds. Like the sport of triathlon, many athletes are finding gardening is addictive — and as fall comes to a close, many are planning their spring 2021 plots.
Pro triathlete Rebeccah Wassner usually lives in New York City. But in March, as cases started rising there and she found her kids' schools closed indefinitely, the Wassner family pivoted. They — along with her sister, fellow pro Laurel Wassner — headed for their vacation home in New York's Hudson Valley.
For years, Rebeccah and her husband had talked about putting a garden in at their country getaway. But it didn't really make sense in the past, said Wassner. It's hard to tend a garden when you're only around on weekends. Now was the time.
And really, it was perfect timing, because in March, Wassner just couldn't seem to get herself out the door for training rides and runs. "I just felt a lot of anxiety, and training was not something I wanted to do. The garden became a good outlet," she says. In their first few weeks in lockdown, the Wassner family set up a seed starting operation in the living room. "We moved the couch and set up a plastic table next to the window," she recounted. Soon they had baby butternut squash and tomato plants peeking up. Those seedlings have become a prodigious garden, and Wassner says they'll miss it when they finally return to New York City this fall.
While Wassner was setting up her garden in her Hudson Valley home, Brad Culp, an age-grouper and journalist from Geneva, Illinois, was looking at the backyard he'd inherited and wondering whether he was up for taking it on. Culp and his wife moved to Geneva from downtown Chicago last fall, when they found out they were pregnant with their first child. "The people who lived here before us were obviously really into gardening and set up these beautiful beds. It's both a blessing and a curse, because it's a lot for me to take care of," says Culp. In March, his daughter was born. He'd expected new parenthood to suck up much of his training time, so his summer race schedule was light. He hadn't, however, foreseen a pandemic canceling what few plans he had. Suddenly those backyard beds felt like an opportunity, not an obligation.
You can draw a lot of parallels between veggie gardening and triathlons. Both are great for goal-oriented folks. Sure, flowers are nice, but what triathlete doesn't love the finish line of a perfect beefsteak tomato? Like triathlons, there's a pretty steep learning curve when you first start, too. Sometimes you have to find out what works and what doesn't (like not wearing underwear under your bike shorts and not planting too early in the season) the hard way. For Culp, this year's lesson was all about spacing. "Our melon garden took over half the backyard," he says, adding that he planted the cantaloupes too close to the watermelons, "and the cantaloupes ended up winning, and they murdered the watermelons."
Leo Brea, likewise, had a steep learning curve. His backyard garden took a beating from South Florida's relentless summer heat. But, he empathized with his drooping eggplants and squash. Unlike Culp and Wassner, Brea has stayed full-gas on his training plan. He still held onto a glimmer of hope for going to Kona — and he knew everyone else hoping to go was still training, so he wouldn't let himself step back. Still, those endless hours mostly done alone with no races to work toward have been a grind. "I told my coach, 'I'm going crazy here,'" he said. Every evening when he heads out to the garden to harvest herbs and tomatoes, "it's almost therapeutic," he says.
The quiet productivity seems almost able to wash away the frustrations of pandemic life.
It should not be surprising that gardening has felt like a mental health outlet for athletes like Brea and Wassner. A 2010 study published in the Journal of Advanced Nursing found that 50 percent of patients suffering from depression reported a clinically significant drop in their depression after a three-month gardening program. Some researchers suggest it's the contact with the microbes in the soil that seems to improve mental health. (At least in mice, ingestion of Mycobacterium vaccae, a microbe found in soil, has been found to reduce anxious behavior.) Others argue that maybe it's the dose of vitamin D you get while out in the sun. The exact mechanism, though, doesn't really matter, so long as you enjoy it.
Of course, there's one other reason why gardening may just become the fourth triathlon discipline: Because triathletes love food, and nothing satisfies more than produce you picked. "I don't know that my tomatoes really taste any better than the ones in the supermarket, but mentally they do," says Culp. Furthermore, garden veggies are often so prodigious that you find yourself consuming cucumbers or arugula at every meal, just to get through what you've produced. A 2014 review of studies conducted by researchers at Coventry University in the UK found both rural and urban gardeners consumed more fresh fruits and veggies than their peers. Want to improve your triathlon nutrition? Start a backyard garden.
For age group athlete Rebecca Stewart, of Newark, Delaware, having a small garden this summer both gave her something to do when she didn't feel safe going to the pool, and it made her trips to the grocery store less frequent. While this summer she stepped back her training due to a lack of races, she still felt like she had a reason to move at least a little bit every day. "It has helped keep my heart healthier than it would have been just sitting," she says.
Mostly, though, Stewart felt like planting a garden this spring was a tiny act of optimism in an otherwise bleak year. That was a sentiment shared by every athlete we spoke with. Triathletes may be likely gardeners because we're over-achievers who love food and love to be outside. But most of all, we're optimists. You can't sign up for an impossible-feeling race without a hopeful heart. The same is true for plunking seeds into bare dirt on a windy, early spring day. Better days are coming. Races are coming.
Joy is coming. With a little tending, effort, and time, we will get there.