Morgan Pearson Qualifies for U.S. Olympic Team with Bronze Medal in Yokohama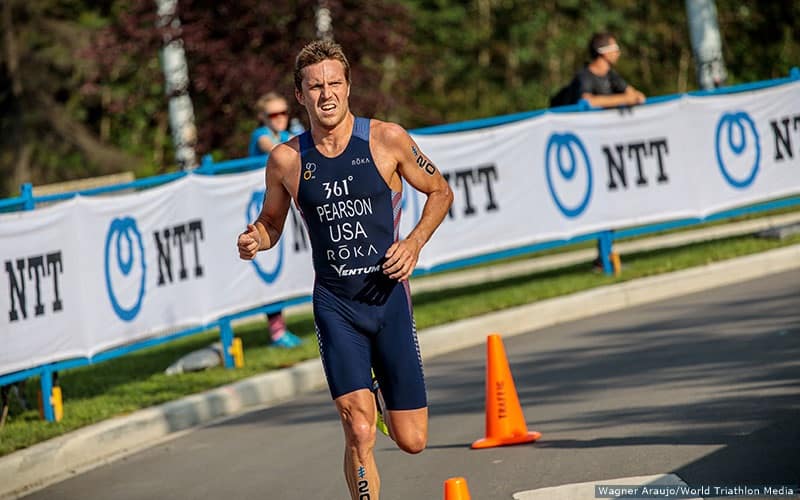 YOKOHAMA, Japan — Morgan Pearson, a 27-year-old University of Colorado graduate who began competing as an elite triathlete in 2018, today qualified for the 2020 U.S. Olympic Triathlon Team with a bronze-medal performance at the World Triathlon Championship Series in Yokohama, Japan.

Pearson (Boulder, Colo.) is the first U.S. man to qualify for the Tokyo Games. The World Triathlon Championship Series podium is the first of Pearson's career, and just the third in history for a U.S. man.

The race in Yokohama marked the second and final auto-qualification opportunity for the U.S. Olympic Triathlon Team. No U.S. men auto-qualified at the first opportunity, the 2019 Tokyo ITU World Olympic Qualification Event. Today in Yokohama, a U.S. man had to finish as the top American in the top-eight in order to qualify for Tokyo.

The U.S. will send a maximum of three men to Tokyo, as long as three men rank in the top-30 of the World Triathlon Individual Olympic Qualification Rankings by the end of the World Triathlon Olympic qualification window on June 14. All remaining team members, other than Pearson, will be named via discretion by USA Triathlon's Games Athlete Selection Committee. For a complete explanation of U.S. Olympic Triathlon Team qualifying, click here.

Pearson is originally from Spring Lake, New Jersey, where he grew up as a competitive swimmer and ocean lifeguard. He went on to run cross-country and track & field at the University of Colorado at Boulder, where he was a seven-time All-American. He got his start in elite triathlon through USA Triathlon's Collegiate Recruitment Program, which identifies top NCAA swimmers and runners who have the potential to excel as triathletes.

Pearson won the 2017 USA Triathlon Age Group Sprint National Championships to earn his elite license, and he made his debut on the World Triathlon international stage in 2018. He was the top U.S. man at the 2020 World Triathlon Championships in Hamburg, Germany, where he placed eighth.

Saturday's race featured a 1,500-meter swim, 40-kilometer bike and 10-kilometer run. Pearson was outside the top-20 after the swim, joining a chase group on the bike — but they were able to reel in the leaders within the first half of the 40k course. As the two groups came together, a pack of around 40 men formed and stayed together until the second transition. The race would come down to a test of speed and endurance on the run.

For the first half of the run, Germany's Jonas Schomburg, Belgium's Jelle Geens, Great Britain's Alex Yee and Norway's Kristian Blummenfelt strode out ahead of the field — but Pearson, in a chase group, stayed within striking distance. In the final 5k, Pearson laid his foot on the gas as Schomburg and Yee started to fade. In the end, Blummenfelt crossed the line first with a time of 1 hour, 42 minutes, 55 seconds. Geens took silver in 1:43:05, and Pearson completed the podium in 1:43:12.

"I don't think I've ever had a better feeling," Pearson said. "You put in the work and you do the training, and you know you're in shape to do something special, but none of that really matters when the race starts. You feel nervous and you feel like you don't belong, but you try to put those thoughts out of your mind and when you execute, it feels like you've climbed to the top of a mountain and it's just the best feeling in the world."

Pearson faced immeasurable challenges in the lead-up to the Yokohama event.

"I took a month off in March because my older brother, Andrew, passed away," Pearson said. "He gave me the boost I needed today, and I was just thinking about him. Hopefully when I'm at the Olympics, he'll be there with me."

With his bronze, Pearson became the third U.S. man in history to medal in a World Triathlon Championship Series race, joining 2008 U.S. Olympian Jarrod Shoemaker and fellow Tokyo 2020 hopeful Matt McElroy (Huntington Beach, Calif.), who accomplished the feat in 2019 with a silver in Leeds, England.

Kevin McDowell (Geneva, Ill.) was the second American across the line in Yokohama, placing 11th in 1:43:41 — less than 30 seconds back from Pearson.

Also racing for the U.S. men were McElroy, who placed 24th with a time of 1:45:41, and Ben Kanute (Geneva, Ill.), who finished 37th in 1:47:53. Eli Hemming (Kiowa, Colo.) did not finish due to a mechanical on the bike.

The U.S. also saw an exciting women's race in Yokohama, as 23-year-old Taylor Knibb (Washington, D.C.) won gold to punch her ticket to Tokyo and Summer Rappaport (Thornton, Colo.), who is already qualified for the Games, took silver. Click here for the recap of the women's race.

The elite season heads next to Lisbon, Portugal, from May 21-23. The Lisbon races include individual World Triathlon Cup events and a Mixed Relay competition. The Mixed Relay will debut as an Olympic medal event at the Tokyo Games.

2021 World Triathlon Championship Series Yokohama
1,500m swim, 40k bike, 10k run

Elite Men — Complete Results
1. Kristian Blummenfelt (NOR), 1:42:55
2. Jelle Geens (BEL), 1:43:05
3. Morgan Pearson (Boulder, Colo.), 1:43:12

U.S. Finishers
3. Morgan Pearson (Boulder, Colo.), 1:43:12
11. Kevin McDowell (Geneva, Ill.), 1:43:41
24. Matt McElroy (Huntington Beach, Calif.), 1:45:41
37. Ben Kanute (Geneva, Ill.), 1:47:53
Eli Hemming (Kiowa, Colo.), DNF

About USA Triathlon
USA Triathlon is proud to serve as the National Governing Body for triathlon, as well as duathlon, aquathlon, aquabike, winter triathlon, off-road triathlon and paratriathlon in the United States. Founded in 1982, USA Triathlon sanctions more than 4,000 events and connects with more than 400,000 members each year, making it the largest multisport organization in the world. In addition to its work at the grassroots level with athletes, coaches, and race directors — as well as the USA Triathlon Foundation — USA Triathlon provides leadership and support to elite athletes competing at international events, including World Triathlon Championships, Pan American Games and the Olympic and Paralympic Games. USA Triathlon is a proud member of World Triathlon and the United States Olympic & Paralympic Committee (USOPC).