Third Annual Endurance Exchange to Take Place Virtually March 3-5, 2022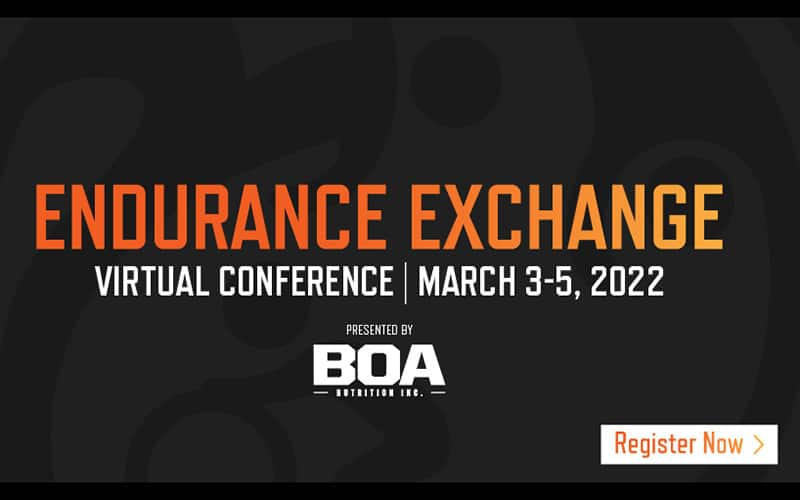 COLORADO SPRINGS, Colo. — The third annual Endurance Exchange presented by BOA Nutrition, an industry-wide conference for endurance professionals and athletes, will be held as a state-of-the-art virtual event March 3-5, 2022, USA Triathlon announced today.

This online experience for the second consecutive year affords everyone an opportunity to safely learn, share and network, and provides reduced costs and added flexibility for attendees. While the goal continues to be to bring the community together annually for an in-person conference, USA Triathlon received overwhelming feedback in a survey it sent a few months ago that many were still recovering and the cost of travel and lodging, as well as job professional and personal obligations, made a virtual conference the best option in 2022. The conference will also record all live sessions and provide attendees the option to view sessions on-demand on their own schedule for three months after the event.

Endurance Exchange is a joint effort to grow, inspire and support the multisport community by bringing industry stakeholders together to learn, share best practices, network and collaborate. The virtual format in 2022 will once again be hosted on Cvent and encourage participation from an even wider range of multisport constituents. The event is open not only to those involved in the business of triathlon, but also to multisport enthusiasts of all types — from beginners to competitive age-group athletes to Olympic and Paralympic hopefuls — as specific athlete-focused sessions will cater to all skill and experience levels.

"We continue to be pleased by the nearly 3,500 sanctioned races on the calendar in 2021 and impressed by the incredible work being done day-in and day-out by local race directors and their staffs to ensure all of us can race safely," says Rocky Harris, USA Triathlon CEO. "And while we get ready for even more racing in 2022, we recognize and appreciate both the uncertainty and unique professional, financial and personal challenges so many still face as a result of the COVID-19 pandemic, and understand the flexibility and cost-savings a virtual conference offers. We received overwhelmingly positive reviews on 2021's virtual conference, thanks to the dynamic speakers and engaged participants, and we look forward to playing a part in offering another great experience to the multisport community this coming March."

USA Triathlon is continuing to explore options for in-person educational, resource sharing and networking opportunities later in 2022 and will provide additional information as details are finalized.

"At BOA, our focus is on solving huge problems through novel products designed for human optimization," says Jon Pritchett, President and CEO at BOA Nutrition. "We think that focus can lead to personal achievements for every athlete, regardless of their age, experience, or skill level. BOA's OraBlast system is a truly innovative way to provide athletes with a convenient, concentrated, fast-acting, and great-tasting way to get key nutrients. The role of trainers and coaches is critical to educating athletes about the science of nutrition and we're proud to be the presenting sponsor of the Endurance Exchange and to help USA Triathlon push the boundaries of human optimization. It starts with education."

New in 2022, this year's event will feature a content track specifically for multisport club leaders and administrators, and two options for the Athlete Insider track for novices or advanced athletes. Attendees can also expect additional engaging and interactive features, including live polling, in-session chats, in-session surveys, and prizes for the most engaged conference attendees.

Registration for the 2022 event is now open at enduranceexchange.com at early-bird pricing of $150 for the All-Access track and $45 for the Athlete Insider track. All registrants will also have the opportunity to purchase or extend their USA Triathlon annual memberships for 12 months at a discounted rate of $35. Attendees will have the opportunity to earn up to 10 coaching and/or race director CEUs.

Nearly 1,100 members of the multisport community attended virtually in 2021 to engage with more than 60 hours content across nearly 80 sessions and more than 130 speakers. Registrants should expect a similar volume of content in 2022's edition.

The conference sessions will run from approximately 10:30 a.m.-6 p.m. EST on Thursday, March 3 and Friday, March 4, and from approximately 10:30 a.m.-2:30 p.m. EST on Saturday, March 5.

For the third year, USA Triathlon is offering a limited number of Together We Thrive Endurance Exchange scholarships to foster diversity and bring varied perspectives to the event. Interested candidates may apply here. Priority will be given to people of racial and ethnic minorities, women, and those who may not otherwise be able to attend due to financial constraints.

More information about session topics and speakers will be available at enduranceexchange.com as details are finalized. For sponsorship inquiries and other questions related to Endurance Exchange, please email info@enduranceexchange.com.

About BOA Nutrition
BOA Nutrition, Inc. is a sports nutrition, food, & dietary supplement company based in North Carolina. They develop unique products with novel ways to rapidly deliver essential nutrients so athletes of all ages and levels can optimize their performance. BOA's objective is to provide athletes with fast-acting, concentrated, great-tasting, & convenient products to use no matter where, when, or what the sport. The company's technology, and many other innovations from BOA, are protected by 18 provisional patents and a number of trade secrets. Follow BOA Nutrition, Inc. on Facebook, Instagram, LinkedIn and Twitter.

About USA Triathlon
USA Triathlon is proud to serve as the National Governing Body for triathlon, as well as duathlon, aquathlon, aquabike, winter triathlon, off-road triathlon, paratriathlon, and indoor and virtual multisport events in the United States. Founded in 1982, USA Triathlon sanctions more than 4,000 events and connects with more than 400,000 members each year, making it the largest multisport organization in the world. In addition to its work at the grassroots level with athletes, coaches, and race directors – as well as the USA Triathlon Foundation – USA Triathlon provides leadership and support to elite athletes competing at international events, including World Triathlon Championships, Pan American Games and the Olympic and Paralympic Games. USA Triathlon is a proud member of World Triathlon and the United States Olympic & Paralympic Committee (USOPC).