Hello Im Sade Smith and I Want to Talk About the Importance of Representation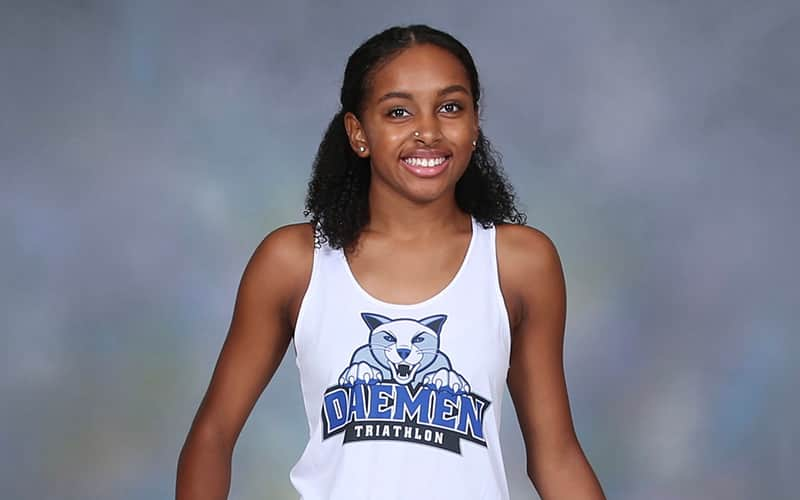 Sadé Smith is a sophomore at Daemen College and a member of the women's collegiate triathlon team. In this new monthly blog series, Sadé will share her experience in the sport, and how, as a Black woman, she hopes to change the demographics of the sport to include more minority athletes.
Growing up, I was always involved in sports. My multi-sport journey began as a competitive swimmer and a travel soccer player throughout elementary school. At 8 years old, my parents registered me for my first triathlon.
The next few years following that race, I competed in a few more triathlons over the summers. In every race, I was able to continue to improve and place higher in my age group, and eventually placed in the overall rankings. Competing in triathlons at that time was a very new experience for me, especially at such a young age.
I am very grateful that I was introduced to the sport because I fell in love with it immediately. Currently, I am a sophomore at Daemen College, majoring in physical therapy and a member of their NCAA Women's Triathlon team.
After making the decision to either make triathlon or soccer my primary sport, I chose triathlon because I loved that the sport allows me to train in three different disciplines — swim, cycle, and run. At the age of 12, I began racing triathlons more frequently and decided that I wanted to train with a team instead of training by myself. I joined a high-performance triathlon team, Endorphin Fitness out of Richmond, Virginia.
At the time, my triathlon team was not local, requiring my parents to drive 2-3 hours multiple times a week to allow me to practice with my teammates. Despite being one of the younger athletes on the team, I was also the only athlete of color for several years. It was apparent to me that I stood out from the rest in the sense that I did not look like the other boys and girls on my team.
It was not until I began competing in larger races that I started to see more minority triathletes, specifically African American triathletes. As I continued competing in triathlon, I was always one of few, if any, Black athletes. Standing out from everyone else at competitions was not a new experience for me because it was the only thing I was used to at the time, and even now.
It was not until I was in high school when I realized that my goal to become a collegiate triathlete was possible. While still attending my club triathlon practices multiple times a week year-round, I was also training with my high school's cross country, swim, and track teams during their respective seasons. Due to my triathlon season primarily taking place in the summer, training with my high school in the fall and winter was a perfect time to cross-train.
Another way I was able to cross-train during my off season was competing in cyclo-cross races. Not only did cyclo-cross help improve my bike handling skills, but I also had a lot of great experiences, and eventually earned the title of the 2017 Mid Atlantic Bicycle Race Association Cyclocross Champion in the Under 19 Category at 15 years old.

It is support from my family, friends, and coaches that helps drive my passion and motivation to continue to aim to become a stronger triathlete. It is with their constant support that I have reached the level of competition I am at today. While training with Endorphin Fitness, I raced the Youth and Junior Elite Circuit for several years. This gave me exposure to higher-level competition within my age group and distance of racing. I was also exposed to duathlons during my Junior year of high school. In that same year, I raced at the 2017 Duathlon National Championships and earned my first qualifying spot at the 2018 ITU Draft Legal Sprint Duathlon World Championship in Odense, Denmark. Racing in Denmark was my first international race, and it was an experience that I will never forget, ending the race with a top 10 finish. I later on qualified for and competed at the 2019 ITU Draft Legal Sprint Duathlon World Championship in Pontevedra, Spain and the 2019 ITU Draft Legal Sprint Triathlon World Championship in Lausanne, Switzerland.

Being in the triathlon and multi-sport community has allowed me to have exposure to so many great opportunities and meet new people. I am very grateful for the group of people that I have surrounded myself with over the years. As the sport of triathlon continues to grow, my age group is becoming more diverse. While triathlon is a growing sport, it is still not a well-known sport to many youths, particularly in the minority community. When I joined the triathlon community, I knew that there was a need for change, and there still is today.
Over the past few years, I have participated in triathlon clinics for the youth to introduce triathlon and the skills needed to participate in triathlon. In my local community, I have given back to children who are interested in participating in triathlons by volunteering at triathlon clinics in 2015, 2016, and 2017. At local triathlon clinics or camps, I have assisted in demonstrating and coaching the youth on each leg of the triathlon. I have also volunteered at local kids' triathlon races to make sure it is safe and fun. Ultimately, it is my goal to increase the number of minority youth to the sport of triathlon. In doing so, I hope to achieve increased awareness of water safety, increase the number of minority youth who know how to swim, and hopefully, increase the number of swimmers to participate in triathlons. It is my hope that by introducing triathlon and focusing on swimming will have a positive impact in my community.
In future articles I would like to expand on efforts being made to introduce the sport of triathlon to minority youth. In addition to that, it was recently announced that I am one of the featured speakers at USA Triathlon's second annual "Together, We Thrive: Actions for Change" Summit for Nov. 5-7.

The following weekend, Nov. 13, NCAA triathletes from across the country travel to Tempe, Arizona to compete at the NCAA National Championship. All of the athletes who have been training this past collegiate season are excited and ready to race, especially with the NCAA triathlon season being canceled last year due to COVID-19. With triathlon emerging as an NCAA sport, I am very glad that I am able to be involved in this movement.