Seely Elected to World Triathlon Athletes Committee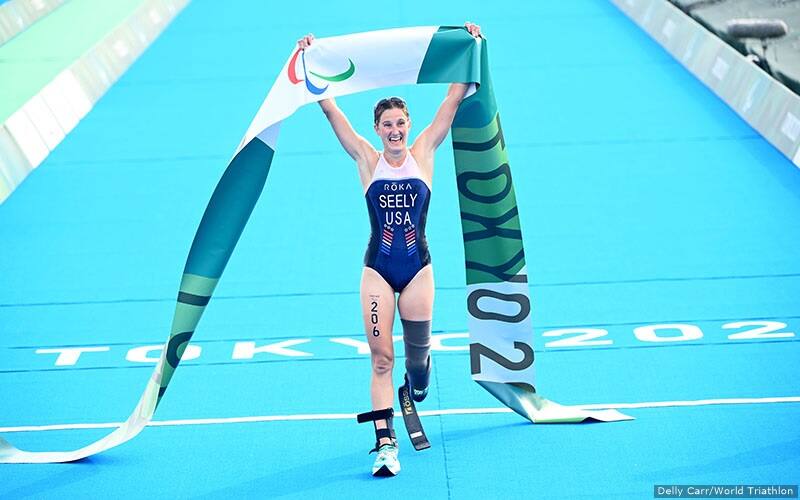 COLORADO SPRINGS, Colo. – Allysa Seely (Glendale, Ariz.) was elected to the World Triathlon Athletes Committee Nov. 4, one of 10 athletes charged with ensuring the athletes' viewpoint remains at the heart of World Triathlon decisions.
With Seely's election to the Athletes Committee, the United States has eight members serving in roles across World Triathlon Executive Board, Committees and Tribunal — the most of any nation. The United States also leads all nations with six committee members and five females in leadership positions.
Seely, who is serving her first term on the Athletes Committee, is focused on increasing awareness of, and competition in, paratriathlon and striving for equity across the Olympic and Paralympic side of triathlon. Seely aims to serve the needs all athletes and looks to work with World Triathlon to introduce the mixed relay competition to Paratriathlon.
Seely won Paralympic gold medals at both the 2016 Rio de Janeiro and 2020 Tokyo Paralympic Games, making her the only female two-time Paralympic gold medalist. Seely is a three-time World Paratriathlon Champion (2015, 2016, 2018) and a two-time Paratriathlon silver medalist (2017, 2019). She served on USA Triathlon Athletes' Advisory Council for seven years and the USA Triathlon Board of Directors for two years. Through her tenure in leadership positions with USA Triathlon, Seely has advised USA Triathlon on pertinent topics such as SafeSport, Compliance, and Operation Gold.
The United States' representatives on World Triathlon Executive Board, Committees and Tribunals:
World Triathlon Executive Board: Gabriela Gallegos (El Paso, Texas)
Athletes Committee: Allysa Seely (Glendale, Ariz.)
Legal & Constitution Committee: Gale Bernhardt (Loveland, Colo.)
Audit Committee: Victoria Brumfield (Colorado Springs, Colo.)
Medical & Anti-Doping Committee: Dr. Doug Hiller (Colfax, Wash.)
Paratriathlon Committee: Christine Palmquist (Geneva, Ill.)
Multisport Committee: Tim Yount (Colorado Springs, Colo.)
World Triathlon Tribunal: Judge Jones (Orleans, Mass.)
The Athletes Committee is comprised of 10 athletes from 10 countries. In accordance with the current World Triathlon constitution, the committee is composed of five athletes of each gender, at least one member from each of the five continents, two members Para triathletes with one from each gender and eight elite athletes with four from each gender.
Visit triathlon.org for a complete recap of the elections.
About USA Triathlon
USA Triathlon is proud to serve as the National Governing Body for triathlon, as well as duathlon, aquathlon, aquabike, winter triathlon, off-road triathlon and paratriathlon in the United States. Founded in 1982, USA Triathlon sanctions more than 4,300 events and connects with more than 400,000 members each year, making it the largest multisport organization in the world. In addition to its work at the grassroots level with athletes, coaches, and race directors — as well as the USA Triathlon Foundation — USA Triathlon provides leadership and support to elite athletes competing at international events, including World Triathlon Championships, Pan American Games and the Olympic and Paralympic Games. USA Triathlon is a proud member of World Triathlon and the United States Olympic & Paralympic Committee (USOPC).