Three IRONMAN Races, Fifteen Days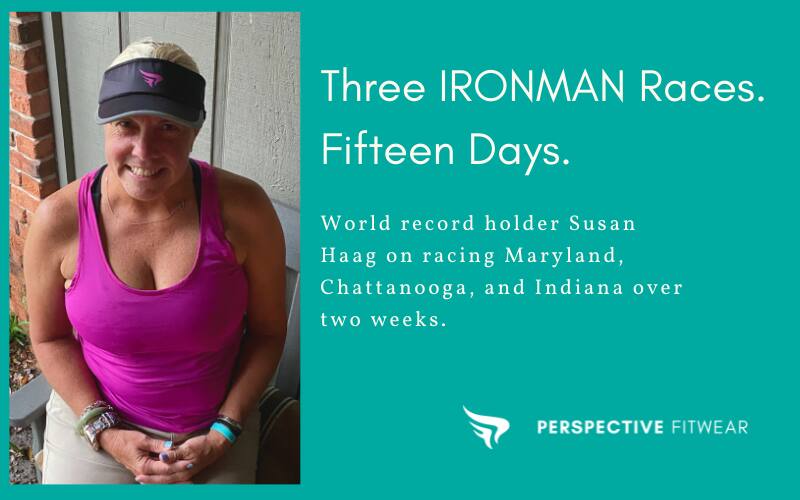 I'm Susan Haag, and I am the world record holder for most IRONMAN triathlons completed by a woman - 128 and counting.
A few weeks ago, I finished three IRONMAN races - Maryland, Chattanooga, and Indiana- in fifteen days.

This sport has given so much to me, and I am more excited than ever to encourage people to get out there and 'tri'!

Scheduling storm

What normally happens is I do a race, I love the experience, and then I sign up for the following year. I rarely look at the calendar to see where exactly it falls. And that's how I came to do three IRONMAN races in fifteen days.

In 2019 I finished IRONMAN Maryland and signed up for 2020 which then was pushed to 2021. In the summer of 2020, I was signed up for IRONMAN Louisville; when the news broke that the race wouldn't return in 2021, I chose IRONMAN Chattanooga 2021 as my replacement race. Then Indiana announced they were putting on an IRONMAN, and eager to experience a new race I signed up without hesitation. Again- never checked my calendar.

I raced IRONMAN Maryland Saturday, September 18th, did Chattanooga eight days later on Sunday, September 26th, and five days after that raced Indiana on Saturday, October 2nd.

IRONMAN your way

How did I do it? Anyone who knows me understands I don't train to PR, and I'm not trying to get on the podium. For the record- if that's your goal I think that's awesome!

But for me, IRONMAN is an all-day adventure. It's an incredible way to experience a landscape, and it's a day full of thebest of humanity: racers helping each other when they pop a flat or get injured, townsfolk spending their whole day cheering you on, etc.

With three IRONMAN races this close together, I maintained a manageable bike pace, and I run-walked the marathon. Living in Florida, high-volume swimming is pretty standard for me so that wasn't a big deal. I finished all three IRONMAN races within the 17-hour time limit, spending a decent amount of time post-race with my recovery boots and trying to get loads of sleep.

I hope anyone who wants to do an IRONMAN but thinks they have to dominate all three events sees there is more than one reason to take on this distance (mine is the adventure and personal challenge) and that there's more than one way to complete this race.

Train for your race

All that being said, you must train for your race- I'm certainly not encouraging folks to go into an IRONMAN unprepared.

It all boils down to committing to a program that fits your individual abilities and lifestyle. If you're training for your first IRONMAN, working full time, and are relatively new to endurance, then a standard IRONMAN training template may be too much. Work with a coach you trust, and build a plan together that meets your unique needs.

If you find a run-walk marathon strategy is best for you, then I'll see you out there on the course! I have employed run-walk marathons for nearly all 128 IRONMAN races I've completed. If you need to slow your bike pace down because you have a really busy year and just can't train at your ideal intensity, then go slow and steady and enjoy the scenery.

Because when you cross that finish line, you're an IRONMAN- no asterisk indicating "but she ran-walked the marathon" or "but he didn't follow his training regimen perfectly so he's much slower than anticipated."

Nope. You hear your name followed by "You are an IRONMAN" just the same.