Blogs
Training Tips
Health and Wellness
Strength and Conditioning
Hydrow Transformation Program: How does rowing affect a triathlete's training?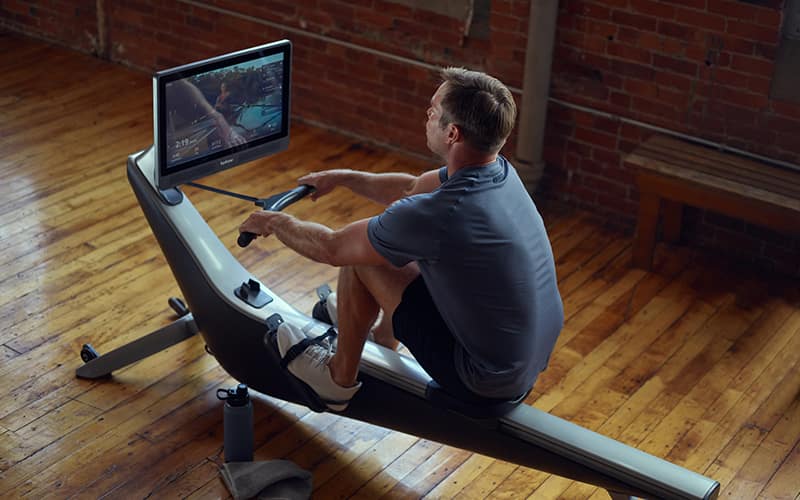 The team here at USA Triathlon is excited about our collaborative partnership with Hydrow as the organization's Official Connected Rowing Equipment and Rowing Training Partner through 2025.
We're particularly excited about the Hydrow Transformation Program. A long-term project that pairs athletes and USA Triathlon Certified Coaches with a Hydrow fitness rower, the Hydrow Transformation Program asks the question: "What happens when triathletes integrate rowing into their training?"
"The Hydrow Transformation Program is such a unique and cool idea," said Earl Walton, USA Triathlon Director of Education. "We're working to bring the best tools and information — in this instance, about the power of rowing — to our coaches so they can create great opportunities for their athletes. This is a chance for USA Triathlon to bring functional, high-tech equipment to our coaches, teach them all the ins and outs, and pick their brains about training. We'll learn how to best integrate rowing into a training regimen and deliver that information to athletes."
Hydrow — the leading at-home connected rower — is an innovator in rowing technology. With the ability to harness the visual, auditory, and emotional components of rowing, Hydrow's connected fitness rower delivers a best-in-class, full-body workout.
Triathletes — often the first athletes to integrate new fitness technology — are the perfect group of athletes to analyze the benefits of rowing and the impact it has on their multisport training.
Enter: the Hydrow Transformation Program.
The program pairs nine age group multisport athletes — ranging from beginners to high-performing athletes competing at Kona — with USA Triathlon Certified Coaches Chris Palmquist, Matt Clancy and Morgan Hoffman. Each athlete will integrate a Hydrow into their training for several months and USA Triathlon's Coaching Education team will evaluate the athlete's data and performance.
A few of the athletes we'll follow throughout the program include:
Stephanie* — (*athlete last names are not shared publicly to protect their privacy) a triathlete in her mid-30s, who is looking for a way to balance training for her first IRONMAN 70.3, while working as an engineer and manager in the family business.
Jacob* — A triathlete in his early 20s who competed for his university club team at USA Triathlon Collegiate Club National Championships. Still relatively new to the sport, Jacob needs a way to limit running volume to avoid a chronic injury; rowing will be a way to make up for lost running volume.
Michael* — An experienced age group triathlete who is racing IRONMAN Italy and XTERRA World Championships in fall 2022. He has been using the Hydrow over the past two years to maintain swim fitness while pool access has been limited. USA Triathlon's Coaching Education team will tracking Michael's 500-1000m swim speed and 2-hour bike power-to-HR during his program.
Juanita* — An experienced triathlete with a neuropathy disorder, Reflex Sympathetic Dystrophy (RSD), she is training to complete a marathon this winter.
Stephanie, Jacob, Michael, and Juanita are four of the nine athletes participating in the Hydrow Transformation Program, and we're fascinated to follow their journeys, and see the impact training with Hydrow has on their training.
USA Triathlon's Coaching Education team and Hydrow will provide updates throughout the Series and, together, continue to ask questions to better inform how people will train moving forward.
Stick with us throughout the series!
To learn more about Hydrow, visit hydrow.com.

About Hydrow
Hydrow is the leading at-home connected rower that leverages innovative technology to bring the on-water, outdoor experience of rowing to the home. Engineered by elite rowing experts, Hydrow recreates the feeling of rowing directly on the water via an algorithm-based, patented electromagnetic and computer-controlled drag mechanism. World-class athletes lead members through challenging rows that engage 86% of the body's major muscle groups – twice that of cycling or running – as well as yoga, Pilates, functional movement and strength training for a full-body, full-service fitness solution. With the ability to harness the visual, auditory and emotional components of rowing, the connected fitness rower delivers a best-in-class, full-body workout