Transition
Strength and Conditioning
Run
Swim
Training Tips
Health and Wellness
Bike
Training tips for a safe and effective return to multisport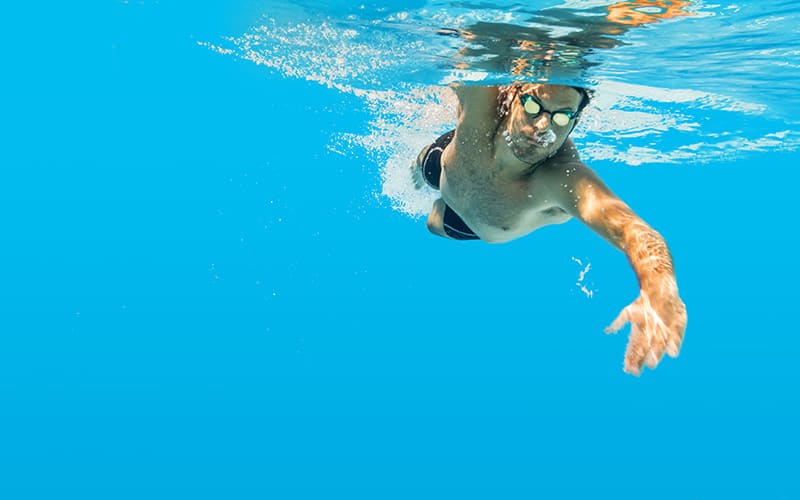 After a long layoff for many of us, we need to consider how to return to multisport racing safely.
In 2020, without many opportunities to race, it was easy for skills to decline while we were out of our normal routines. With that loss of familiar routines, what was once automatic before now requires some thought. That extra required thinking might reduce our awareness of surroundings and consequently reduce our level of safety, particularly if we're complacent about it. To avoid complacency, let's identify some potential weak areas and develop plans to address them.
Strength training is a good starting point since a good base of strength leads to resiliency and injury prevention.
Your plan should start slowly if you haven't kept up strength work. Areas of particular focus should be your core, rotational stability, and activation of muscles that often get underutilized such as the glutes or serratus.
It's important to do some strength work that is not sport-specific. You get the sport-specific work as part of your normal training so the complementary strength work is what needs more attention. That work will also help you reduce your risk of injury. You should continue that complementary strength training right through the season as a general practice.
Depending on where you live, your access to pools and open water venues may have been limited for many months. This could have the effect of reducing your comfort level in the water, particularly when swimming in open water for the first time again. In general, it's likely that many of us have suffered a decline in skills with fewer races, less open water practice, and limited pool availability. A land-based trainer or the use of resistance bands can help with strength and fitness, but won't help with general in-the-water acumen.
For open water, you'll need to re-familiarize yourself with the effects of waves, sun, cold water, and neighboring swimmers. Additionally, your wetsuit is likely to be tight. No, I don't mean like that ... it's just that, if you haven't worn it lately, it won't have been stretched like it normally would be with routine use. In the water, you'll also need to work on specific skills such as sighting, swimming straight, and drafting.
The plan starts with getting wet. Get a feel for the water by getting in the pool again well before you race if you haven't been swimming much. You should seek out a comfortable and safe open water venue prior to racing to work on the skills discussed above and to regain the feel of open water swimming. You can also practice skills such as sighting in the pool. If you have a lane to yourself, you can carefully work on swimming straight by swimming half a lap with eyes closed to assess your competence. Put on your wetsuit a couple of times to give it a stretch before you do your first open water swim so that you don't feel uncomfortably compressed.
The bike leg is where the most speed is and where safety issues can come up most quickly.
For those of us in colder climates, it's common to train on a stationary trainer for part of the year with a return to the road in the spring. With the disruption of routines in 2020, spring 2021 may be like the end of an extra long winter. You can get high quality workouts on a trainer and have an enhanced experience with meetups and challenges on Zwift, but those workouts won't maintain road skills such as bike handling, cornering, and even drinking or eating while moving. Every spring, it's necessary to regain awareness of hazards such as cracks or potholes (often hiding under puddles), wet pavement, motor vehicles, gritty surfaces, and the presence of other riders.
The plan is fairly simple. To tackle this, we'll get some road rides in, preferably starting with a road bike in good weather conditions and later getting reacquainted with our aerobars. Work on skills and get a feel for riding on the road again before going hard and testing the limits of yourself and your bicycle.
Running hasn't likely suffered much during the pandemic. However, do you recall how it felt the first time you ran after riding hard? When was the last time you did a brick workout? Your plan should include some bricks.
Concerns related to transitions are mostly related to proficiency. Be sure to go through transitions mentally and find a place to do some practice run-throughs. In particular, your plan should include bike mounts and dismounts to avoid awkward or even dangerous moments. Keep speed in mind on dismounts as that can compound the risk to safety.
Finally, consider the effects of COVID-19 itself. If you had COVID-19 at some point, check with your doctor before starting a training plan. There is evidence of potential longer term effects on the heart and lungs. And, COVID-19 aside, it's a good practice to consult with a physician prior to starting any athletic training program to find any surprises before they endanger your health and well-being.