Blogs
Features
Youth and Junior
How To Be a Triathlete Parent
I am a very proud parent of a 12-year-old triathlete. She has been competing for six years and is quite passionate about the sport. Ultimately, she dreams of a triathlon career in some aspect as either an Olympian, elite athlete or coach. Over the past six years I have seen many different parents. Some parents are very intense, hard-core and over-the-top competitive. Some novice parents are overwhelmed and confused about body marking, stickers for bikes, helmets and bib numbers, transition areas and general race information. Honestly, for a new triathlete parent, a youth triathlon is quite daunting. The terms of triathlon are new and strange; the equipment can range from rudimentary to almost professional level. The range of talent and experience is quite broad; it is common to have athletes competing in their first triathlon next to an athlete who is very seasoned.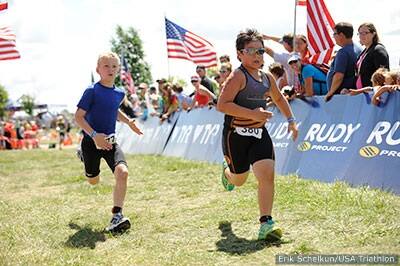 Let's cut away the clutter and try to clear things up. These explanations are based on USA Triathlon Sanctioned Events and rules.
First and foremost, triathlons are supposed to be fun. Most child athletes have little if any chance of becoming a professional or Olympian in the sport they play. The main reason youth athletes compete is to have fun and compete in a sport with their friends. If, as a parent, we can remember FUN first, success in the event and your child's continued participation will be ensured.
Let's start at the beginning. You have signed your youth athlete up for a triathlon. The age group they compete in is the age the athlete is on Dec. 31 of the particular year you're in. It does not matter when the birthday is in the year. This age, (race age) will also determine the distance of your athlete's race. If the race is a USA Triathlon Sanctioned Event, your child will be required to have a USA Triathlon annual membership or one-day license. If your child will be participating in more than one race in a year, an annual license is more cost effective.
The next step is usually packet pick-up. Typically, both the parent and athlete must be present. Proof of USA Triathlon membership and a signed waiver for the event is required. The contents of the packet vary for each event but all contain the basics. You should find a sheet of stickers or numbers, some key information, a swim cap and variety of coupons and giveaways from sponsors. The number given is your athlete's race number. Line up for each age group, results and pictures are all done by the race number. There is usually one sticker for the front of the helmet (sometimes extras for the sides), one sticker for the bike and a race bib number to be pinned on a shirt or attached to a race belt. Typically, each age group is given a different color swim cap, and each group or color, will start together. Some of the events also have decals for swim caps. Some events provide two armbands. One is for the athlete and one is for a parent. Many events will only release competitors from the finish area to matching armbands. Read the provided instructions in your packet!
Body marking is done either with temporary tattoos or markers. This is usually completed before entering transition, in a designated body marking area. The athlete is marked on each upper arm and lower leg with the same number. The athlete's race age is usually marked on the calf of one leg.
The transition area provides the most anguish and confusion for novice parents. Typically transition is only open to athletes competing. Parents are not allowed in transition. There are plenty of volunteers eager and ready to help your child. Please remember that everyone in transition is a volunteer. Please be respectful. Typically athletes enter at one point or end. The bike gets a quick inspection to make sure it is marked properly and is in safe, legal and working condition. Usually racks are loosely assigned by groups of numbers (500-510) that correspond with your race number. Some of the larger events have specific rack assignments. All bikes have to be racked before and after the race. Bikes cannot be just thrown down on the ground. Transition areas must be neat. Usually a mat or towel is laid out with their shoes, race shirt or race belt, and a water bottle is placed on the mat. Some parents try to help their kids by attaching a balloon or flag to their transition spot; most events do not allow this. Instead, give your child tips to remember where their spot is. The more experienced athletes may have their cycling shoes attached to the bike already and their running shoes and race belt laid out. When the athlete has completed setting up transition they exit at a different point. Generally no other athlete or volunteer is permitted to touch another athlete's equipment in transition.
Timing chips are assigned to specific race numbers. Not all races utilize timing chips. They are sometimes placed in race packets or given out at the transition entrance. Make sure you find out at packet pick up if timing chips are used. Timing chips are usually attached via Velcro strap on the left ankle, away from the chain side of the bike.
Most events usually have some form of a race briefing. This is the time for the race director to explain the course and provide updated information. The race director has the final say in all decisions. I recommend both athletes and parents attend the pre-race brief. It usually on last 10-15 minutes and race-specific questions are answered.
Finally, the race is ready to begin. Typically, events start with the youngest competitors. There are two types of starts: A mass start (usually open water) is where everyone in a particular age group and/or gender line up and start together. The other start is commonly referred to as a time trial start (usually pool). Age groups are lined up in numerical order and go off every few seconds. Once the race begins only race officials or volunteers can assist the athletes. Under no circumstances are athletes allowed to hand off items to anyone.
The swim is over and now your child is in the first transition. In most events the athlete is required to put on their helmet and properly fasten the strap before they can touch their bike. Feet are dried and shoes are put on and they must run with their bikes to a mount line. Bikes cannot be ridden in transition. Bikes are not allowed to ride in groups (draft). They must stay three bike lengths apart during the ride and make passes within 15 seconds. Parents, coaches or anyone else is forbidden to pace or ride along with athletes during the race. After the ride, bikes must be dismounted before the dismount line and run back to the transition rack and put in its original spot.
The bike portion is over and now athletes are in the second transition. The athlete racks their bike, grabs their race belt, puts on their running shoes (if they wore cycling cleats) and runs out of transition to begin the run course. While on the run course, parents, coaches or anyone else is forbidden to pace or run along with athletes during the race. Make sure your child knows that their race bib number needs to be on their front. That way, the announcer can call their name when they cross the finish line and times can be properly recorded.
After crossing the finish line, athletes receive their finisher medals. Timing chips, if utilized, are removed by volunteers. Athletes wait for parents to retrieve them from the finish area.
Results are either posted on a traditional board with paper or online. The results are only preliminary and may be updated several times before being certified by the race officials.
Although your child may be done racing, the event may not be over. Many athletes may still be on the course or yet to have started. This is a great time to cheer for other athletes or visit the vendor booths. Transition usually does not open until all athletes have finished and access is restricted to the athlete. Once transition opens the athlete retrieves their bike and other items. A volunteer may check to see the race number on the athlete matches the number on the bike.
Race event sponsors usually hold award ceremonies and raffles after all results have been certified. The officials may allow a brief time between posting final results and awards. I recommend waiting until the awards and applauding all the athletes, even if your child does not receive an award. This promotes good sportsmanship and may inspire your child to train harder to try and win an award. Ultimately, youth and junior triathlons are designed to be fun. If your child athlete has fun they will continue a lifelong sport that promotes a healthy lifestyle.
Coach Rex King is a USA Triathlon Level I and Youth & Junior Certified Coach, as well as a USA Swimming Coach. He coaches the Youth & Junior Rochester Cyclones Team, in Rochester, Minnesota. You can find the Cylones at tritonmultisports.com or email Coach Rex at rex@tritonmultisports.com.
The views expressed in this article are the opinion of the author and not necessarily the practices of USA Triathlon. Before starting any new diet or exercise program, you should check with your physician and/or coach.