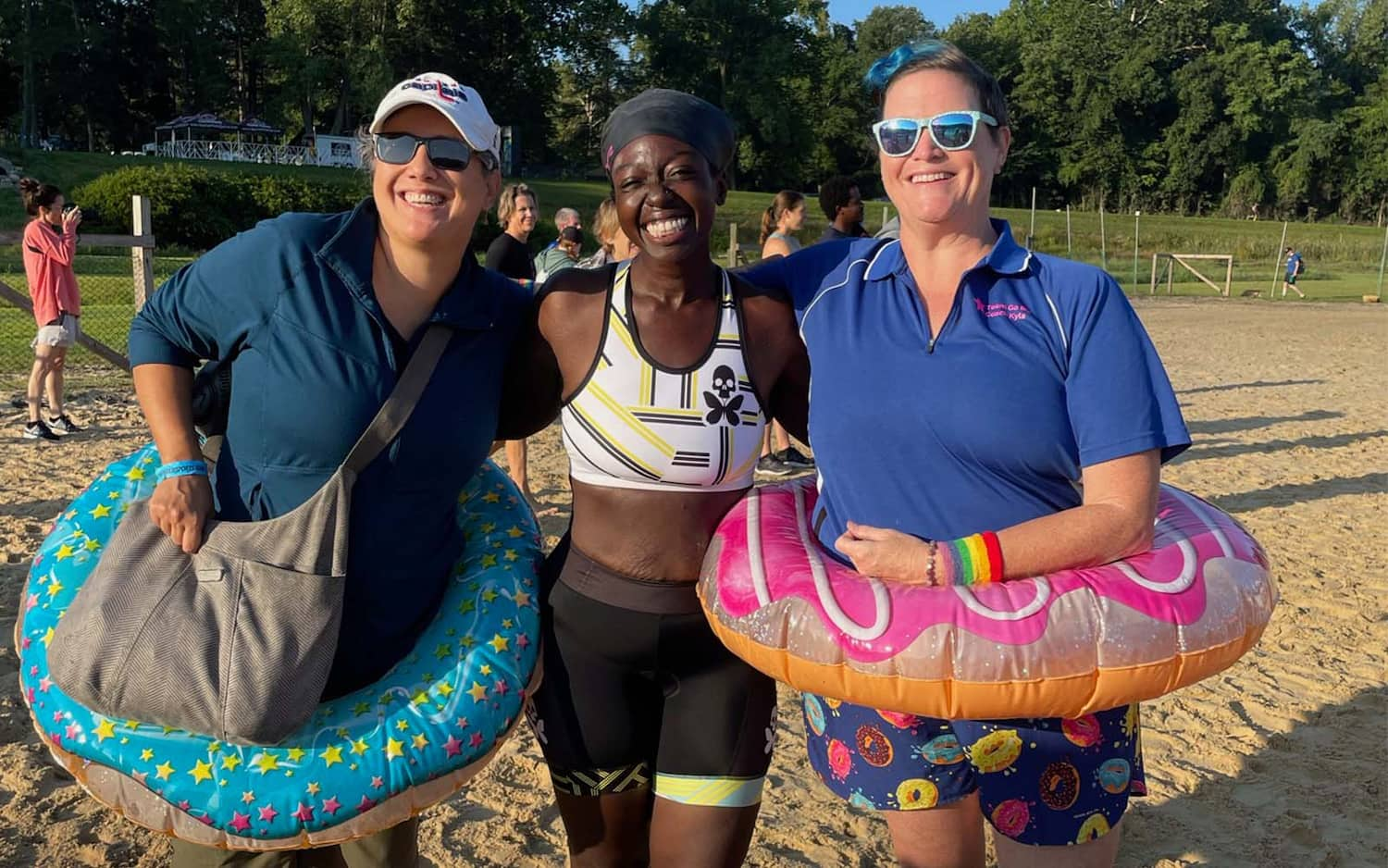 The Team Go Big club tent is easy to spot at local races.
Look for the sign pointing to free
donuts.
"We always at least get a look from curious athletes and we're like, 'Yeah, it's true!'" said Kyla Lupo, leader of USA Triathlon Club Team Go Big. "People come up to us and they're like, 'Oh I can't, I didn't earn it.' And we tell them, 'You don't have to earn it! Like, just enjoy it. It's a treat, have fun!'"

The donuts get people to the club's tent, but what keeps people engaged is the conversations about body inclusivity and diet culture … or just directions to the packet pick-up line.

"We're all smiles. We're having fun. We really want to put out the vibe that literally everyone is welcome," Lupo said.

The club based in Palm Bay, Florida, was formed in 2017 by Lupo, a USA Triathlon Certified Coach and Athena athlete who recognized that a lack of support was a key barrier to participation in endurance sports. Actively advocating for a radical level of body acceptance in sport and society, Lupo started Team Go Big as a community where all bodies could feel welcome and supported.

"I desperately wanted a community that would accept me, that would stand up for accepting others, and that had a coach that really 'got' what it was like to be me," Lupo writes on the Team Go Big website.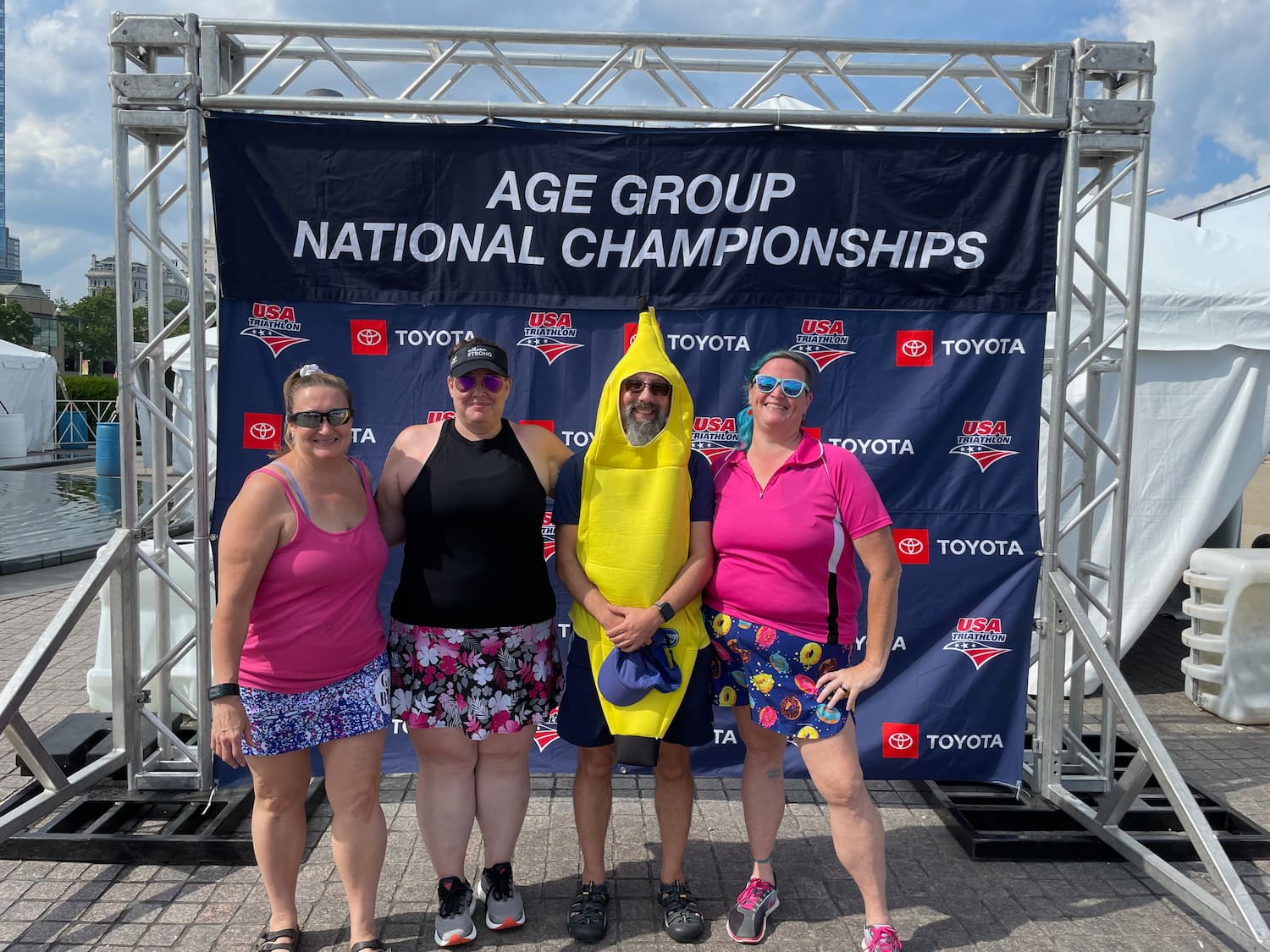 The club's name, Lupo said, comes from her belief that you should be able to do what you want to do in the body you're in.
"You don't have to wait to be small to go big," Lupo
said
. So, club members go big with their training and goal setting, and together, share the joy of being physically active. Club members communicate via a Facebook group, where people can share experiences and find information, inspiration and accountability. The club also meets weekly via Zoom and Team Go Big's website offers a plethora of multisport resources, for the beginner to the experienced.

Local members in Florida meet up for group workouts, while out of state members from California, Washington, D.C., Illinois and across the United States hop on the Zoom calls and share their training progress, race goals and life updates via an active "and funny" text thread.

"Our athletes come from all walks of life. And if you have a question about something, like if you don't know whether you should register for that particular race, if you're wondering what that bike course is like, or where to get a good sports bra, someone on the club is going to have an answer for you," Lupo said.

With their tent and "Free Donuts" sign, every race season Team Go Big travels to triathlon and running events across the country, including Toyota USA Triathlon Age Group National Championships, which this year included Clydesdale & Athena Nationals.

This August in Milwaukee, the Team Go Big tent became the unofficial meeting spot for Clydesdale & Athena athletes. Athletes of all sizes gathered to empower each other, welcome newbies, share laughs and advice — exactly what Lupo envisioned when she started Team Go Big.

"These are our people," Lupo said. "That's really what being part of a club is about. Having a community that is going to surround you, welcome you and make sure you have a great experience in this sport."

About Team Go Big
Led by USA Triathlon Certified Coach Kyla Lupo, Team Go Big advocates for body acceptance in sport and society. Team Go Big is a community where all bodies can feel welcome and supported.
Info: www.gobig.life/home