News
Triathlon Latest News
Features
NCAA
NCAA Triathlon Collegiate Women Dazzle at East and West Regional Championships
NCAA Collegiate Women shined bright this weekend at the East and West Regional Championships in Virginia and Missouri. Thirty-six teams competed — 20 schools headed to Virginia, and 16 headed to Missouri. See the full list of schools.
Up for grabs was qualification for the 2023 Women's Collegiate Triathlon National Championships, hosted at Arizona State University this November in Tempe, Arizona. The top three teams in DI, DII and DIII from the East and West Regional Championships automatically qualify for Nationals.
The East Regional Championship took place at Smith Mountain Lake State Park in Huddleston, Virginia as part of the Blue Ridge Draft Legal Triathlon Festival, and the West Regional Championship was held as part of the Heartland Triathlon Cup in Stockton, Missouri.
The athletes competed in a draft-legal race format featuring a sprint-distance triathlon consisting of a 750-metter open-water swim, 20-kilometer bike and 5k run.
Headed into the weekend, No. 1 ranked Queens University of Charlotte went head-to-head with No. 5 ranked University of Denver and last year's Division II national champion, Lenoir Rhyne University. On the western side, No. 2 ranked Arizona State had big competition from No. 3 TCU, No. 4 University of San Francisco, and state rival No. 8 ranked University of Arizona.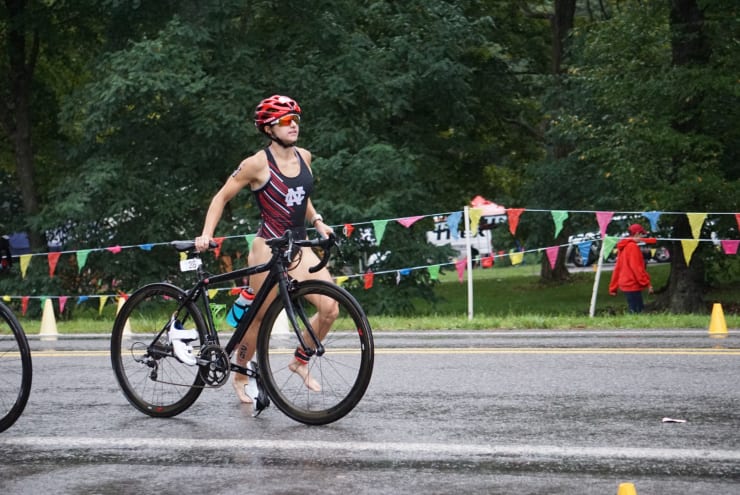 West Regional
Championship
Division I team Arizona State University led the pack with all eight athletes placing in the top 25, three of them in the top six. The University of San Francisco received second, and Texas Christian University rounded out the team podium standings, receiving third place.
Sidney Clement from Arizona State won the overall race, with Molly Elliott, University of San Francisco, and Kayla Ribbink, University of South Dakota, securing silver and bronze, respectively.
Colorado Mesa University claimed its fifth straight regional title for Division II, followed closely by Drury University securing team silver and Black Hills State University taking home bronze.
Shannon Feran was on top of the podium for Colorado Mesa in the individual race with Zoe Van Dijk from Drury placing second and Natalie Mitchell from Colorado Mesa, placing third.
The North Central College Cardinals won team gold for Division III with Willamette University and Calvin University following in second and third, respectively.
The Cardinals also swept the individual race, with Hailey Poe, Charlotte Kumler and Bethany Smeed going 1-2-3.
East Regional
Championship
Division I team Queens University of Charlotte repeated as region champions, followed by the University of Denver in second place and East Tennessee State University in third place.
Maira Carreau from the University of Denver took home a gold medal in the individual race, and Beth Cook and Sam McInnes, both from Queens University, rounded out the podium with silver and bronze.
Wingate University took home the title for Division II, winning the regional championships for a second year in a row. Current Division II national champions Lenoir Rhyne University took second, followed by Emmanuel University in third.
Sabrina Fleig from Lenoir Rhyne won the individual race and Beth Cook, also from Lenoir Rhyne, took home silver. They were followed closely by Julia Kekkonen who secured a bronze medal for Wingate University.
Division III team Eastern Mennonite University won gold with Trine University and Guilford University, earning silver and bronze, respectively.
Grace Huisman of Trine University ran her way to a gold medal, with Jenna Weaver and Vanessa Gardiner, both from Eastern Mennonite, securing silver and bronze.
Throughout the next month in the lead up to the Women's Collegiate Triathlon National Championships on Nov. 11 in Tempe, USA Triathlon will highlight the programs, athletes and storylines to follow. Check out @usatriathlon social media and usatriathlon.org for the content.
At the 2022 National Championships in Tempe, Arizona, Arizona State University claimed its sixth straight DI national title, Lenoir-Rhyne won the DII national title, while North Central won its fifth DIII national title.
For more information about triathlon as an NCAA Emerging Sport for Women, visit usatriathlon.org/ncaa.
For questions regarding women's collegiate triathlon events, programming and recruiting, contact Tim Yount, USA Triathlon Chief Sport Development Officer, at tim.yount@usatriathlon.org.