News
NCAA
Race
Draft-Legal
Training Tips
Yes, You Can Get Involved in Collegiate Triathlon and Even Race One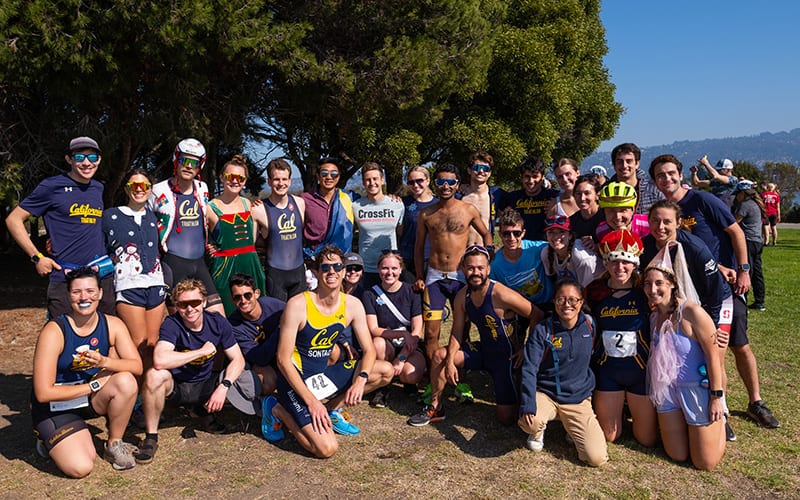 Did you know you, too, can relive your college glory days?
Or, at a minimum, you can get beaten by very fast collegiate athletes and wave as they lap you — which is basically the same thing. And with collegiate triathlon ramping up, that's exactly what we did this past weekend.

As the women's NCAA collegiate triathlon teams prepare for the National Championship on Nov. 12 in Tempe, Arizona, we're taking a look at collegiate triathlon races and we even got out to watch and race one at UC Berkeley's Bearathlon.

Collegiate clubs

First some basic background: You might be a bit confused because the University of California, Berkeley does not have an NCAA women's varsity team, but it does have a 100-person triathlon club squad and it hosted an NCAA draft-legal race.

Collegiate club triathlon has been around for a bit over two decades (give or take, depending on what you consider the formal start). It's a club sport, which isn't governed by the NCAA, and it has an established USA Triathlon Collegiate Club National Championships in April, which typically attracts about 1,500 athletes and is known for its fun vibe. That race is generally a non-drafting, Olympic-distance event. However, with the growth of draft-legal racing at the development level, there are now additional draft-legal and mixed relay races that count toward the much coveted overall team title.

Queens University is the defending champions, with previous hotly contested crowns fought out between triathlon schools like University of Colorado, UC Berkeley, the University of Arizona, and the U.S. Naval Academy.
NCAA women's varsity triathlon

NCAA women's varsity triathlon, once finalized as an NCAA sport, will be a very different competition. It'll be governed by NCAA rules, with NCAA athletes and funding. Since being approved as an emerging sport for women back in 2014, 40 schools have now signed on with varsity women's teams. This has triggered the official process to become the newest NCAA sport, with all the prestige, scholarships, and media attention that will come with that.

Women's NCAA triathlon is a draft-legal sprint race contested in the fall, and is considered a development pipeline for elite junior and youth athletes looking to grow and potentially compete at the World Triathlon level. Until the NCAA takes over, USA Triathlon has been backing the Women's Collegiate Triathlon National Championship race, held in mid-November and now split into DI, DII, and DIII results.

The Arizona State University (ASU) Sun Devils are the five-time defending champions — but they will face stiff competition this year from Queens University, University of San Francisco, and the University of Denver. Last year, USF's Kira Gupta-Baltazar took the individual title, upsetting the ASU streak.

As the women's teams prepare for that national race, they've been putting their athletes through their paces and getting in at any collegiate draft-legal sprints they can for the practice.

And that's what brought the USF, University of Denver, and Colorado Mesa University women's varsity teams out to Berkeley to race the Bearathlon draft-legal event.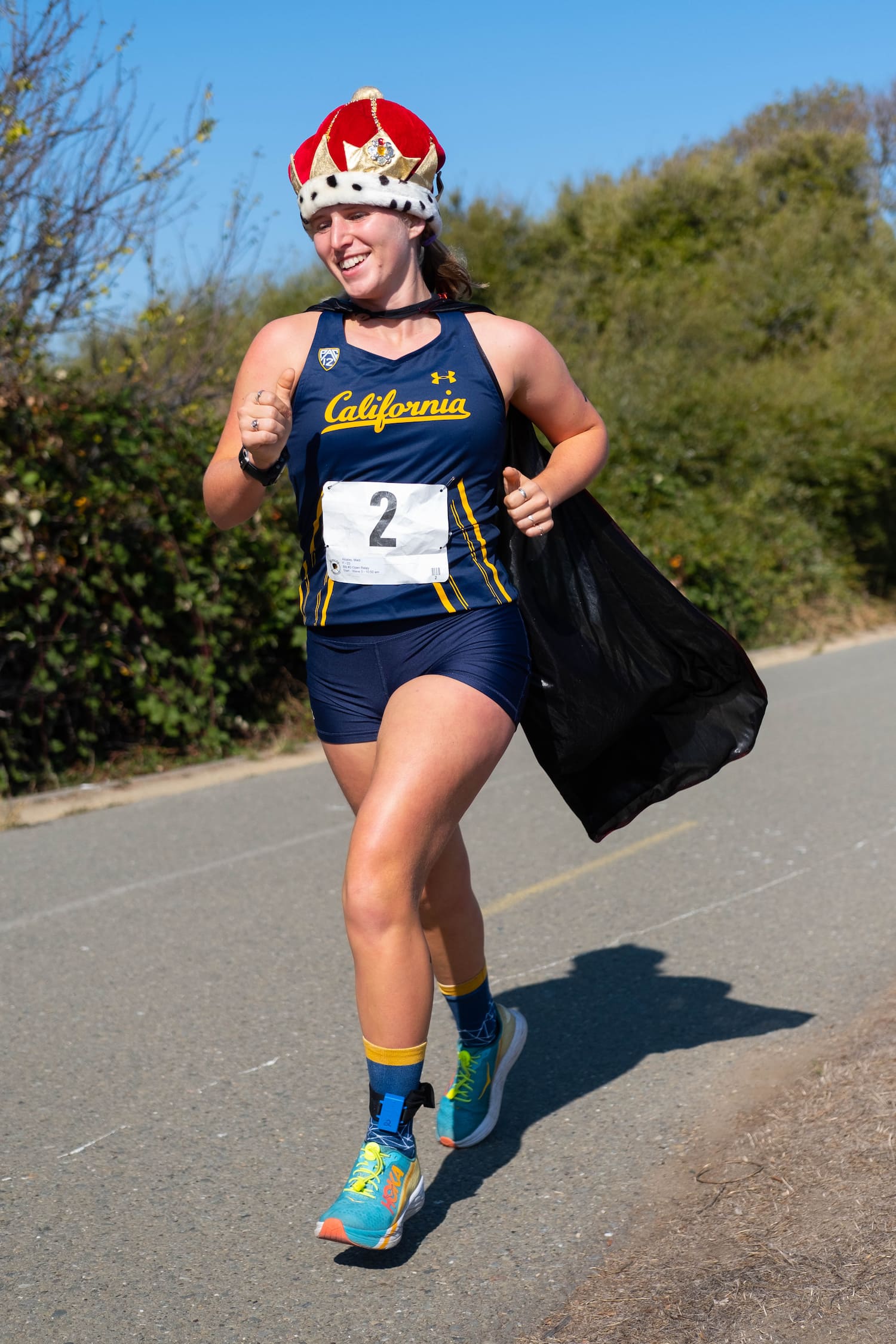 What are collegiate races like?

They're fun!

Right now, most collegiate races are organized by collegiate athletes as fundraisers for their club teams. That's good organizing experience for the student-athletes and adds a grassroots vibe to the events.

Bearathlon, UC Berkeley's long-standing club race, returned this year for the first time since 2019 and started the morning with a draft-legal sprint women's and then men's race. With bikes racked in a parking lot at the Berkeley Marina, about 33 women battled it out in fast and aggressive draft packs over four laps. (Standing in the crowd watching the first U-turn — which had to be adjusted on the fly and didn't have as much warning as the athletes might have anticipated — was both terrifying and impressive.)

With a number of flats taking out athletes, USF's 18-year-old Juliette Jannedothee took the win — her first collegiate victory — and Denver captured the team title.

Cones were re-set, another wave of athletes were directed into transition, and the classic sprint started with a whistle blown. With both collegiate waves and open age-groups waves it's a relatively low-key and cheap race to shake out cobwebs and have some fun.

About 230 athletes did the four bike laps and two run laps — and, yes, that's a mix of everything from future pro triathletes and national champions to students doing their first triathlon ever. Some athletes miscounted laps, some did it in costume, some made up their own challenges for a race within a race.

"We're just trying to build the hype for next year," said Laura Rambo, a Cal senior and the race director — who did everything from change an athlete's tire to coordinate with police on road closures.

Bagels and croissants were had by for all, sunglasses handed out to the winners, and plans made for brunch.

If you're looking to participate in a collegiate race, check out your local college's tri team to find out if they put on an event with a community, alumni, or age-group wave. And don't forget to come watch the future NCAA stars before lacing up your own shoes!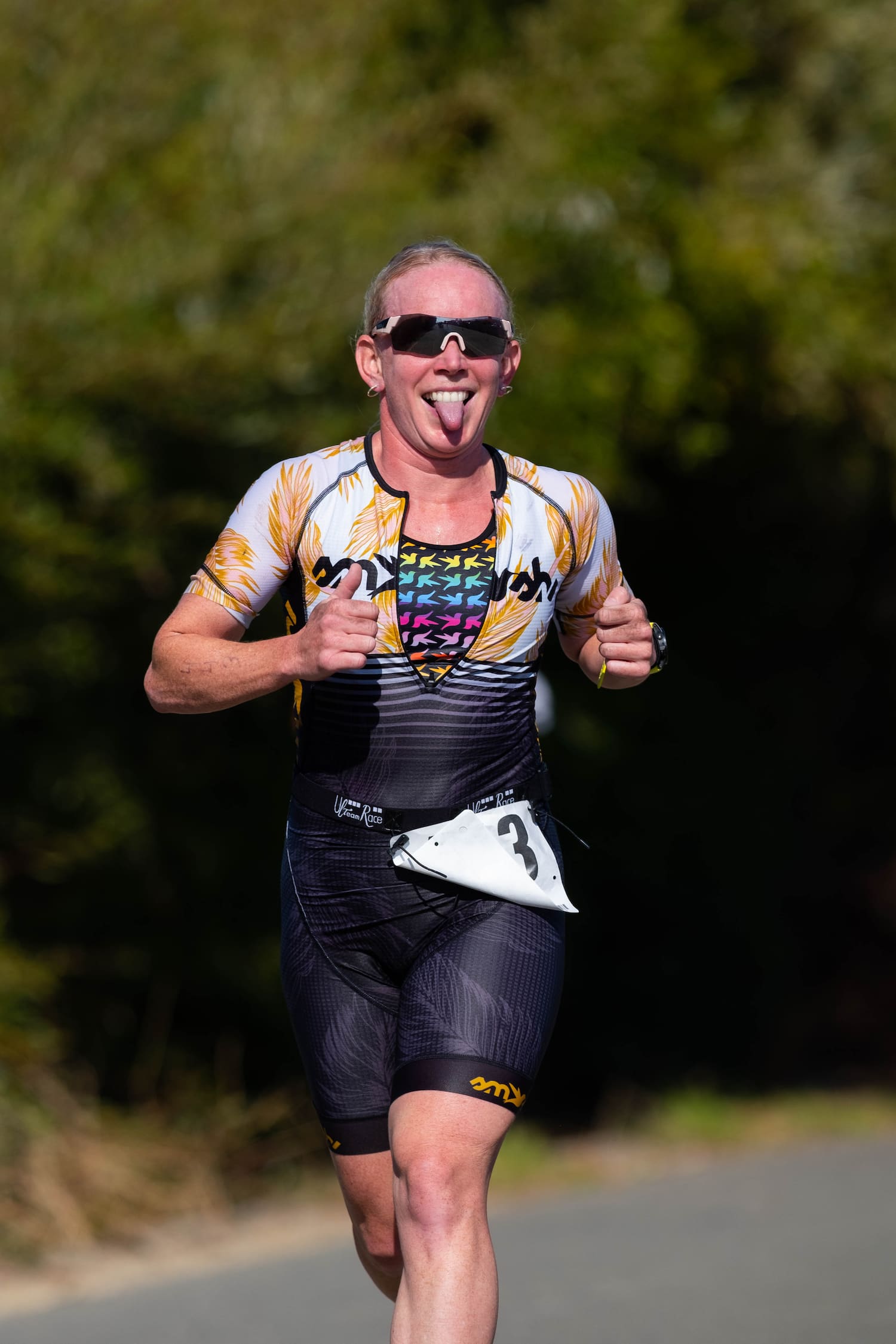 Above, Kelly O'Mara races the Bearathlon — and remembers how fun triathlon is supposed to be. O'Mara is the former editor-in-chief of Triathlete Magazine and writes the
Triathlonish
newsletter.