Athletic Brewing: Fit For All Times™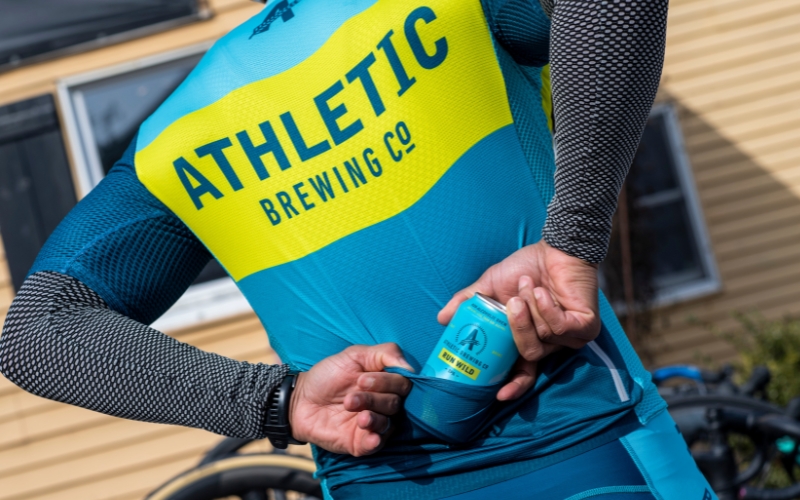 How Can Non-Alcoholic Brews Fit Into Your Life?

Fit for Race Day
Whether you're running the trails, swimming laps, or pushing yourself on the bike, nothing sounds better after an intense workout than an ice-cold beer. However, if you're training for a big race, or just trying to stay in shape, consuming alcohol can be very detrimental to your progress. That's where Athletic Brewing's non-alcoholic brews come in. Enjoy all the taste and freshness of a beer with a fraction of the calories and less than 0.5% ABV.
If you enjoy racing through nature, you can rest assured that your Athletic brew is also helping protect, clean and rebuild local trails and parks all over the country. Athletic Brewing is a proud certified B-Corp, and has raised over $2.5 million for local trails, and that number will only continue to grow.

Fit for the Work Day
Sometimes, during a long week at work, that beer at lunch is just calling your name. With Athletic Brewing NA brews, you can enjoy a brew without any concern of throwing you off your game for the rest of the day. Got a meeting with your boss in the afternoon? Or a presentation to give in the evening? You don't need to let that stop you from relaxing with a brewat lunch with Athletic Brewing.
With over 25 gold medal awards and over 13,500 five-star reviews, you can count on Athletic Brewing to taste just as good, if not better, than any full-strength beer on the menu. Athletic even has an option crafted to remove gluten, Upside Dawn Golden*, and many of their products are vegan friendly.
Fit for Game Day
Whether it's a Sunday night football game, Tuesday night baseball game, or your kid's high school soccer game, it's just not the same without a beer. But why risk the negative side effects the next day? Sunday morning obligations don't need to stop you from enjoying the game and hanging out with friends on Saturday thanks to our non-alcoholic brews.
Athletic Brewing has North America's largest NA brewery, and was Vinepair's 2022 Brewery of the Year. Their award winning line-up includes IPAs, goldens, light-bodied, and more, so whatever your game day preference, Athletic's got you covered.
Give Dry A Try
To try the #1 selling craft NA brand in the country, visit their website at athleticbrewing.com, download their app, or check their store locator to see where you can find Athletic Brewing NA brews in your area.
Get free shipping on any order $50 or more online, or join the Athletic Club for more perks, including up to 15% off brews, access to free shipping, exclusive Athletic Club merch, discounts on merch, first dibs on limited batch offerings, and more.
*This product is fermented from grains containing gluten and crafted to remove gluten. The gluten content of this product cannot be verified, and this product may contain gluten.