News
Event
USA Triathlon
Goals
11 Time IRONMAN Champion, Speaker and Author Lisa Bentley to Present Keynote at Endurance Exchange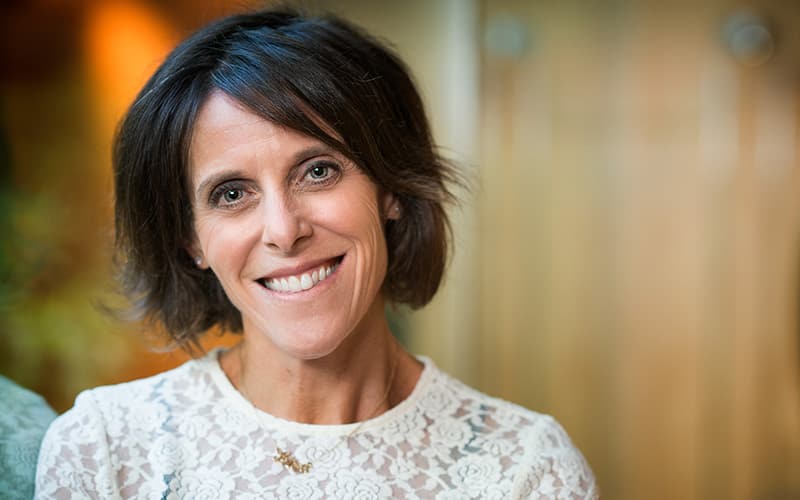 COLORADO SPRINGS, Colo. – Lisa Bentley, an 11-time IRONMAN champion and speaker who tells the story of her 20-year professional triathlon career competing with Cystic Fibrosis, was today announced as a keynote speaker at the third annual Endurance Exchange, presented by BOA Nutrition, a virtual endurance sports industry conference hosted by USA Triathlon from March 3-5, 2022.
An Unlikely Champion: Lisa Bentley to Present Keynote
A Triathlon Canada Hall of Fame inductee, Bentley (Clermont, Fla.) raced for 20 years as a professional triathlete, winning 11 IRONMAN and 16 IRONMAN 70.3 races. As she puts it, she "should not have won any of them." Diagnosed with Cystic Fibrosis, Bentley found a way to turn the life-threatening genetic lung disease into a gift, she said.

Bentley's keynote is scheduled for 5-6 p.m. ET on March 3.

"My athletic pursuit of professional triathlon taught me far more than the typical lessons found in sport. I found a way to turn my diagnosis with Cystic Fibrosis into a gift and I used this genetic disease to elevate my talent and training beyond expectations," Bentley said. "My hope by sharing my story is that others will be able to uncover their superpower, re-ignite the energy and compassion in their hearts, rise to every opportunity and find greatness in adversity."

Bentley became one of Canada's best triathletes and was ranked top five in the world for over a decade, recording several top-five finishes at the IRONMAN World Championships. She represented Canada on multiple National Teams and finished sixth at the Pan American Games in 1995.

Since retiring from professional sport, Bentley authored her first book "An Unlikely Champion" and her speeches teach audiences how to turn adversity into mastery. She has done sports commentary work with CBC, CTV, TSN and SportsNet for the Olympic Games (2012 and 2020) and triathlon. She is an ambassador for the Cystic Fibrosis Foundation and was a captain for the International team at the 2021 Collins Cup. Before becoming a professional triathlete, Bentley was a high school teacher for seven years.

"Lisa's story teaches so many lessons about how we, as athletes, and as individuals, can turn barriers into opportunities and how we can find the courage to thrive amid adversity. Her attitude, when faced with the diagnosis of a life-threatening disease, is so incredible and shows the power we all have within ourselves," said Rocky Harris, USA Triathlon CEO. "We are proud to welcome Lisa to Endurance Exchange and can't wait for attendees to hear about her career and the important life lessons she's learned throughout her remarkable journey."

Now in its third year, Endurance Exchange is a joint effort to grow, inspire and support the multisport community by bringing industry stakeholders together to learn, share best practices, network and collaborate. The 2022 edition will be held virtually on Cvent to offer greater flexibility, reduce costs and eliminate the need for constituents to travel in order to attend.

The event is open not only to those involved in the business of triathlon, but also to multisport enthusiasts of all types — from beginners to competitive age-group athletes to Olympic and Paralympic hopefuls — as specific athlete-focused sessions will cater to all skill and experience levels. All content will be recorded, and attendees will be able to view sessions live or on-demand — offering options to accommodate any schedule.

New for 2022, this year's event will feature a content track specifically for multisport club leaders and administrators, and two options for the Athlete Insider track for novices or advanced athletes. Attendees can also expect additional engaging and interactive features, including live polling, in-session chats, in-session surveys, and prizes for the most engaged conference attendees. The schedule is live on enduranceexchange.com and will be updated throughout the coming weeks as new sessions and speakers are added.

In addition to Bentley, other keynote presenters at Endurance Exchange will be announced in the coming weeks.
Register Today
Registration is open at enduranceexchange.com with pricing starting at $150 for the All-Access track and $45 for the Athlete Insider track through Feb. 7. All registrants will also have the opportunity to purchase or extend their USA Triathlon annual memberships for 12 months at a discounted rate of $35. Attendees will have the opportunity to earn up to 10 coaching and/or race director CEUs.

For the third year, USA Triathlon is offering a limited number of Together We Thrive Endurance Exchange scholarships to foster diversity and bring varied perspectives to the event. Interested candidates may apply here. Priority will be given to people of racial and ethnic minorities, women, and those who may not otherwise be able to attend due to financial constraints.

More information about Endurance Exchange, including the most up-to-date schedule, speaker lineup and virtual networking opportunities, can be found at enduranceexchange.com. For sponsorship inquiries and other questions related to Endurance Exchange, please email info@enduranceexchange.com.

About USA Triathlon
USA Triathlon is proud to serve as the National Governing Body for triathlon, as well as duathlon, aquathlon, aquabike, winter triathlon, off-road triathlon, paratriathlon, and indoor and virtual multisport events in the United States. Founded in 1982, USA Triathlon sanctions more than 4,000 events and connects with more than 400,000 members each year, making it the largest multisport organization in the world. In addition to its work at the grassroots level with athletes, coaches, and race directors — as well as the USA Triathlon Foundation — USA Triathlon provides leadership and support to elite athletes competing at international events, including World Triathlon Championships, Pan American Games and the Olympic and Paralympic Games. USA Triathlon is a proud member of World Triathlon and the United States Olympic & Paralympic Committee (USOPC).