Over 200 Age Group Athletes Compete for Triathlon and Aquabike World Titles in Abu Dhabi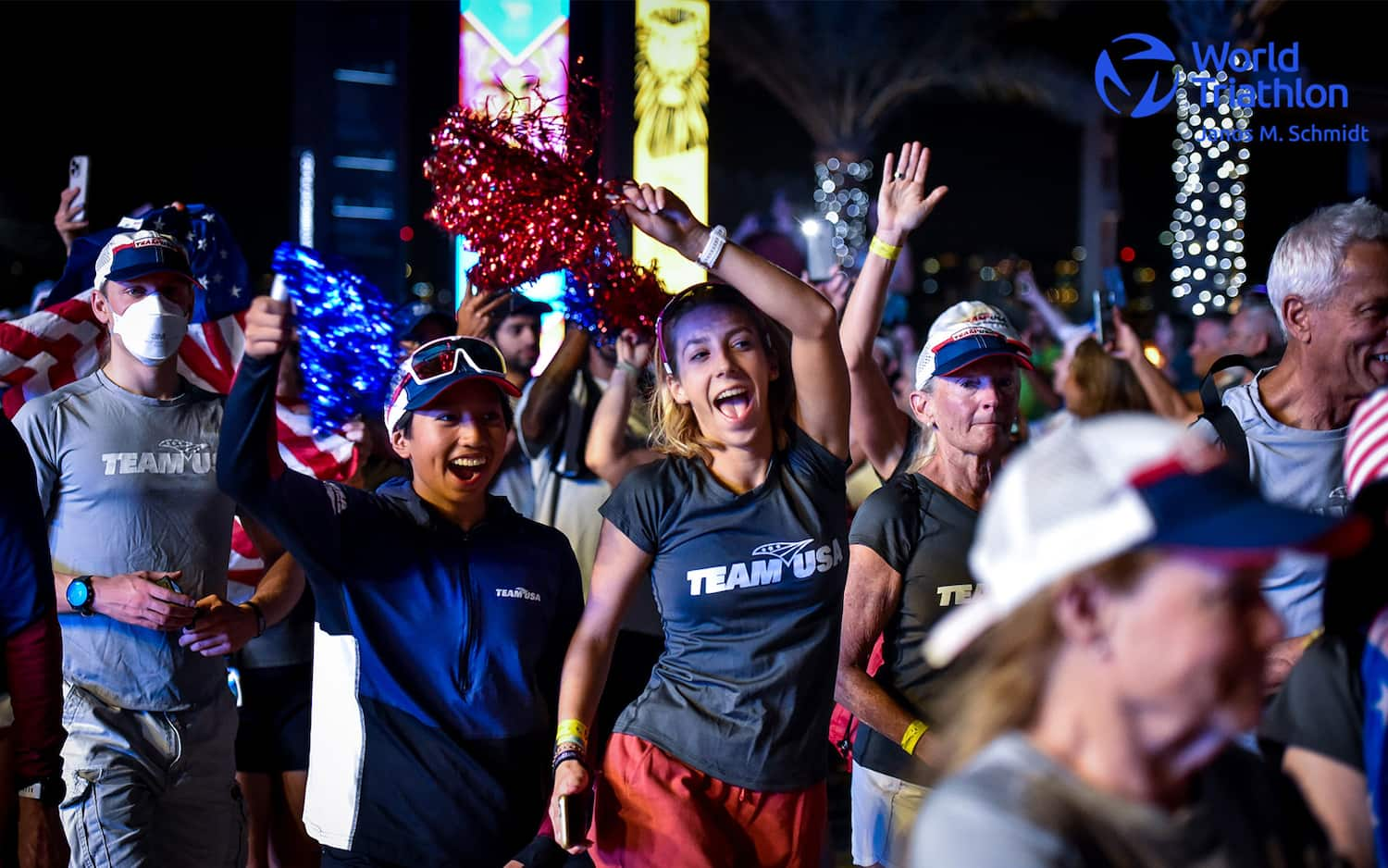 COLORADO SPRINGS, Colo. —
A total of 234 multisport athletes from 35 states and Washington D.C. will compete this week in Abu Dhabi for the 2022 World Triathlon Age-Group Championships. A female-led team, 53% of the amateur Team USA roster is women.
Three multisport events are set to take place over the course of two days as athletes compete in Standard-Distance Triathlon, Super Sprint Triathlon and Standard-Distance Aquabike, the swim-bike format.
Following the opening ceremony and parade of nations, the first age-group competition will take place on Thursday, Nov. 24 with the Super Sprint Distance Championships. The course will feature a 400-meter swim, 10-kilometer bike and 2.3k run. Representing from the U.S., 94 athletes are on the roster, including 55 women and 39 men.
Both the youngest and oldest athletes racing in Abu Dhabi for Team USA will compete in the Super Sprint event. Shantelle Tupaz (Pleasanton, Calif.) will vie for a world title at only 16 years old, while Jim Farr (Willis, Texas) will be racing at 88 years old.
On Saturday, Nov. 26, the Standard Distance Triathlon Championships as well as the Standard-Distance Aquabike Championships will close out the World Championship week.
The Standard Triathlon will feature a 1500-meter swim, 38.9-kilometer bike and a 10-kilometer run that will wind through the Yas Bay Waterfront.
146 athletes are signed up to race on Saturday, with 74 men and 72 women. The youngest athlete on the Standard Triathlon is 19-year-old Nick McKenney (Chattanooga, Tenn.) and the oldest 80-year-old John Turner (Hattiesburg, Miss.).
The largest pool of age-groupers from the U.S. in the event are in the men's 65-69 division and the women's 45-49 division with both groups seeing 13 athletes competing against other nations.
In the Aquabike World Championship race, 54 total U.S. age-groupers will take on the swim-bike format, through a 1500m swim and 38.9k bike course.
With 30 women and 24 men competing, the youngest Aquabike contender is Laurel Krause (Breinigsville, Pa.) at 20 years old. Then oldest athlete is 83-year-old Luise Easton (Westlake, Ohio).