News
Paralympics
Adaptive Athletes
Paratriathlon
NCAA
Foundation
Two-Time Paralympic Triathlon Medalist Grace Norman To Serve As Watch Us Thrive NIL Collective Ambassador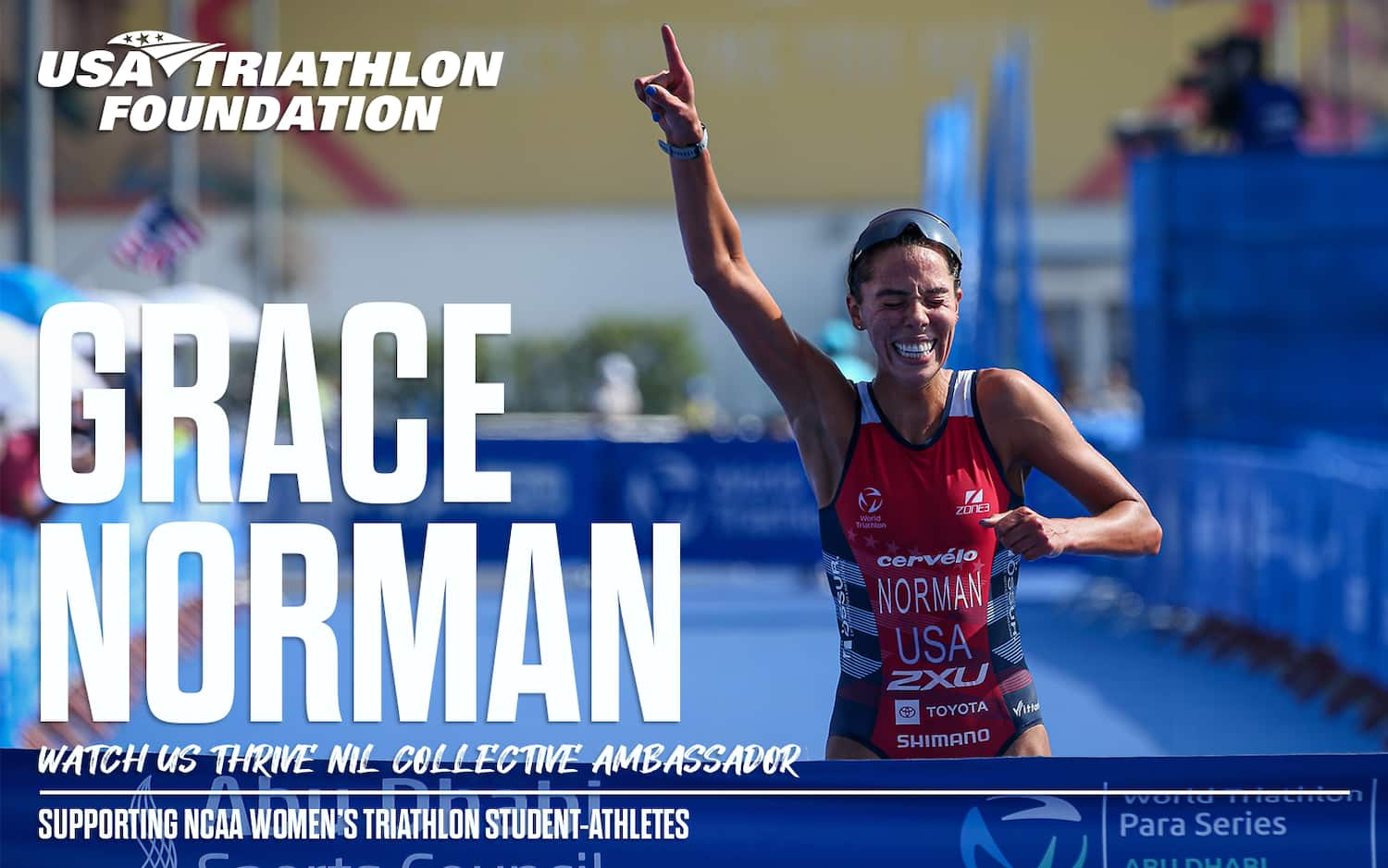 COLORADO SPRINGS, Colo. – Two-time Paralympic triathlon medalist and 2022 world champion Grace Norman will serve as an ambassador for USA Triathlon's Watch Us Thrive NIL Collective.
As a Watch Us Thrive Ambassador, Norman will drive the collective's resource needs and impact through social media promotion, speaking appearances, fundraising assistance, and donor and athlete engagement.
"The opportunity for collegiate women to receive support through the Watch Us Thrive NIL Collective is incredible," said Norman. "Triathlon is still developing at the college level, so funding is a critical factor for many athletes working to achieve their goals. As a former runner at Cedarville University, I experienced the challenges and learned the value of competing in collegiate sport. It's exciting for me to be in a position to advocate for fundraising that advances women's triathlon. I am truly honored to bring my experience as an NCAA athlete and Paralympic medalist to this significant USA Triathlon initiative."
A three-time Paralympic Medalist and three-time World Triathlon Para Champion, Norman is an Ohio native who earned a nursing degree from Cedarville University, where she competed on the NCAA track and cross country teams. At the Rio 2016 Paralympic Games, Grace competed and medaled in both track & field and paratriathlon, becoming the first U.S. athlete to win gold at paratriathlon's Paralympic debut. At the Tokyo 2020 Paralympic Games, Norman added a Paralympic triathlon silver medal and she is currently training for Paris 2024.
The Watch Us Thrive Collective was announced in November 2022. Applications for interested student-athletes will open on May 1 and will close on June 30, and the inaugural 2023 class will be announced in August.
Financed through donors, the Watch Us Thrive Collective supports women's triathlon student-athletes in the form of Name, Image and Likeness (NIL) payments. In return, NIL recipients will promote triathlon and NCAA women's triathlon movement on their social media channels and through other digital avenues. Those who are interested in furthering the goals of the Collective can donate here. All donations to the Collective are tax-deductible.
About the USA Triathlon
Foundation
The USA Triathlon Foundation is a 501(c)(3) non-profit organization and the charitable arm of USA Triathlon. With its mission to transform lives through sport by providing opportunities to swim, bike and run, the Foundation serves to generate a greater impact on the multisport community through charitable giveback and grants that advance the Foundation's three pillars: (1) Encourage youth participation; (2) Inspire pathways to access and inclusion; and (3) Ignite Olympic/Paralympic dreams. Since the Foundation was established in 2014, it has impacted the lives of thousands by providing grants to organizations and individuals in pursuit of its mission and pillars to create a healthier United States through triathlon. To learn more about the Foundation and get involved, please visit usatriathlonfoundation.org.
USA Triathlon is proud to serve as the National Governing Body for triathlon, as well as duathlon, aquathlon, aquabike, winter triathlon, off-road triathlon, paratriathlon, and indoor and virtual multisport events in the United States. Founded in 1982, USA Triathlon sanctions more than 4,000 races and connects with more than 400,000 members each year, making it the largest multisport organization in the world. In addition to its work at the grassroots level with athletes, coaches, and race directors — as well as the USA Triathlon Foundation — USA Triathlon provides leadership and support to elite athletes competing at international events, including World Triathlon Championships, Pan American Games and the Olympic and Paralympic Games. USA Triathlon is a proud member of World Triathlon and the United States Olympic & Paralympic Committee (USOPC).