Blogs
Features
Paratriathlon
Adaptive Athletes
Paralympics
Expanding the Paralympic Movement Worldwide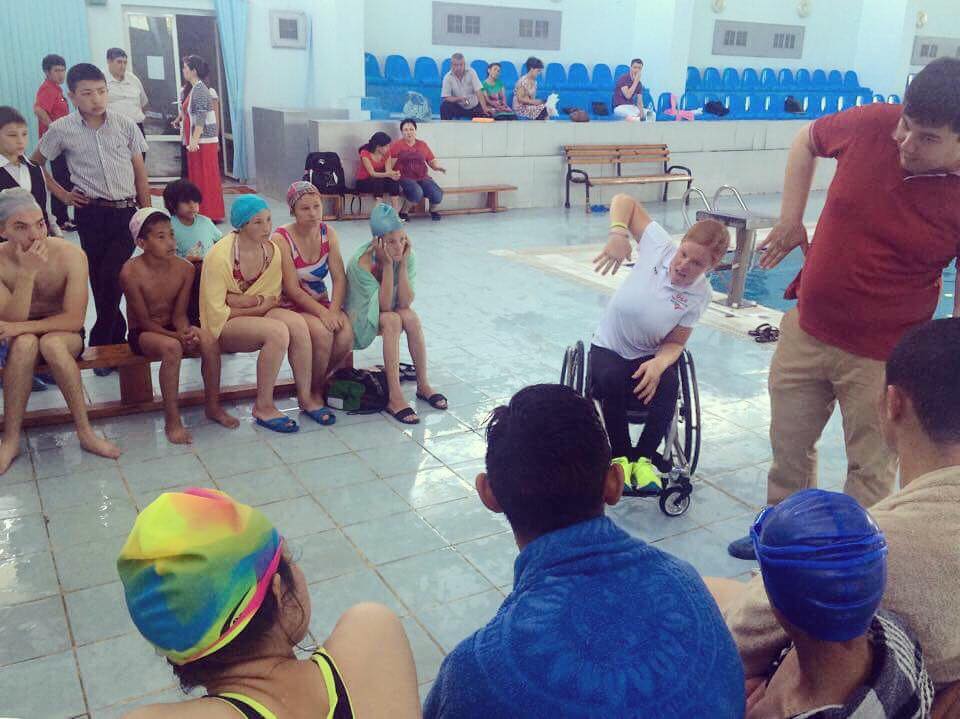 After crossing the finish line at WTS Yokohama, I headed straight to Narita Airport not knowing whether or not the travel visa for Uzbekistan would be approved prior to my flight that was scheduled for that night. Twenty five minutes before my flight to Uzbekistan was supposed to take off, the email with the approved travel visa came in and so off to Uzbekistan I went. The good thing for me was that I was exhausted from racing that morning, so I slept 12 hours of the 13-hour flight to Turkey. I had a few hours in the airport in Turkey and then had one last five-hour flight over to Uzbekistan. Phew, talk about a crazy 24 hours!
I headed to Uzbekistan as a Sport Envoy with the U.S. Department of State to go over and work with the Uzbekistan Paralympic Association coaches, trainers, athletes and future athletes. Since my background in triathlon began with swimming, I was specifically heading over there to work with the coaches and athletes in the pool.
We spent seven days in Uzbekistan working with athletes both in the pool and teaching them dry land exercises. We had the opportunity to meet with coaches and trainers to discuss how the Paralympic movement works in the USA, and we learned about what Uzbekistan is doing to further grow their movement. One thing that was amazing to hear was that Uzbekistan has an entire Paralympic training center set aside for both their current and hopeful Paralympic athletes.
For a girl who likes to talk and who is a major people person, the greatest challenge for me was the language barrier. Almost none of the athletes, coaches or trainers spoke any English, so I relied completely on the interpreter that traveled with me to all of the classes or pool sessions I was teaching. Sometimes explaining specific drills would get a little lost in translations, so by mid-week I figure out that it was much easier for me to get in the pool and show them the drills.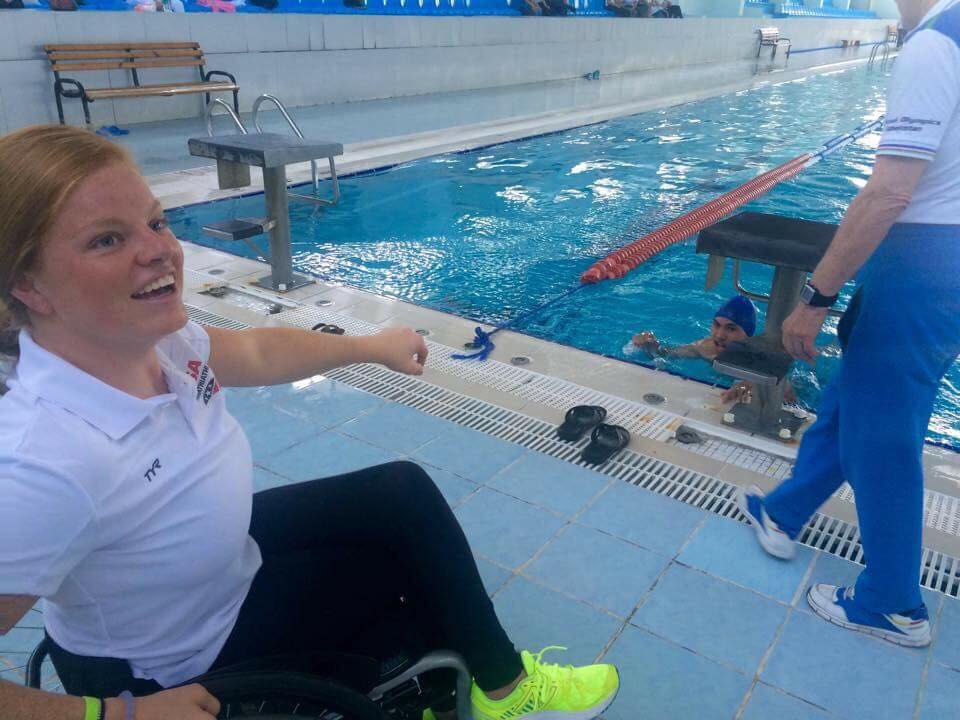 I did not know much about Uzbekistan prior to this opportunity, but from the second we landed, I realized how beautiful the country was. The first three days were spent teaching and working with athletes that lived up in the valley, away from the capital. This was about a six-hour drive but probably one of the most scenic six hours I have ever spent in the car.
At the end of the trip, they handed me a sword. The meaning of the sword in Uzbekistan is that they now consider you part of their family. I had only know these people for seven days, but in those seven days, each and every one of them reminded me of why I got into the sport of triathlon and why I love it so much. At the end of the day, it's way more than just swimming, biking and running — it's about the journey. It has introduced me to so many amazing people.
In this big world it is pretty neat to see so many people come together for the love of sport. I was able to see that same passion for competing, learning and success that I see in my teammates and coaches back in the USA. Sports have given me so much the last 14 years, so being able to share my love of sport with another part of the world was such a special opportunity.