News
Features
Paralympics
Paratriathlon
A wild year of change for Chris Hammer only means one step closer to Paris
Toyota U.S. Elite Paratriathlon National Team member Chris Hammer (Troy, Mich.) has an experience or two when it comes to the journey to the Paralympic Games.
With Paris 2024 now in the near sights and the qualification period just around the corner, Hammer enjoys the benefit of being an older, more experienced athlete – knowing that the only thing stopping him from competing in Paris is himself.
However, this past year's Paralympic journey has looked a little different than normal for Hammer. Starting the year in West Virginia, he moved his family across the country to live in Tempe, Arizona, in order for him to train with USA Triathlon's Project Podium team, becoming the first paratriathlete to compete with the elite squad.
He also made some significant career moves by becoming the first U.S. paratriathlete to earn a U.S. elite triathlon card and compete in the men's professional field in IRONMAN 70.3 races.
So with a new city, new job, new team and new competition, Hammer is finally feeling settled and looking forward to racing in Abu Dhabi in November at the World Triathlon Para Triathlon World Championships and begin the path toward his third Paralympic Games.
You've had a lot of changes this year.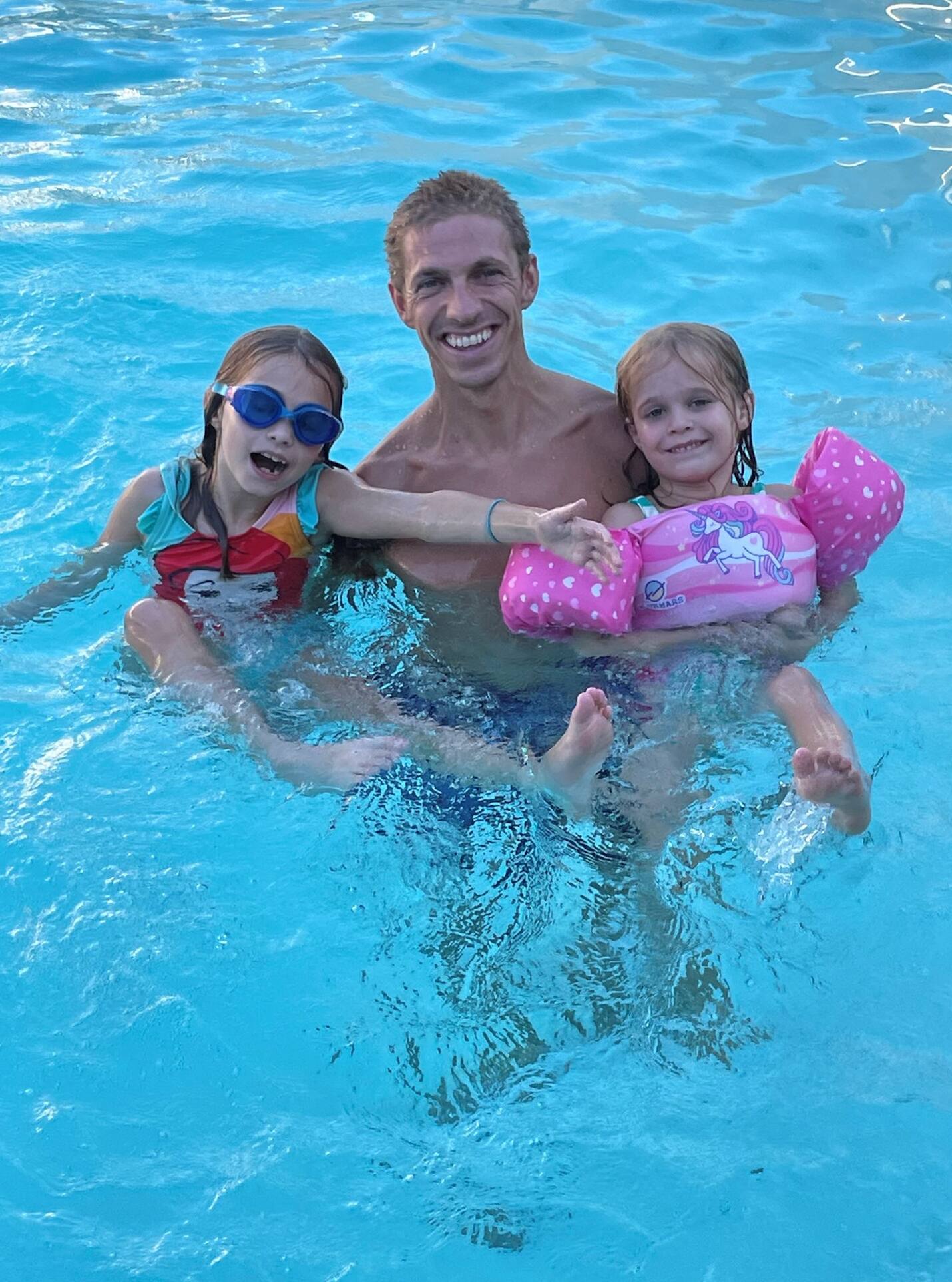 It's been a crazy year with a lot of life changes. I moved across the country from West Virginia to Arizona to join the USA Triathlon Project Podium Team in February. I moved out five months before my family came out to get settled and get everything ready. I was coaching at the collegiate program at Davis & Elkins College in West Virginia but needed to leave before they started recruiting for a team that I was not going to be a part of. I moved and started working at Arizona State University. Then we needed to sell a house and buy a house – there was just so many moving parts. And of course, I wanted to train with the training group that I was moving across the country for. It's all been hectic, but it's been a year now and we're starting to get settled in.
Sounds like you have a great support system with your family with all the new transitions.
Absolutely. My wife came out earlier, so it was less time away from her, but then my kids spent the summer at my parent's house in Michigan. When my wife came out, we could really get the house settled into and then my parents flew out with the girls. I would not be out here if it wasn't for the support of my wife. She would do anything for me, but I can't do anything without her blessing and her support. When I was given the opportunity to join Project Podium I almost didn't even mention it to her because I figured she would not have been interested, because Arizona is very hot and we've never even remotely experienced that before as far as living goes. But I was shocked when she was open to it, and there were some other factors that played into it, but that was a decision that we made together.
How has that experience been training with the Project Podium team?
I started training with them in February initially for a few months and then they moved out to go out to Park City, Utah, during the Arizona summer. I stayed here this first summer because I mean that's when my wife and kids came out so I couldn't just pick up and leave once they moved out here. The team just recently came back, so now I'm taking back up with them. So I've always been coached by the Project Podium coach (Parker Spencer), but during this summer I was training by myself in the Arizona heat. Which was not ideal but we're making all decisions with a long-term perspective, not necessarily for the short term. That wasn't the best decision for the short term but when we're looking ahead for Paris 2024 it made the most sense.
But the team has been really receptive to having me and it's been a blast training with them and getting to know them. I am a lot older than most of the team so we are in different stages of life, but I think they could see that we all are just doing the sport that we love doing and that's something we can all agree on – our love for pushing ourselves and for getting the most out of ourselves.
How has your race season been going this year?
My first race of the year was the Americas Triathlon race in Sarasota, Florida, which was a race I did at the height of the craziness of my move. Then I did IRONMAN 70.3 Oceanside and I raced the pro field, which was really humbling, but fun. I am doing those races for a couple different reasons, one because I think it's helping to make me a stronger more complete triathlete and it's pushing me in different ways than I've been pushed before. But also I take a lot of pride in being the first U.S. American paratriathlete to have earned a USA elite license by able-bodied standards. It's cool to have the opportunity to do something that no U.S. athlete has done before. It's an honor and distinction in being able to represent paratriathletes in that respect as well. So I have done three of the pro 70.3 races this year. They are going okay, but I haven't had a breakout performance in them yet.


The main World Triathlon race I did was Montreal, which was a good, hard race. That was when my season was really kicking off and then unfortunately it was the week before Swansea race when my whole family came down with COVID-19. I also had a lingering calf injury that I was dealing with both before and after that, so the recent part of my season has been far from ideal in terms of preparation goes. This year has been a weird year in terms of lots of changes, but also battling some things that I haven't really had to battle in the past. I feel like I'm now just coming out of the fog of COVID and the nagging injury, so hopefully I have a solid block built into Abu Dhabi.
You have made history with becoming the first U.S. paratriathlete to race in the pro IRONMAN field, so why was it humbling to race 70.3?
Well of course because of the competition level of who I am sharing the line with. In Oceanside, Alistair Brownlee was on the startling line, so I raced against an Olympic gold medalist. As an elite paratriathlete, I am aware that there's a whole other level of athlete out there who are also a master of their craft. Some are significantly faster than what I could even ever dream of being, so it's humbling. And the longer distance, it's a different energy system you're using. It doesn't hurt any less or any more, it's just it's different and it takes time to be good at that distance. I'm only doing the half IRONMAN, I have no plans to do a full – that is a long time to be on the bike or swimming! It makes me appreciate the sprint distance a whole lot more when I am out there for four hours racing. I think healthy and fit I would be better at the longer distance racing, so ultimately I do prefer the long course racing more I just realized that you have to have a whole lot more go right as far as training and health goes to be competitive. If you lose fitness going into the longer racing there's no faking it, whereas I think in the sprint it's short enough that it might be a little bit easier to overcome some of the challenges that you might face in training and in terms of injury and illness.
So then right now it's full speed ahead to the World Championships in Abu Dhabi on the short course?
The calf thing still kind of lingers, but it's at a point where it seems to be very manageable, and I must continue to be smart but take calculated risks to push it. I think I will have probably two solid months of training going into Abu Dhabi, which I feel is deficient to really regain top form and I'm training with the highest expectations of myself.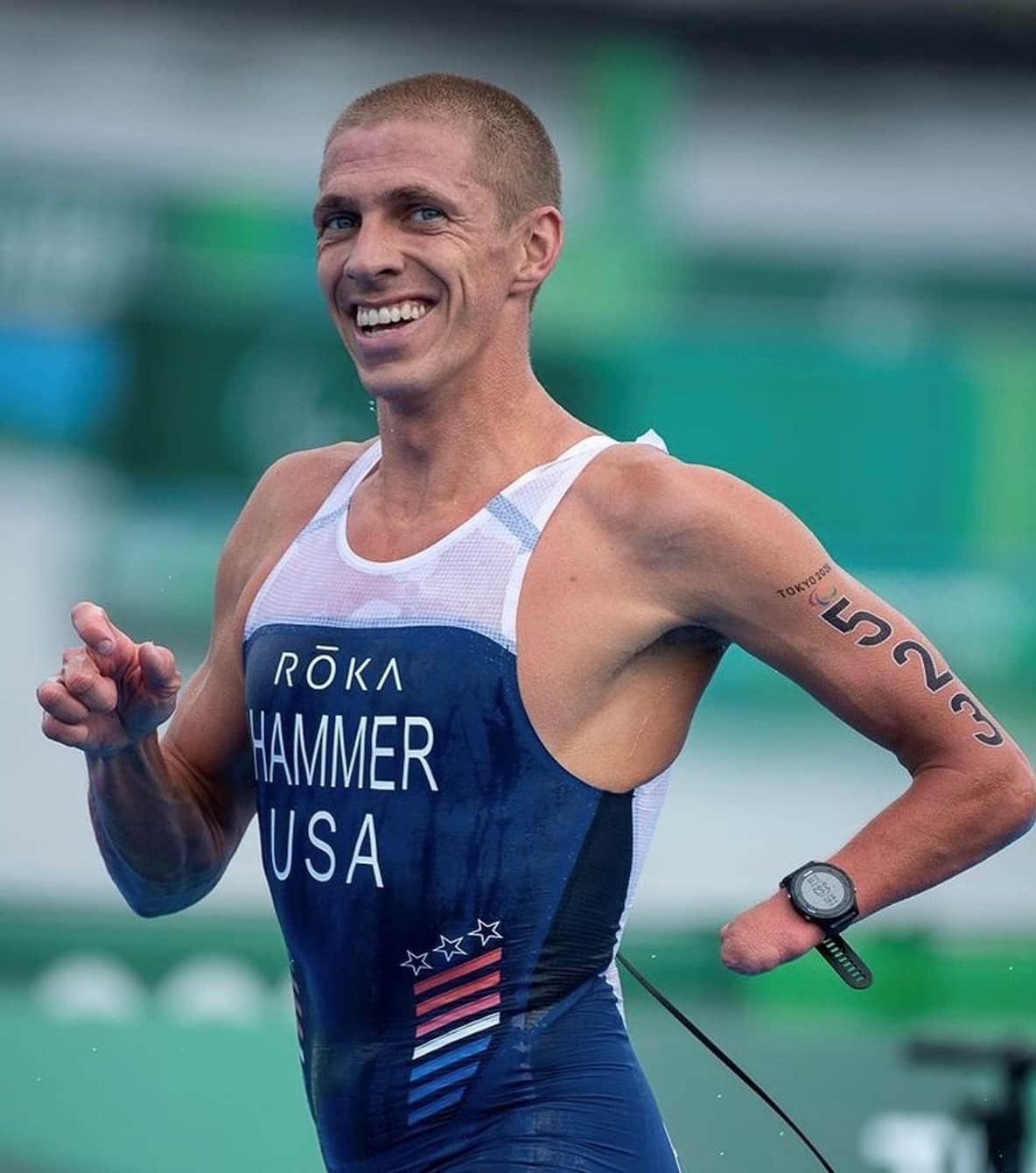 The men's PTS5 classification has incredible strength, how is it going up to compete with such high-performing athletes such as Peasgood, Daniels and Schultz?
I may be biased, but I truly think the PTS5 men's category of paratriathlon is probably the highest performing level of para that exists regardless of sport. In the sense that there are so many people in this classification that could also qualify as able-bodied elite athletes and they do race as able-bodied elite athletes. I love competition and I love pushing myself and if I wasn't pushed to the degree that my classification pushes me, I wouldn't be where I am today. I wouldn't be in Arizona trying to train with the future U.S. Olympians getting my behind kicked every day trying to keep up and close the gap on the top PTS5 men. If I am to climb the mountain top that I'm still fighting to climb it's going to mean so much more that I've had to overcome the best competition out there to do so. I am in no means diminishing the competition or the challenges that other classifications face, but I feel like it's tough and just brutal competition. You have to have your absolute best day just to give yourself a chance to being in contention and that's good, that's where you want the score to be.
The bond between the U.S. paratriathlon team seems very special and unique.
What is amazing about the paratriathlon team is because there's so many classifications, we are not each other's competition for the most part. So, we are able to be fully supportive of each other because we're on the same team and chasing our own dreams independent from each other. We are also mostly a bit older, which brings different and more life perspectives where we realize this sport is not all about outcomes. There's more to life than the place you get in a triathlon, it's more the journey that we really value. There is also a friendship in making these experiences that we're having and then being able to share it with our families.
How has your family been a part of your journey so far?
They come to races when they can, and I know they are hopefully planning to come to Paris 2024. For the most part since the sport takes me away from them for so long, it's important to me to be there for my family outside of triathlon. I do date nights with my wife, and we do family game nights with the kids. I just feel I can't let triathlon get too much in the way of me being in their lives because obviously they have to make sacrifices when I'm on the road or are up early for training and or gone late.
When it comes to my kids though, I do hope that they see the hard work and the dedication that is necessary to pursue a dream. They see me how hard I must work, so I hope that they if there's something that's important to them then they can see me as a good role model to them to go after it. It's funny though because the other day at dinner we were talking about the Paralympics and you know the different impairments that people have and they told me they didn't know I had an impairment. They call it my fist bump! They just don't think of it as an impairment because I don't allow it to be an impairment or never use it as an excuse, especially around them.
So, what are your goals for the rest of the season and onward to Paris 2024?
One thing I think people around me would criticize me for is that I lack confidence, or I need to be more confident, so I'll stay consistent with that and not predict any big performance or anything because it's so much easier to talk than it is to actually carry out. Although, everything right now is targeted toward Paris and I know there is a World Championship coming up, but truly I will use it as another steppingstone for that larger goal. I'm fortunate to be in the position where I can have that long-term mindset. I know in Abu Dhabi there's a lot on the line for a lot of people, but for me and for where I'm at in my career I just want this to be a steppingstone in the right direction. I want this to be something that kind of reinforces that you know all the sacrifices are worth it and it's helping me to improve in the way I want to. Obviously, I can't control what the competition does, and you know it's not like the able-bodied side where you're drafting on the bike and there's so many competitors around you. A lot of times in the para races you're out there on an island and you're just pushing against yourself. So, with any other race I've ever done the ultimate goal is just to be able to look at myself in the mirror at the end of the day without any regrets that I could have done something different either in the race or in the preparation.


It's the same thing with Paris. I'm not going to lie, I've been in fourth place at the last two Paralympic Games I have competed in, just seconds off the podium. So, there's a big goal or dream to finish on the podium. But at the same time, like even after that race if I win or lose or get fourth place again, it's fine if I know that I could look at myself without any regrets.