Features
Q&A
Adaptive Athletes
Paratriathlon
Paralympics
Elite paratriathlete Owen Cravens trains with Project Podium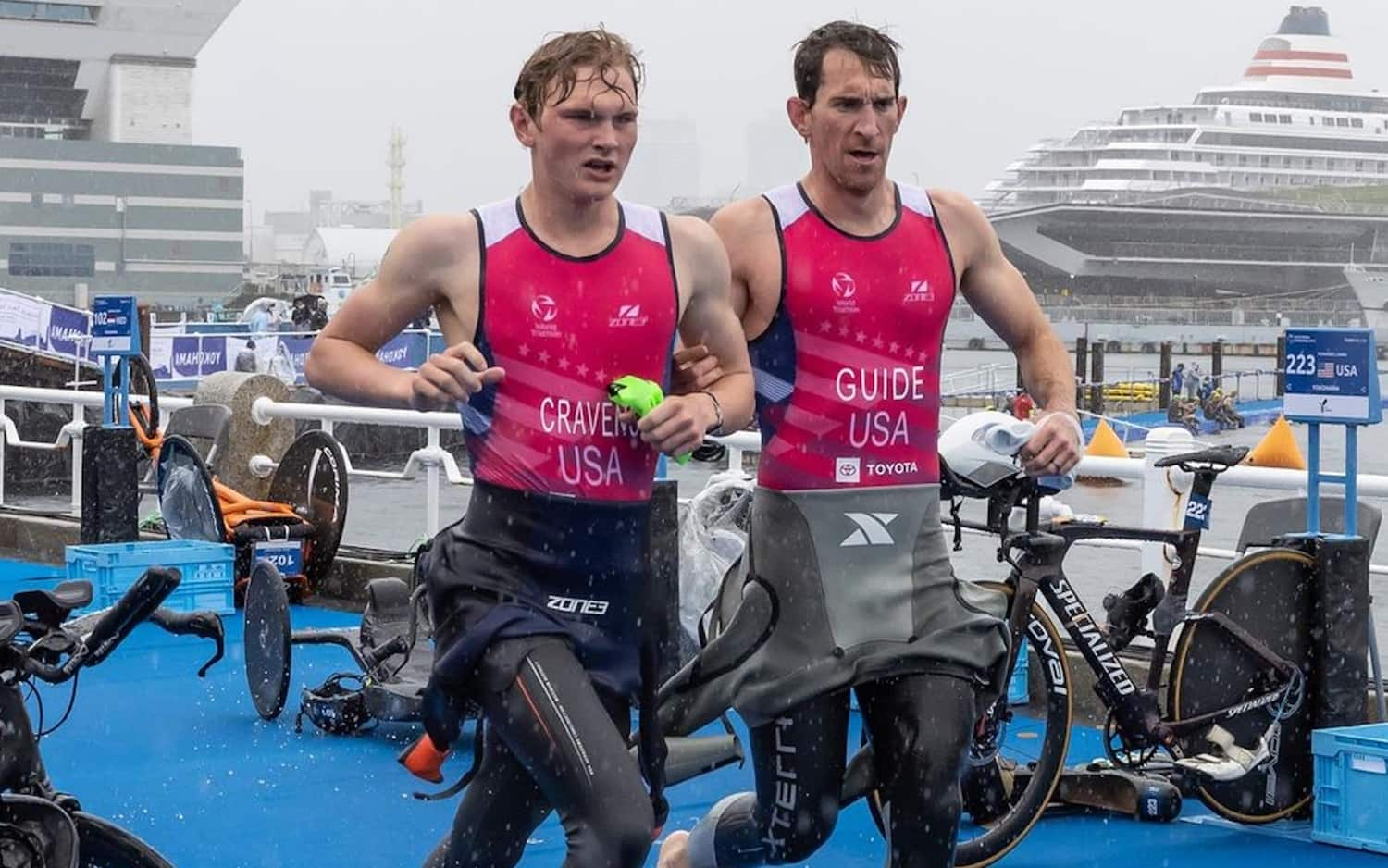 Owen Cravens is ready to make his mark in the elite paratriathlon world.


Although he officially debuted in 2019 in the competition circuit, last year, the 2022 season, Cravens completed his first full elite cycle in the World Triathlon ranks in the visually impaired PTVI sport classification.


And despite being the newcomer, Cravens showed up proving he is one to watch.


He earned his first international podiums in the span of just over a month of competitions. He claimed the silver medal at the Americas Triathlon Para Championships in Sarasota-Brandenton, Florida, a silver at the World Triathlon Para Series opener in Yokohama, Japan, a bronze medal at the Para Cup Besancon in France and another silver medal at the Para Cup A Coruna in Spain.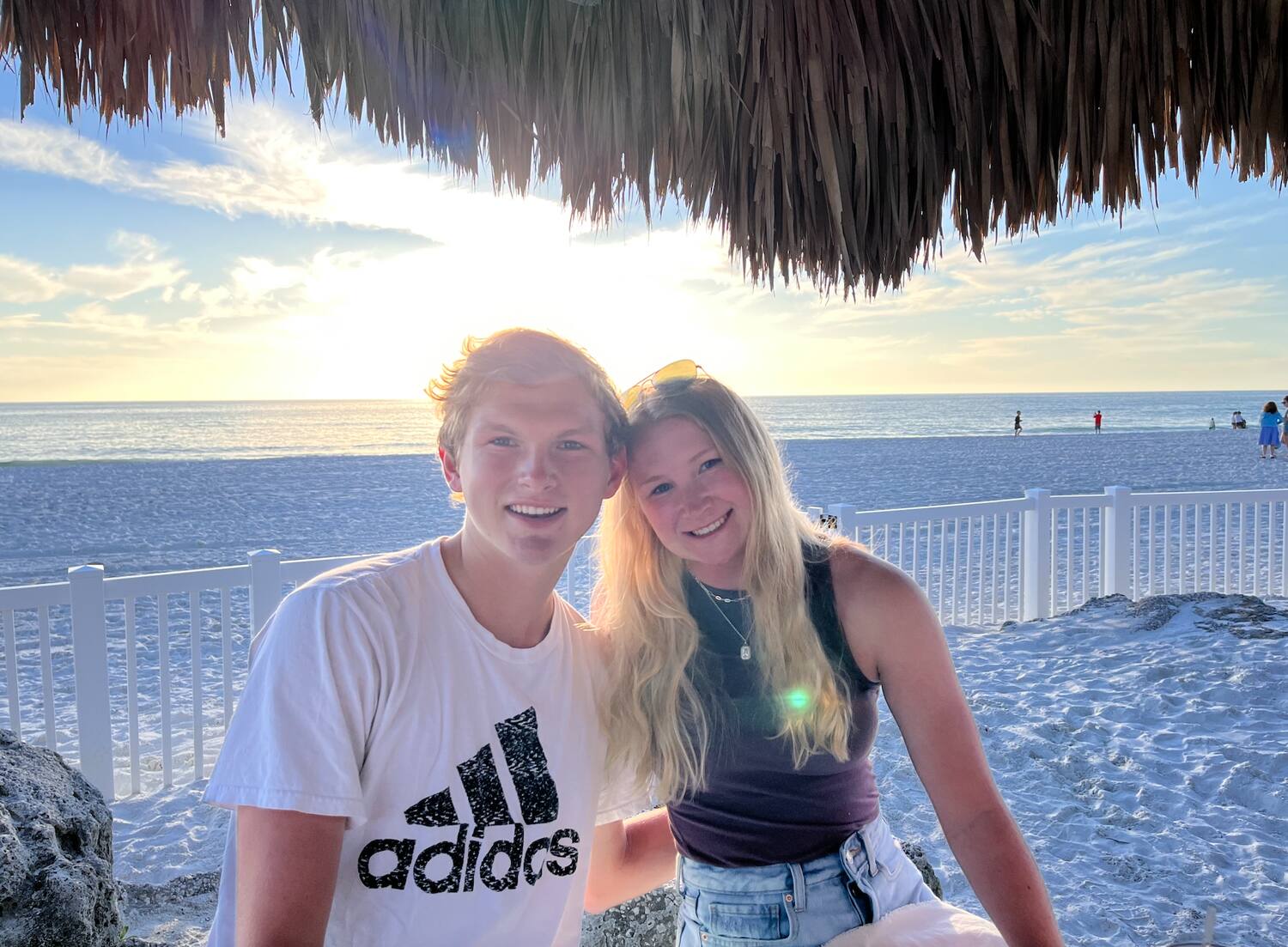 Now, having tasted the international scene, Cravens is focusing on accomplishing his Paralympic dream, with his goal to make it to the Paris 2024 Paralympic Games next year. While for the last couple of years he trained and lived at the U.S. Olympic Training Center in Colorado Springs, Colorado, this winter he moved to Tempe, Arizona to join USA Triathlon's elite development squad, Project Podium.


Cravens joins fellow college-aged elites, as well as three-time Paralympian Chris Hammer on the Project Podium team. He and Hammer are the first two para elites to train on Project Podium, making history for para and able-bodied elites to work together.
Cravens shared his story with USA Triathlon this spring:

How did you get into triathlon?
I grew up playing soccer in the suburbs of Chicago, but eventually started to notice a progression in vision loss. I had to adapt my sporting goals. I also grew up swimming and I had joined the cross-country team when I was younger, so it was pretty natural for me to switch over to triathlon. I started off in able-bodied races and competed alone, but then my vision loss progressed to a point where I needed to race in the paratriathlon division and have a guide. That is where this all started and eventually I took it to the next level and started racing internationally.

You have the same eye disease (Stargardt disease) as fellow U.S. Paratriathlete Deb Chucoski. Since you started in able-bodied triathlon, how was the transition to racing with a guide?
It was definitely a weird transition. It wasn't super easy for me, but it did allow me to race stress free, which was huge. It was the step that I needed to take for my racing strategy, to adapt to working with another person in order to prepare and execute a race.

How did you first get connected with your guide Colin Riley? How do you feel is your race chemistry?
I started racing with a guide out of Chicago who is affiliated with Dare2tri, named Eric Rob. He was the person that started me in the sport. Then I transitioned to racing with a former club coach Eric Palmquist, but eventually I got called up. So, Colin [Riley] and I got connected through Aaron Scheidies, a former paratriathlon World Champion who Colin had guided for in the past. We started working with each other and it's definitely been a learning experience. We're very different people in terms of interests, but we've developed a really good racing relationship.

What discipline do you feel you excel at the most?
I think I'm the best swimmer personally, but I'm trying to reflect my pool swimming into open water a little bit more so that's been kind of my focus for the past couple months.
Last year, 2022 was your first full season competing at the elite international level, how would you describe your year and competing at this level?

Very educational. I didn't really understand the level of triathlon that was available to me, so it definitely was eye opening and it really shows how competitive paratriathlon really is because there's some very elite athletes that can compete at the highest level of sport.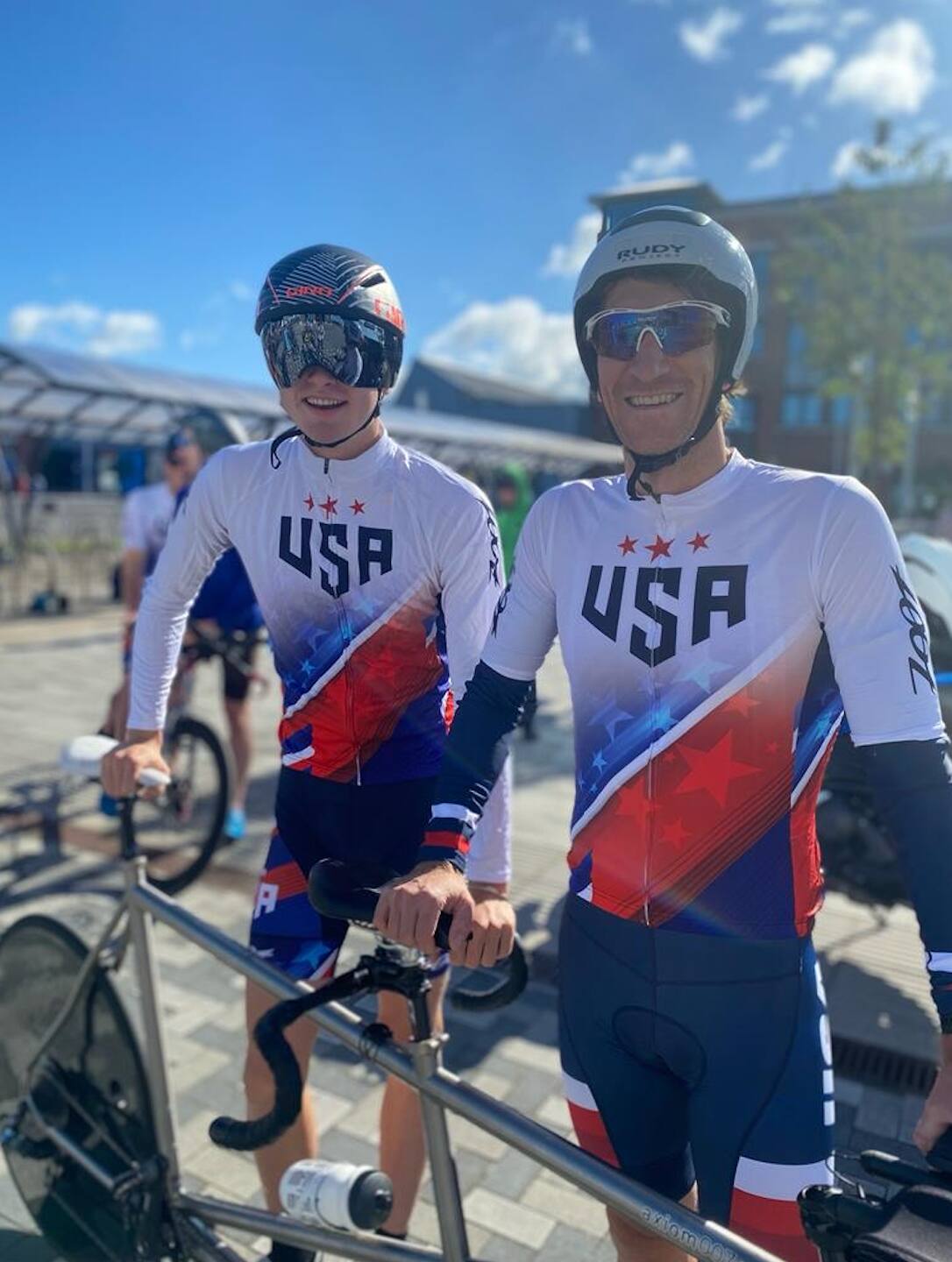 Now with a debut season under your belt, what areas do you hope to improve on?
This past year really showed me where I stack up in international competition. Going into the Paris 2024 Paralympic Games I think it's going to be super important for me to get to a podium level. Last year I was floating around the fourth- to eighth-place range, so I need to aim to get to that next level. Paris has been my goal for the past three or four years since Tokyo I was too young. I am focusing all my goals toward Paris and would love to even medal. So last season definitely refocused me and showed me what I need to do in order to accomplish that goal.

What prompted the decision to move to Arizona to join the Project Podium team?

Project Podium has been where I wanted to go and always saw myself going. The benefit of the team out of Tempe is that it's a team environment and there are people that are faster than me and that can get me to that next level.

What do you hope to gain from training with that team?

Growing up in Chicago I was on a very close track team, and it really showed me and helped me become a better athlete in general from picking up on the little things from everyone that can definitely affect your own game. So, learning from the mistakes and the gains that people make on a team can really help you as an individual for the better. There is also the social aspect that is a big thing for me because being out in Colorado Springs there wasn't a ton of people my age, so training with people my own age who have the same interests as me is really refreshing.

You and Chris Hammer are the only two paratriathletes on Project Podium. Do you like the idea of both para elites and able-bodied elites training and working together? How can the two learn from each other?

I started chatting with Chris [Hammer] a couple months before my move and learned how the relationship that was shared with Chris and the team had been a really positive one. I'm really excited to help bridge that gap and it's really now becoming an interconnected relationship between elites and para elites, so it's really cool to see. We learn from each other, such as I have been able to teach them some lessons that I've learned from being all around the world the past three years. It is helpful I think for everyone to learn from each other's experiences such as what they've learned from loss and what they've learned from winning.

What are your upcoming season goals?

One thing that me and Coach Parker [Spencer] have been chatting about is staying more active just to continue to see where I stack up against the international competition. I'm still pretty new to internationally competitive racing, so getting some more experience is going to be huge. I think we're going to keep a pretty active schedule and try to go to most of the World Triathlon races as well as some inside the U.S.

Did you have a favorite race from last year?

My favorite race in the 2022 season was a World Cup in A Coruna, Spain, which is on the northwest coast and very close to where this year's World Championships are going to be. The city had the most amazing culture and scenery that I've seen in a race and I performed pretty well there. I got second, which was probably the best executed race I've done. Everything added up to be just the perfect race and in a cool environment.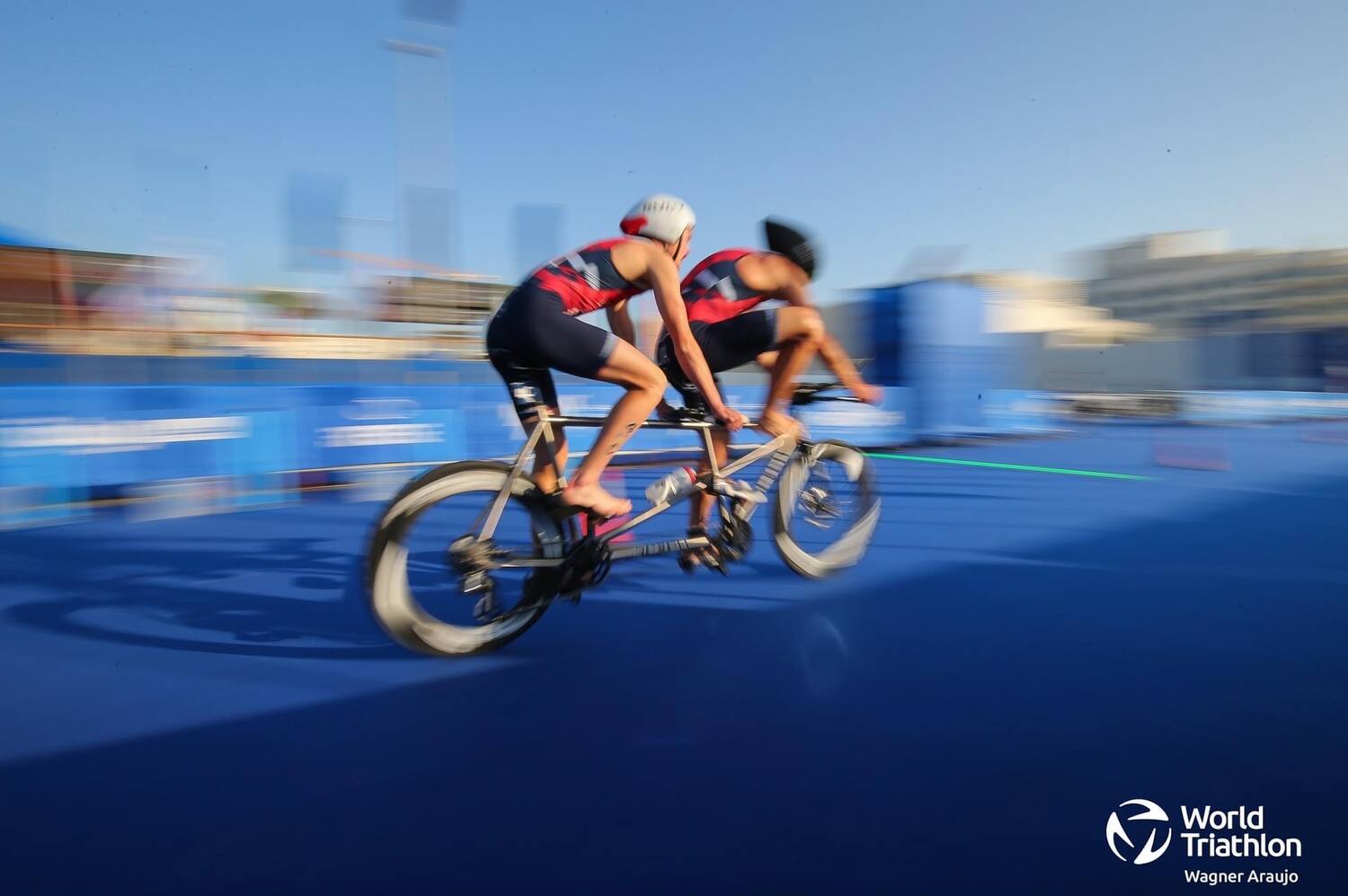 In Abu Dhabi you got to take part in the debut exhibit race of Paratriathlon Team Mixed Relay. How was that experience?
It was a really cool experience, especially seeing the competitiveness of it. The distance is super short, so it was a real sprint of max effort and that's pretty cool because I think I'm better with the high intensity stuff. It was a really cool addition to the race week. The team aspect behind it is fun because it really brings together everyone and spotlights all the different classifications in paratriathlon.


Do you have a paratriathlete role model?

Definitely being out in Colorado Springs and developing fairly close bonds with some of the residents there, I would say my role models are Hailey Danz and Kendall Gretsch. They've achieved basically the top of paratriathlon in terms of medals and their work ethic has really inspired me and showed me how hard that you can work towards these goals. As well as how much it can pay off and be fulfilling. They both are role models and friends.