News
USA Triathlon
Officials
Paul Brandt and Mike Abegg Earn USA Triathlon Officials Recognition Awards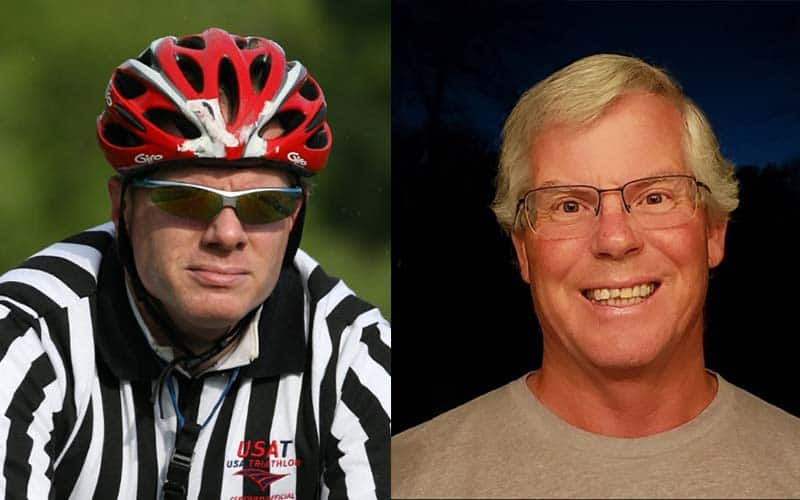 COLORADO SPRINGS, Colo. — The USA Triathlon National Officials Program today announced the winners of the 2021 Official of the Year Award and the Official Coordinator of the Year Award, recognizing two individuals who have made significant contributions to the profession of officiating and the sport of triathlon.

Honorees were selected by Mark Turner, USA Triathlon Commissioner of Officials. The Official of the Year award was first presented in 2019.

2021 Coordinator of the Year: Paul Brandt (Lake St. Louis, Mo.)
Technical Officials Coordinator and Midwest Region Official
Brandt, a Category 2 USA Triathlon Official, started in the USA Triathlon National Officials Program in 2013. In addition to serving at the national level, Brandt completed the World Triathlon Level 1 course in Chicago in 2015 and then went on to earn his World Triathlon Level 2 in 2018 in Edmonton, Canada. He now serves on the Pan American Triathlon Confederation (PATCO) Technical Committee and is a World Triathlon Facilitator.

Over the past year, while many events returned to in-person racing, Brandt showcased his leadership role in an outstanding manner by helping handle the rescheduling of races that had changes take place due to the pandemic. His balanced leadership and calm approach kept programming on track at a crucial juncture for USA Triathlon. Brandt is recognized by his peers as a leader who works hard for all and shows a depth of knowledge. He is known for his work ethic and attention to detail.

"What I love about Paul [Brandt] is how he is on top of every detail – not just those that relate to a particular draft legal event – but the many others that touch our most important, high-profile races," said USA Triathlon Chief Sport Development Officer Tim Yount. "He is a source of great information and manages the many details that we need to see in a person in that role. I have the utmost respect for his work and trust him to manage any and all aspects of draft legal racing, whether that be juniors, elites, NCAA athletes or age-group events."

"During a year when racing returned to a sense of normalcy, Brandt was integral in orchestrating and advancing the National Technical Officials (NTO) program. The communication and planning to ensure success in the staffing of events were always met with a 'can do' attitude and above all, solution-oriented mindset," said USA Triathlon Director of Events and Programs Brian D'Amico.

2021 USA Triathlon Official of the Year: Mike Abegg (Benicia, Calif.)
Pacific Region Official
Abegg is a Category 1 USA Triathlon Official as well as an official in the USA Triathlon NTO program. This year marked the 14th year as a USAT official. During a year when races were often given the greenlight on very short notice due to safety concerns and ongoing challenges of the pandemic, Abegg consistently stepped up and brought his years of experience to the table to ensure that races had the support needed to run smoothly. Abegg has been a huge contributor to the triathlon community this year. He was Head Official with the Herbalife LA Triathlon and his excellent work helped the success of that event as he worked effectively with the race director and USAT to adapt and execute innovative strategies for elite race officiating.

"Mike [Abegg] has been involved with the official's program for more than a decade and has been a keystone to USA Triathlon's success from the beginning. This year has been a challenge to all of us and Abegg has been in the thick of working to support safe, fair and enjoyable racing for our community during very trying times," said Pacific Region Coordinator Ian Kelly.

For more information about the USA Triathlon National Officials Program, or to learn about becoming a USA Triathlon-certified official, visit usatriathlon.org/officials.

About USA Triathlon
USA Triathlon is proud to serve as the National Governing Body for triathlon, as well as duathlon, aquathlon, aquabike, winter triathlon, off-road triathlon and paratriathlon in the United States. Founded in 1982, USA Triathlon sanctions more than 4,300 events and connects with more than 400,000 members each year, making it the largest multisport organization in the world. In addition to its work at the grassroots level with athletes, coaches, and race directors — as well as the USA Triathlon Foundation — USA Triathlon provides leadership and support to elite athletes competing at international events, including World Triathlon Championships, Pan American Games and the Olympic and Paralympic Games. USA Triathlon is a proud member of the World Triathlon and the United States Olympic & Paralympic Committee (USOPC).


.