News
USA Triathlon
Adaptive Athletes
Statement on the Passing of Inspirational Triathlon Hall of Fame Member Rick Hoyt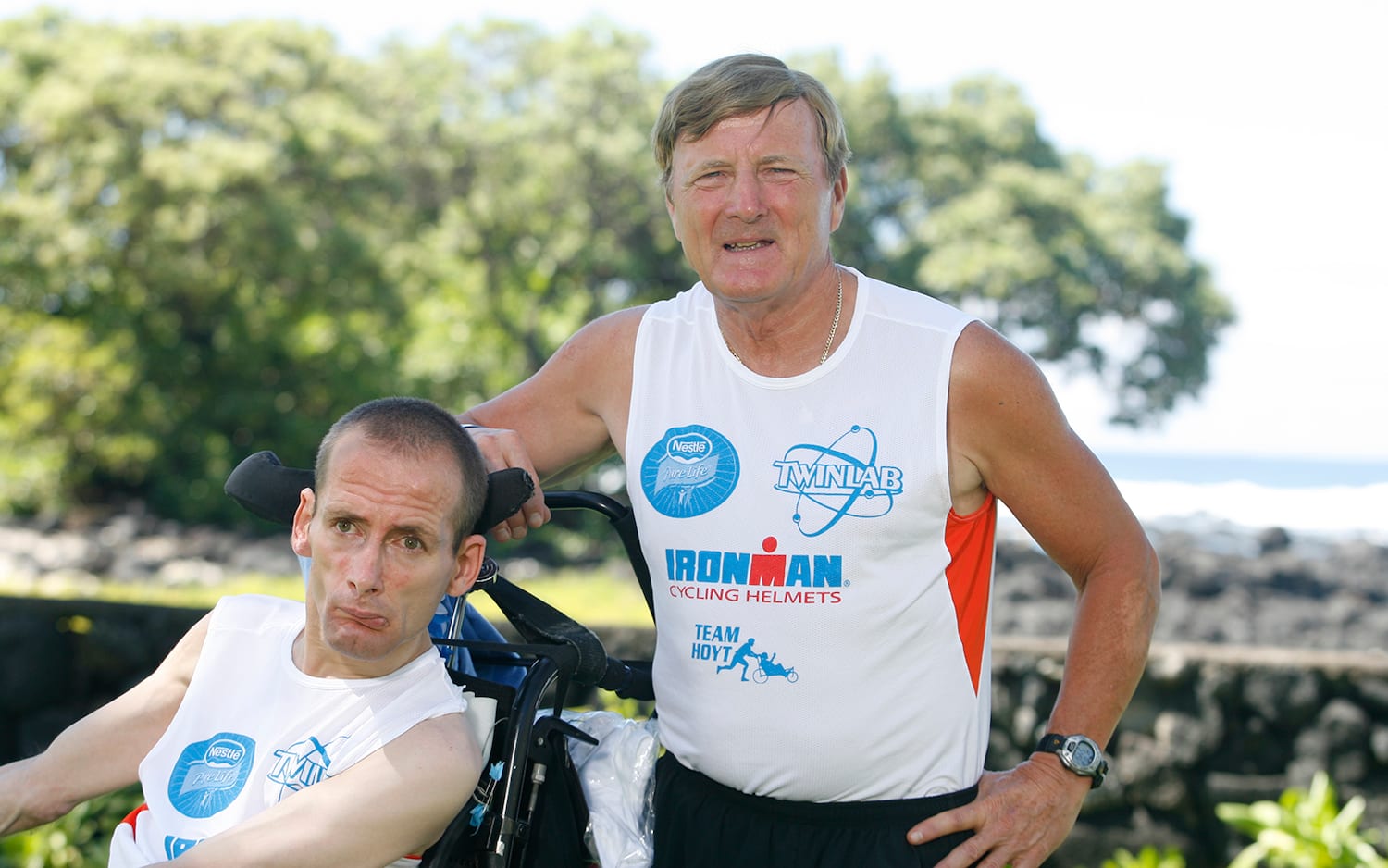 USA Triathlon is heartbroken to learn of the passing of Rick Hoyt, who will forever be remembered as a triathlon icon and a trailblazer for athletes with disabilities.
A USA Triathlon Hall of Fame member along with his father, Dick, together the push-assist duo inspired athletes around the globe, showing us what's truly possible with hard work, dedication and teamwork. Rick Hoyt's legacy will last forever through the lives he and his father helped change and the barriers he helped break.
Our thoughts and deepest condolences go out to the Hoyt family and Rick's many friends.
Over three decades, Rick and Dick Hoyt paved the way for the countless push-assist teams around the world who participate in endurance sports today. Dick Hoyt passed away in 2021.
In 2020, the Hoyts were inducted into the USA Triathlon Hall of Fame, becoming the first push-assist team to be inducted, and Rick the first inductee with a disability.
Born with cerebral palsy and quadriplegia, Rick Hoyt participated in his first race in 1977, a 5-mile benefit run, with his father pushing him in his wheelchair the entire race. After the race, Rick Hoyt told his father, "Dad, when I'm running, it feels like I'm not handicapped."
And "Team Hoyt" was born.
For decades, the father-son team completed more than 1,000 triathlons, marathons and other endurance events together. In 1989, Team Hoyt became the first duo ever to complete the IRONMAN World Championship in Kailua-Kona, and the famous pair repeated the feat in 1999.
Fellow USA Triathlon Hall of Fame member and longtime Boston Marathon race director Dave McGillvray introduced Team Hoyt at the Hall of Fame induction ceremony, telling the story of how he met the famous push-assist team at the Boston Marathon — the iconic race the duo would go on to run 37 times.
"I looked upon them with bewilderment. What is this? Someone is actually pushing another person in a wheelchair? I'd never seen that before. I waited for them at the finish line as I just had to find out who they were and what this was all about. That began a 40-year relationship and friendship between us," McGillivray said. "I asked Dick if he wanted to do my Bay State Triathlon. He said, 'Not without Rick.' I thought, 'how is he going to do this?' As we all know, the rest is history. They did it and never looked back."
USA Triathlon is proud to serve as the National Governing Body for triathlon, as well as duathlon, aquathlon, aquabike, winter triathlon, off-road triathlon, paratriathlon, and indoor and virtual multisport events in the United States. Founded in 1982, USA Triathlon sanctions more than 4,000 races and connects with more than 400,000 members each year, making it the largest multisport organization in the world. In addition to its work at the grassroots level with athletes, coaches, and race directors — as well as the USA Triathlon Foundation — USA Triathlon provides leadership and support to elite athletes competing at international events, including World Triathlon Championships, Pan American Games and the Olympic and Paralympic Games. USA Triathlon is a proud member of World Triathlon and the United States Olympic & Paralympic Committee (USOPC).