News
National Championships
Results
Ultra Distance National Champions Crowned at the Great Floridian Multisport Festival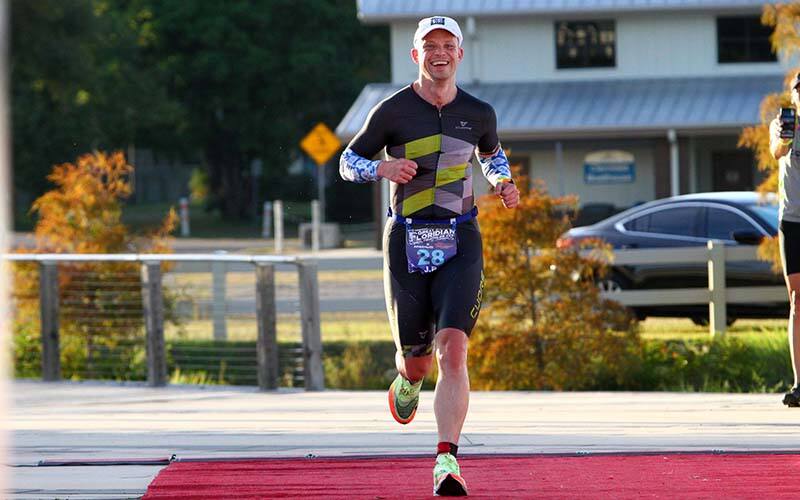 CLERMONT, Fla. — J.P. Dowd (Charlestown, Mass.) and Holly Smith (Marathon, Fla.) were crowned overall champions, and 12 other athletes earned age-group national titles at the 2021 USA Triathlon Ultra-Distance National Championships in Clermont, Florida, on Saturday, Oct. 23.
Dowd crossed the finish line in 10 hours, 33 minutes and 58 seconds after leading in both the swim and bike, to win the men's overall title and first in his age group (M45-49), earning his first Ultra-Distance National Championship.
On the women's side, Smith finished fifth overall among women and men, clocking a time of 11:08:17 to claim the women's national title and F35-39 age group win.
This year's race was held in conjunction with the Great Floridian Triathlon Multisport Festival, known as the longest running independent Ultra-distance triathlon in the country, with this year marking its 30th competition year.
The course, which consists of a 2.4-mile swim, 112-mile bike and 26.2-mile run, centered around the Clermont Waterfront Park. Athletes toeing the line on Saturday competed to qualify to represent Team USA at the 2022 World Triathlon Multisport Festival.
Mason Boyles (Tallahassee, Fla.) was the second-place overall male, finishing in 10:38:02 and earning the M25-29 age group title. Completing the men's overall podium was Doug Covington (Richmond, Va.), who crossed the line at 10:43:17 to claim third and the M50-54 age group title.
The second overall female was Gabrielle Suver (Oakland, Fla.) who crossed the line at 11:13:54. Her finish gave her the national title in the F30-34 age group. Following behind Suver was Andrea Gardner (Gainesville, Fla.) with a time of 13:47:22 to grant her third place in the women's event.
A total of 59 athletes competed in Clermont, with 14 athletes earning national titles on the day.

2021 USA Triathlon Ultra-Distance National Championships - Clermont, Fla.
2.4-mile swim, 112-mile bike, 26.2-mile run
National Champions — Complete Results
Male Overall: J.P. Dowd (Charlestown, Mass.), 10:33:58
Female Overall: Holly Smith (Marathon, Fla.), 11:08:17
M25-29: Mason Boyles (Tallahassee, Fla.), 10:38:02
M30-34: Lucas Noboa (Winter Park, Fla.), 12:21:50
F30-34: Gabrielle Suver (Oakland, Fla.), 11:13:54
M35-39: Ricardo Valverde (Boise, Idaho), 12:08:38
F35-39: Holly Smith (Marathon, Fla.), 11:08:17
M45-49: J.P. Dowd (Charlestown, Mass.), 10:33:58
F45-49: Jen Arellano (Asheville, N.C.), 16:08:55
M50-54: Doug Covington (Richmond, Va.), 10:43:17
F50-54: Carol Earles (Ravenden Springs, Ark.), 18:38:47
M55-59: Scott Devlin (Orlando, Fla.), 13:40:49
F55-59: Julie Gennarin (Orland, Fla.), 15:04:10
M60-64: Jeff Dorrill (Dallas, Texas), 14:24:11
M65-69: Timothy Ettridge (Groveland, Fla.), 14:16:09
Clydesdale: Tom Downey (Denver, Colo.), 20:06:52