News
USA Triathlon
Youth and Junior
USA Triathlon Launches 'You Buy, We Give' Youth Membership Campaign Through June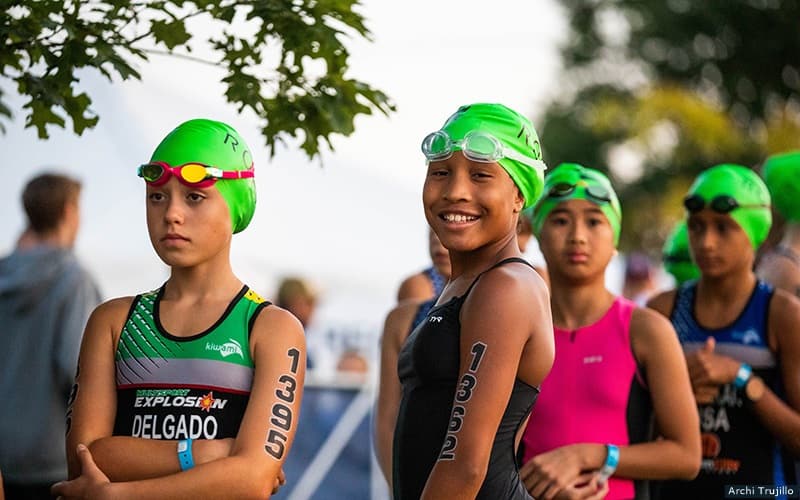 COLORADO SPRINGS, Colo. — In its continued effort to increase opportunities and access for current and prospective youth athletes across the multisport community, USA Triathlon today announced its "You Buy, We Give" youth membership campaign running through the end of June. USA Triathlon will match every USA Triathlon adult annual membership extended, renewed or purchased in May and June by donating one youth membership back to the multisport community to encourage participation among kids and help offset costs for industry practitioners.

The "You Buy, We Give" promotion is just one element of USA Triathlon's ongoing initiatives to support youth participation. As part of its $100,000 investment in the community through its 2022 Return to Racing Youth Stimulus Package, USA Triathlon is offering free youth event sanctioning, free youth and junior clinic sanctioning, free registration for youth clubs and expansion of the Youth Scholarship Program. The organization is also supporting the 2022 Splash & Dash Youth Series and strengthening its partnerships with local community groups to enhance its nationwide grassroots programming.

'We are at a pivotal juncture in our sport and is imperative we all do what we can to grow it at the youth level," said Rocky Harris, USA Triathlon CEO. "While adult annual memberships, clinics and events are on the rise and have all doubled from the previous year, youth participation in our sport has not recovered from the pandemic in the same way. Together we can change this trend and lay the foundation for the future of our sport and community."

To date in 2022, USA Triathlon has given out more than 2,000 free youth annual memberships (a value of more than $20K) through its stimulus package, which has also resulted in innovative partnerships. The Splash & Dash at the Columbia Threadneedle Investments Boston Triathlon on July 23 will be entirely free for all participating kids as USA Triathlon is providing free USA Triathlon memberships and Amazon, an Official Community Partner of Kids Day at the Boston Triathlon, will cover all registration costs for participants. The Live Red Foundation has been able to increase its number of Splash & Dash events from three to nine and each are focused on offering free fitness programs to youth in low-opportunity communities.

With a focus on participation and fun, rather than competition, the annual Splash & Dash Youth Series is designed to introduce multisport to youth athletes between the ages of 7 and 15. Held at local pools across the U.S., the 2022 Splash & Dash Youth Series features more than 50 events organized by local USA Triathlon race directors.

Current USA Triathlon annual members who are not up for renewal in May or June can still be a part of the initiative by extending their membership by 12 months. The "You Buy, We Give" promotion will be in effect through June 30.

In addition, anyone can give a standalone youth membership by making a tax-deductible donation to the USA Triathlon Foundation. Each $10 donation made via this link will provide one youth membership to a deserving child. The standalone Youth Scholarship program is an ongoing initiative that will continue beyond the May and June promotion.

USA Triathlon will also work with its youth-focused coaches, race directors, clubs and volunteers to distribute scholarship information to local community groups and prospective youth in diverse communities. For more information about how to be considered for a youth membership donation, parents and guardians may email service@usatriathlon.org. All donations will be needs-based.

USA Triathlon will once again host the Zone3 Youth & Junior Nationals July 30-31 in West Chester, Ohio. The 10th year in West Chester, Zone3 Youth & Junior Nationals will take place at Voice of America Park and welcomes youth athletes of all experience levels to participate in the fun and iconic youth triathlon event.

Qualification is not required to participate in the youth age group races, which are open to athletes ages 7-18 (previously limited to ages 7-15). Emphasizing participation and personal goal setting over competition for the younger age groups, "National Champion" titles will only be awarded to athletes ages 13-18, while athletes ages 7-12 will receive placement awards.

All athletes will record their goal times for their races as part of the registration process. A "goal time board" will be available at the venue for athletes to write down their goals and finishing times. As part of the American Development Model, this process encourages athletes to focus on advancing their personal bests versus placement relative to other athletes.

To learn more about Zone3 Youth & Junior Nationals and to register visit the event website here.