USA Triathlon Weekend Notebook: Team USA Action at Arzachena World Cup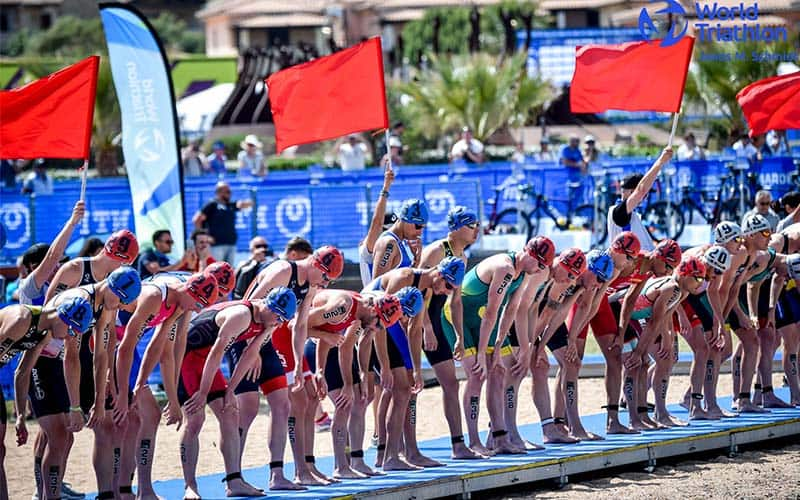 2022 Arzachena World Triathlon Cup
Arzachena, Italy
While the U.S. enjoyed a long holiday weekend, three Team USA elites were posted up in the Italian coast competing at the Arzachena World Cup.
Arzachena opened up the 2022 World Triathlon Cup series, after some early scheduled events such as Osaka, Japan and Haeundae, Korea were postponed to later this year due to still ongoing pandemic safety measures.
The Italian city joined the World Cup series in 2020, making this year just it's third edition on the elite front.
Marc Dubrick (Glen Ellyn, Ill.) was the sole U.S. male named on the roster, while on the women's side Tamara Gorman (Rapid City, S.D.) and Annie Kelly toed the line.
Winning the sprint-distance event was Great Britain's Jonny Brownlee, who claimed the gold in 54 minutes and 8 seconds in his first race back since the Tokyo 2020 Olympic Games. On the women's side, the crown went to Sandra Dodet of France, who put out a 1:00:31 result to win.
For the U.S., the top result of the day went to Gorman. This was her first World Cup race back since 2019. She placed 17th overall, with a time of 1:01:41.
Take a look at her race finish below. Have you seen a more calm and collected finish? Scorching heat and leg-burning hills on the course?
Not even fazed for Gorman!
Kelly made her World Triathlon Cup debut in Arzachena. While up until now she has dabbled on the Continental Cup side of things, this was her first official World Cup showing. She placed 44th with a time of 1:09:44.
Unfortunately, Dubrick walked away with a DNF on the day after pulling himself out of the race just after starting on the bike.
Judging by his Instagram caption, sounds like he was a champ just by getting on the starting line at all. Throwing up all night before the race and still attempting to perform? Bravery at its finest.
We appreciate this thumbs up shot even more now.

For complete Arzachena race results, check out here. Plus here's some cool race highlights from World Triathlon.
Project Podium

Not race related, but we are excited to share a new member on the Project Podium team.
Welcome Sullivan Middaugh (Vail, Colo.)!
He has a huge off-road background with success in trail running as well as off-road XTERRA cycling. He's also a legacy as a son of 15X Off-Road Triation National Champion, Josiah Middaugh.
With gravel and other off-road mulitsports really blasting off, we are excited to see what Middaugh can bring to the table for Team USA!
The Salute to the Military Triathlon
Warrenton, Va.
We could not post about a Memorial Day Weekend Notebook without highlighting a local race that honored Memorial Day!
The Salute to the Military Triathlon hosted by Revolution3 Triathlon hosts a sprint event that is for all experience levels, even youth athletes and honors active military members and veterans.
For more information, check out here.