Women's Collegiate Triathlon Now on the Doorstep to Full-Fledged NCAA Status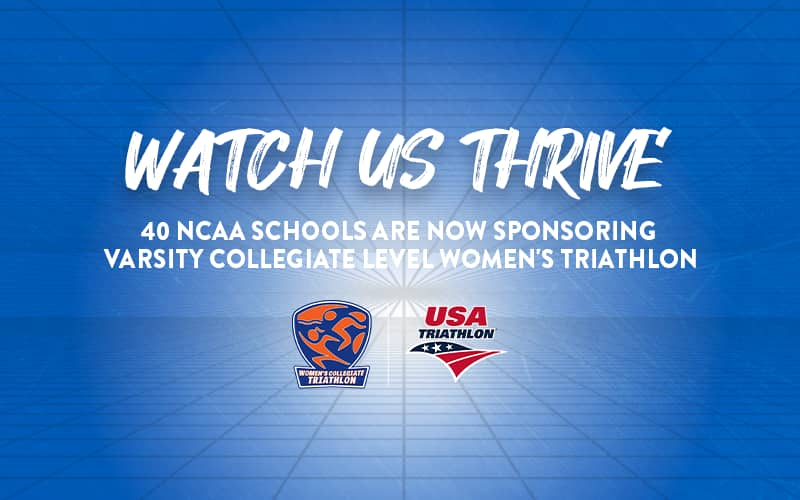 COLORADO SPRINGS, Colo. — What started over a decade ago as a pipedream is now a reality.

By securing the 40th school to add a women's collegiate triathlon program, triathlon is now just a few more steps away from becoming an NCAA championship sport. This is a monumental achievement for the NCAA Emerging Sport for Women that has now met the 10-year window to demonstrate sustainability at the NCAA varsity level.

"On behalf of the NCAA Committee on Women's Athletics, we are thrilled to hear that the number of triathlon commitments has reached a level of 40 sponsoring colleges and universities," said Jason Doviak, chair of the NCAA Committee on Women's Athletics (CWA) and Alfred State Director of Athletics. "Continuing to increase opportunities for women is an important initiative for CWA and we are grateful for the schools who have committed thus far. We are excited to continue our work with the staff at USA Triathlon to reach the goal of establishing this sport as a NCAA championship in the future."

Years of phone calls and emails to Athletic Directors at Division I, II and II schools across the country. Pitching and recruiting presentations at NCAA conferences. Securing grant funding. Developing and building the infrastructure for the women's collegiate program. Assisting schools in recruiting athletes and securing coaches.

All of this work — and many sleepless nights — culminating in this historic moment as women's collegiate triathlon is on the doorstep to becoming the newest NCAA championship sport.

"There are no words that do justice to reaching this milestone — incredible, monumental are a few that come immediately to mind," said Tim Yount, USA Triathlon Chief Sport Development Officer. "This collective achievement is not only important for the sport of triathlon and multisport community as it comes on the 50th anniversary of Title IX and sends an unquestionable message that women's sports are thriving and are here to stay."

Triathlon now has a few more steps to take on its way to being fully managed by the NCAA as a championships event, including committee, council, divisional and budget approvals. These details will be worked out, and USA Triathlon will continue to add more programs to grow the sport at the collegiate level.

USA Triathlon is celebrating this milestone this week, and a five-month celebration of women's varsity collegiate triathlon and women in the sport of triathlon and the multisport community will kick off June 23 on the 50th anniversary of Title IX and run through November, following the fall 2022 women's varsity collegiate triathlon season. For those who are interested in being a part of the celebration please email diversity@usatriathlon.org.

Today, USA Triathlon looks back at the history of women's varsity collegiate triathlon — an idea that started more than a decade ago by USA Triathlon staffers pondering how the sport can keep its talented junior athletes in the triathlon pipeline, while also introducing triathlon to a new demographic. NCAA seemed like the perfect fit.

So the work began.

Read below as former USA Triathlon staff members Jeff Dyrek and Scott Schnitzspahn share their memories of the early days of planning women's triathlon at the NCAA level — from ideation, to chasing commitments and letters of support from college Athletic Directors, to hosting the first Women's Collegiate Triathlon National Championships in November 2014 in Clermont, Florida. In addition to Dyrek's and Schnitzspahn's memories, head triathlon coaches and athletes share their reaction to the exciting milestone of reaching 40 schools.

For more information about triathlon as an NCAA Emerging Sport for Women, visit usatriathlon.org/ncaa. Interested in helping to identify and recruit the new women's varsity college triathlon program? Inquiries may be directed to Tim Yount, USA Triathlon Chief Sport Development Officer, at tim.yount@usatriathlon.org.

"It was a pipedream shared by a lot of people back around 2010. Jeff Dyrek and I, with the help of Brad Hecker from the ACC, thought, 'Why not?' Jeff and I put together a short proposal and Brad started shopping it around with the decision makers on the NCAA Emerging Sports for Women Committee and found there was a lot of enthusiasm for the idea. So many people put in so much work since then to turn that idea and enthusiasm into acceptance as an official NCAA Emerging Sport and now 40 schools with varsity triathlon programs for women! I'm so proud of what that pipedream has become and will become for female triathletes from the U.S. and around the world."
— Scott Schnitzspahn, USA Triathlon Sports Performance Director 2006-2010

"Scott Schnitzspahn and I were talking about how to keep the junior athletes in our pipeline. What was happening was that USA Triathlon was losing athletes to NCAA scholarships, or playing opportunities, in swimming, track/field, cross country, etc. So USAT was losing four to five years with these athletes while they went to college. Once they came back to the sport we were four to five years behind.

So the question to Scott was what was the solution; NCAA he said. From that conversation we started to game plan how to make that happen. In a separate conversation with (USA Triathlon race director) Bill Burke related to the Elite Race Series we mentioned it to him and he mentioned (Atlantic Coast Conference Assistant Commissioner) Brad Hecker had done a grad project on this. We then connected with Brad to brainstorm the feasibility of our plan. We began to plan with Brad the needs of USAT and his understanding of the process.

Once we had the proposal in a format that we felt comfortable with (NCAA feedback and USAT needs) the process began of the required 10 letters of support to even be considered. Sounded easier than in reality. Going through the process of talking with AD's at DI, DII and DIII institutes, it was very eye-opening to how serious schools took this process. Essentially, schools told us that if they provide a letter of support, even though it was a commitment to add triathlon, there was a high expectation for them to strongly consider it. I remember sitting with Mal Moore, AD at the University of Alabama, and listening to his position and it was completely different from the position of Adams State, for example. So, it took time to have the conversations and hear the perspectives from each school. It was about a five to six year process from what I remember to having the conversation with Scott to getting the 10 letters."
— Jeff Dyrek, USA Triathlon National Events Director 2004-2013

"Seeing how much NCAA triathlon has grown over the past four and a half years from when I was a freshman to now as a fifth-year graduate student is inspiring for the future of women's triathlon. Pursuing triathlon in the NCAA was one of the best decisions of my life. It feels so special to be a part of the movement and to contribute to the growth of the sport."
— Hannah Henry, Arizona State University triathlete

"Without college triathlon I would not have had the opportunity to find my passion in my chosen academic program and be able to help build an amazing platform for women in sport. NCAA triathlon has allowed me to meet people from all over the world that I otherwise wouldn't have met. The people I have met through college and triathlon are some of my best friends. NCAA triathlon has been an indescribable time in my life and I wouldn't change anything in my time as a college athlete. Triathlon and studying at the same time has been difficult but has guided me to discover my true passion for both sport and outside of sport."
— Kyla Roy, Arizona State University triathlete

"Reaching 40 schools is a major milestone in the continued growth of triathlon at the varsity collegiate level. When I fielded one of the first teams back in 2015, I had no doubt this day would come. However, it would not have been possible without the support of Tim Yount and USA Triathlon. Their collective efforts blazed the path to get to this point, on the cusp of full-fledged NCAA championship status, and has positioned the sport to grow well beyond 40 programs.
— Jon Metz, President of the First Women's Collegiate Triathlon Coaches Association and former Head Triathlon Coach at Daemen College

The College Triathlon Coaches Association (CTCA) was established in 2017 with the purpose to promote triathlon as a varsity collegiate sport and provide guidance to coaches and NCAA programs through educational, professional, technical and competitive resources. The inaugural CTCA Board of Directors was appointed on April 19, 2017 and included the following members: President: Jon Metz, Daemen College (N.Y.); Vice President: Kyle Joplin, Centenary College of Louisiana; Secretary: Janine Pleasant, East Tennessee State University; Treasurer: Jamie Church, Southern Wesleyan University (S.C.); Division I Representative: Cliff English, Arizona State University; Division II Representative: Allie Nicosia, University of West Alabama; Division III Representative: Jenny Garrison, North Central College (Ill.); and USA Triathlon Representative: Jessica Welk, Colorado Springs, Colo.

"It's been a pleasure to be a part of the NCAA Emerging Sport of triathlon from the beginning. ASU was the ninth team added and it has been fantastic to see the growth of the sport really accelerate in 2017, 2018 and 2019. There are so many young women aspiring to compete in their sport of triathlon in the NCAA. This is the opportunity many have been waiting for. Now for high-performance we have another development pathway as well. Coupling academics with triathlon is certainly a natural pairing as triathletes are driven, disciplined, very good at time-management and very smart. It will be great to be able to hit 40 schools and hoping to be a championship sport within the next two years."
— Cliff English, Head Triathlon Coach, Arizona State University

"Reaching 40 schools is certainly an exciting step on the way to becoming Championship status. Since 2015, I have been looking forward to the day that these amazing women get to compete in the first-ever NCAA Triathlon National Championship and experience everything that opportunity can bring them. This is a step in the right direction."
— Allie Nicosia, Head Triathlon Coach, East Tennessee State University

"Looking back on our decision to start Triathlon seven years ago continues to pay dividends to the University. Our journey has not been easy but the memories are worth it. I could not be more proud of our head coach Sonni Dyer as he has been able to build a program of over 40 men (note: the men's triathlon team is a collegiate club team) and women who live a lifestyle of excellence both in their sport and in the classroom. They have also added great value to our brand. They have done this at both the national and global level with their championships and Olympians. Congratulations on adding your 40th program, welcome and as always let our community and family know if you need anything as we are here to help you grow."
— Jeff Dugdale, Associate Athletic Director, Queens University of Charlotte

"As a coach who's been engaged in the varsity triathlon Emerging Sport process since the inaugural varsity National Championships in 2015, the milestone that this represents is monumental. This day has been a long time coming. And what it also marks is the moment of critical mass for all that is still to come in offering multisport women an exciting and viable lifestyle NCAA sport."
— Sonni Dyer, Head Triathlon Coach, Queens University of Charlotte

"We couldn't be more proud to be one of the earlier adopters of women's triathlon at the NCAA level. This is truly a great moment for the sport and the culmination of a lot of hard work by many people including collegiate and USAT staff. It is significant that women's triathlon has reached this milestone during the 50th anniversary of Title IX as we mark one step closer to elevating programs across the country to a full NCAA sport. The inclusion of women's triathlon as an NCAA sport is fully supported by Sun Devil Athletics to ensure opportunities for women triathletes for generations to come."
— Ray Anderson, Vice President for University Athletics, Arizona State University


NCAA Women's Collegiate Triathlon Timeline
2008 — USA Triathlon staff members Jeff Dyrek and Scott Schnitzspahn begin discussion around the NCAA sponsoring triathlon and create a small working group to start driving interest among NCAA institutions
2009 — USA Triathlon works with the NCAA to gather the necessary information
2013 — Obtains 10 letters of support from collegiate athletic directors
April 2013 — NCAA Committee on Women's Athletics approves adding women's triathlon as an Emerging Sport for Women
January 2014 — Receives NCAA Division I Legislative Council approval to be the next Emerging Sport for Women, as well as approval from Division II and Division III schools, with 95 percent of votes in favor
Winter 2014 — USA Triathlon Board approves $2.4 million in grant support
2014-2017 — USA Triathlon, led by former USA Triathlon staff member Jess Luscinski, develops infrastructure for the women's varsity collegiate triathlon program, including establishing policies and events,
2017 —USA Triathlon Chief Sport Development Officer Tim Yount leads a renewed effort to recruit new programs and the sport grows from nine programs to 20 in one year
2018 — Receives additional grant funding from the USA Triathlon Board of Directors
2019 — Reaches 30 programs
March 2020-2021 — Adds seven new programs during the COVID-19 pandemic
2021 — Dave and Marilyn Alexander make unprecedented gift to the USA Triathlon Foundation to support funding for NCAA programs
February 2022 — Adds two programs to reach 40

About the USA Triathlon Foundation
The USA Triathlon Foundation is a 501(c)(3) non-profit organization and the charitable arm of USA Triathlon. With its mission to transform lives through sport by providing opportunities to swim, bike and run, the Foundation serves to generate a greater impact on the multisport community through charitable giveback and grants that advance the Foundation's three pillars: (1) Encourage youth participation; (2) Inspire adaptive athletes; and (3) Ignite Olympic/Paralympic dreams. Since the Foundation was established in 2014, it has provided millions of dollars in grants to organizations and individuals in pursuit of its mission and pillars to create a healthier United States through triathlon.

About USA Triathlon
USA Triathlon is proud to serve as the National Governing Body for triathlon, as well as duathlon, aquathlon, aquabike, winter triathlon, off-road triathlon, paratriathlon, and indoor and virtual multisport events in the United States. Founded in 1982, USA Triathlon sanctions more than 4,000 races and connects with more than 400,000 members each year, making it the largest multisport organization in the world. In addition to its work at the grassroots level with athletes, coaches, and race directors — as well as the USA Triathlon Foundation — USA Triathlon provides leadership and support to elite athletes competing at international events, including World Triathlon Championships, Pan American Games and the Olympic and Paralympic Games. USA Triathlon is a proud member of World Triathlon and the United States Olympic & Paralympic Committee (USOPC).