How Triathlon Helped Kyle Roberts Turn his Life Around
by Nick Hehemann, USA Triathlon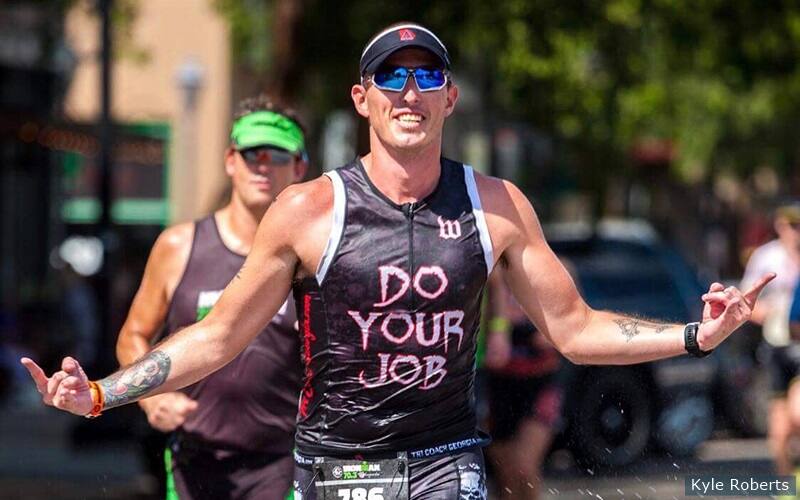 Kyle Roberts knows the power triathlon has to transform lives. He's experienced it himself.
The sport helped him emerge from the darkest point of his life a changed man, with newfound joy and a healthy outlet to escape from the pain of his past.
Roberts' life changed for good when his mother and aunt were both killed by a drunk driver in January of 2011. After the tragedy, he turned to alcohol as a coping mechanism — it consumed him.
"The thing about alcohol is that for a while, it helps," Roberts told USA Triathlon in an interview last year. "But your problems are still there the next day."
In time, he found help and healing. Now, Roberts has been sober for over seven years.
He says triathlon was instrumental in his journey to recovery, and it gave him a way to honor his late mother. In a conversation they had a year and a half before she passed away, she had encouraged Roberts to give the sport a try when the topic came up one night at dinner.
In 2017, when he did his first sprint-distance race, Roberts recalled how her memory helped him overcome the doubt he felt after the swim.
"My mom's voice was always in my head telling me I could do anything," Roberts said.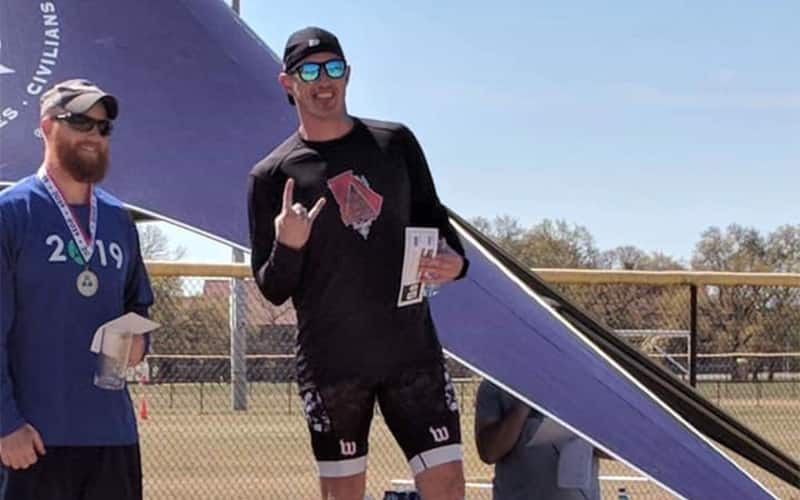 Each year during National Triathlon Week, USA Triathlon gives away a lifetime membership to someone in the community who has used to triathlon to overcome a personal challenge.
When Roberts shared his story with us last year, we were inspired. It's why we made him a lifetime member of USA Triathlon, so that he can continue to use our sport to find joy, pursue new challenges and give hope to others who are also experiencing hardships in life.
Now, one year later, we wanted to catch up with Roberts ahead of #TriWeek 2020 and see how his life has changed since learning he had been awarded a lifetime membership. Below is our conversation.
USA Triathlon: What was your reaction last year when you found out you had been awarded the #TriWeek USA Triathlon Lifetime Membership award?
Roberts: I was honestly surprised because I didn't expect to be chosen when I sent it in. It was truly an honor to receive the award though because it showed me that my story touched the people who read it.
USA Triathlon: When USA Triathlon shared your story last year and announced that you had won, what was the reaction you received from others?
Roberts: When everyone found out, they started sharing my story and people reached out with very positive things. They told me that my story had inspired them and that they had no idea that had happened in my life.
USA Triathlon: How does it make you feel to know that your story has inspired others who are going through difficult times in their life?
Roberts: It's a privilege for me because I want people to know that no matter what life has thrown at you, you can always overcome it. Just because bad things happen doesn't mean that's the end.
USA Triathlon: How did triathlon help you in your path to sobriety? And how has it helped you in dealing with grief and finding joy?
Roberts: Triathlon gave me an outlet for my sobriety and grief. I was able to take the focus off things that were bringing me down and create something positive from them. It truly brought me out of a dark place and showed me the light.
USA Triathlon: What advice would you offer to people who have also experienced tragedy or are going through a difficult time in life?
Roberts: I would say that you should never give up on life or let something bring you down forever because things do get better. Focus on the good things in your life and find something that makes you happy. Joy heals anything, so if you can find a little of it, you can overcome anything.
USA Triathlon: What's new in your life since we last shared your story a year ago?
Roberts: In the last year I moved to a new city and got remarried to someone who supports me in everything I do and is my true love. I also gained a wonderful stepdaughter and great in-laws, three awesome nieces and a nephew.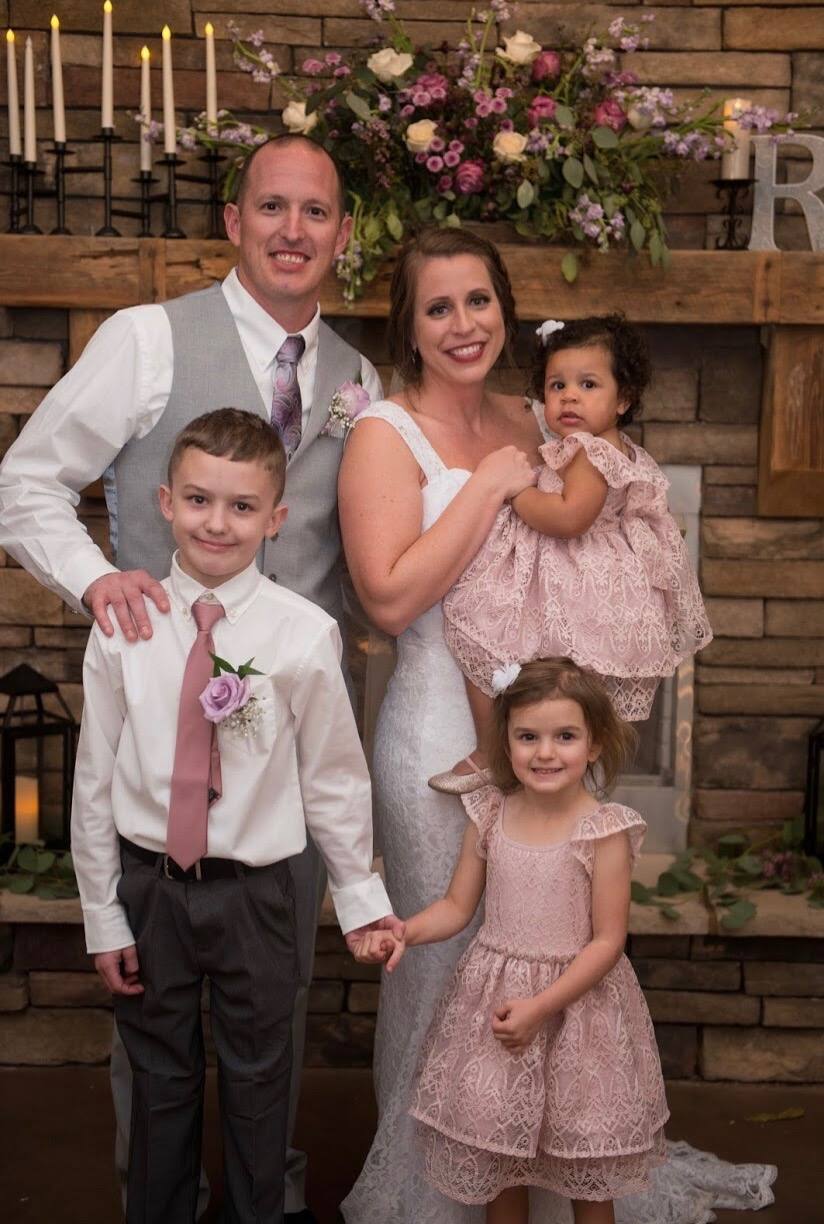 USA Triathlon: How many races have you been able to do in the past year? And how did they go?
Roberts: I was able to do an Olympic-distance triathlon and the 70.3 IRONMAN in Augusta, Georgia. I ended up finishing second in my age group at the Hot Dam Olympic-distance triathlon and finished Augusta in 5 hours, 36 minutes and 26 seconds.
USA Triathlon: In the coronavirus era, how have you managed to stay consistent in your training? How has training changed during this time?
Roberts: It's been hard at times but I have been making it work. The hardest thing to get done is my swim training but I have slowly been able to get that started up again. I have been able to focus a lot more on my run and bike though.
USA Triathlon: What are you most looking forward to about getting back to racing?
Roberts: I am hoping that IRONMAN Chattanooga will still happen in September because I am ready to get another full (IRONMAN) under my belt and just get back to being around my fellow athletes. Only other triathletes really know how crazy we really are when it comes to training and racing.
How has triathlon helped you overcome a challenge in your life? Share your story on social media tagging @usatriathlon and using the hashtags #OurPowerWithin and #TriWeek for a chance to win a USA Triathlon Lifetime Membership. You can also email us at communications@usatriathlon.org with the subject line, "Our Power Within."