Strength and Conditioning
Off-Road
Training Tips
Beginner
Intermediate
Advanced
Five Reasons to Give Gravel Biking a Try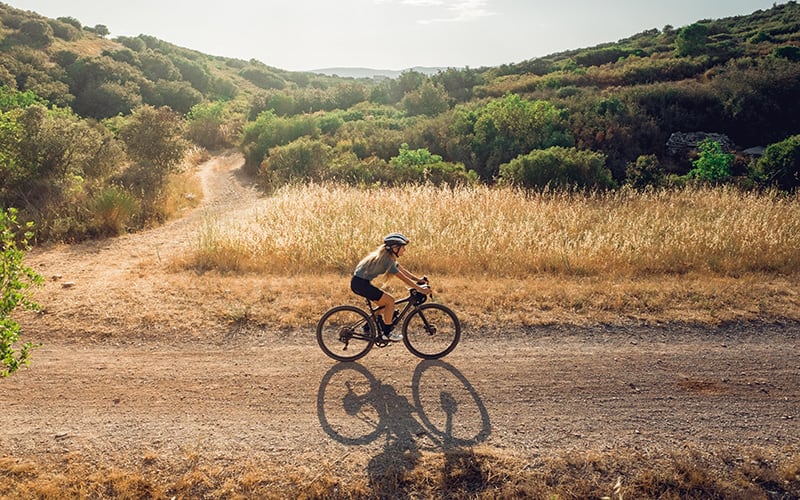 As a triathlete you have likely heard some things about gravel cycling but maybe haven't tried it yet. As a triathlon coach for over 10 years, I'm here to tell you — there are many reasons to check out gravel cycling. Here are the top five.
Cycling Specific
Strength
Riding gravel will make you a stronger rider. Gravel cycling addresses an aspect of cycling fitness that triathletes need – muscular endurance. For example, most gravel events in New England are hilly and will encourage this effect. In addition, bikes don't always roll over gravel with the ease and smoothness we see on pavement so there is this added energy cost to hold the same speed on dirt versus pavement, hence the term "gravel grinding." For all you triathletes — as you know — getting strong on the bike allows you to access all of that run fitness you've developed. And sure, you can always run off of a gravel ride or event — there are no rules here.
More Adventure, Less Monotony and Fewer
Vehicles
Gravel riding will open up your training to more adventure and less monotony and far less exposure to vehicles. Gravel riding lends itself to a less uptight approach to fitness and more of an adventure with disguised cycling fitness benefits. Triathletes are notorious for experiencing burnout and following overly monotonous training with all our devices. Gravel can be a nice escape from that and a way to use that device differently. You may start to use that navigation function on your Garmin that you've never used — after loading a cool route on there! Use Strava heat maps (from the route builder) to find cool places to ride and adventure. As a long-time former triathlete, I can't emphasize enough how fun, challenging and rejuvenating this style of riding is. Use gravel to supplement your triathlon training — you won't be disappointed. In 2015, my last year as a triathlete, I had a moderate triathlon race schedule trying to get back to Kona — and mixed in gravel events to supplement my training and it worked perfectly.
No qualifications or categories needed. Even just a road bike with a set of bigger, more rugged tires. This is what I did for years before buying a gravel bike. Most events are just dirt roads. These are ridable for everyone. Just slow down on the turns (do most of the braking before going into the turn). With the decline of road cycling races, gravel has stepped in with more fun and accessible options. And there are a lot more events! Over the years of 2016-2019, I did 10-12 gravel events each season. For triathletes who want that big challenge, they can be satiated in events like Dirty Kanza 200, Steamboat gravel, D2R2, Vermont Overland, Rooted Vermont just to name a few. Basically, there are no wrong answers in gravel.
You will see all abilities at gravel events. It's a more relaxed atmosphere and often includes amazing post ride/race festivities with beer and food and sometimes music. Gravel events are the mullet of cycling — business in front, party in the back. There are always riders at the front who want to ride it like a real race and there are others that are just there to ride bikes and drink beer and then you have everyone in between. You will sort of find your crew naturally at these rides. Now more than ever people are realizing how fun gravel cycling is. At the time of this writing, two of the biggest gravel events in the east are already sold out many months in advance — Rooted VT with 856 registrants and The Vermont Overland with over 1,400 registrants.
You already can do it. Basically, you are just riding on dirt roads unless the event says there will be class 4 roads or unmaintained roads (those are incredibly fun though and add to the adventure). Some events get into some class 4 riding which is a bit more technical but for the most part you are simply riding on dirt roads. Throw a cushy tire on there — 40s or so and feel the smile on your face grow. If you are feeling unsure about your abilities, come check out the Vermont Gravel Camp where you will learn how to ride the Class 4 roads (more info below).
You'll experience a new type of
camaraderie
You'll get new riding buddies. Gravel brings together roadies, mountain bikers, cyclocrossers, bike packers, triathletes and trail runners — it's cycling's melting pot. With a more laid back vibe there is more potential for making connections. You will find your crew out there in a gravel event and end up among other riders with similar fitness.
OK, Spinney I'll give it a shot. How do I get started, how do I
train?
If you've been training as a triathlete you already have the fitness. If you have a road bike, see if you can fit a tire like the Kenda Karv 28 or 30 on there. Or a similar tire. Keep it simple and dabble in it — then if you find you love it you can always upgrade to a bike with more tire clearance. As far as training for gravel events — most in new England will find that these gravel events are incredibly hilly. So the best thing you can do is really set out and do some climbing (on any bike). If you don't have dirt roads nearby, find some big climbs and just lap them as a midweek workout. Lap them? Yup — think laid back hill repeats. Get some training buddies and just lap the biggest climb you have and keep HR in an aerobic range – don't try to smoke it like you do with high intensity intervals- save that for later in the season.
You will be developing the right kind of fitness for gravel and also helping your triathlon cycling. Basically, you'll be working in and around aerobic threshold (86% of lactate threshold heart rate) with high muscle tension (grinding up climbs seated or standing). As far as finding events take a look at bikereg.com and click the gravel option in the calendar.
Keep it Simple Gravel Riding Training
Plan
Example week
Monday: Active or passive recovery (easy 40-minute spin with HR under 105 or off completely)
Tuesday: 60-90 minute aerobic spin (QT2 Zone 1 HR)
Wednesday: 60-90 minute with hill climb session mentioned above (Zone 1 to start but as the season progresses can shift the intensity of the hill climbs upwards).
Thursday: 45-60 minute high cadence spin Zone 1
Friday: Active recovery/shakeout spin. Include 3 x 20 seconds at VO2 effort
Saturday: Hard gravel group ride (best effort – don't worry about HR), 90 min to 2.5 hours
Sunday: Long ride 2.5 hours+ — relaxed but do a lot of climbing and keep it conversation pace
*Include a few minutes of daily bodywork specific to cycling (foam rolling followed by light stretch)
The Cycling Formula powered by QT2 Systems runs an epic gravel camp in Vermont. If you are a newbie and attend that camp you will come out of it no longer a newbie!
If you have some big goals involving cycling please don't hesitate to reach out to the Cycling Formula or one of our coaching staff.
Coach John Spinney loves to get out and adventure on bikes or skis. He competed many years as a cyclist and triathlete, but retired from triathlon in 2015 and has been focused on gravel and mountain biking in the summer and backcountry skiing in the winter. He will be running the third installment of the Vermont Gravel camp this summer. John lives with his wife in Stowe, Vermont, where they adventure daily.