Gear
Training Tips
Health and Wellness
Advanced
Intermediate
Beginner
How Protecting your Eyes Makes you Faster and Healthier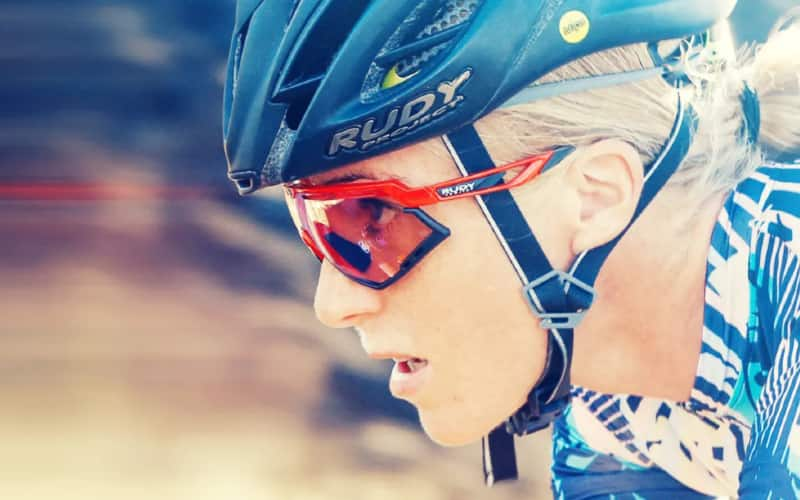 One morning in 2019, riding through the pre-dawn darkness to the start of the SBT GRVL race in Steamboat Springs, Colorado, I lost my sunglasses. In the darkness I'd slipped one temple over the collar of my jersey, the way all the cool cyclists do, and when I arrived at the start line they had fallen off, silently, somewhere along the way.
My difficulty that day wasn't completely related to losing my ability to protect my eyes (I wasn't prepared for the altitude, I got a couple of flat tires, a stressful situation at work consumed my attention), but I do remember how much I squinted over the nine-hour ride, and how exhausted my eyes and brain felt afterward. Curious, I dug into the scientific literature around endurance sports, eyewear, health, and performance.
Protection and Performance
The sun, while responsible for making life possible on this planet, isn't all upside. Ultraviolet light can damage anyone (not just endurance athletes) who spends time outside. We all understand the dangers to our skin, since a sunburn is obvious and hard to ignore, but UV radiation works more quietly on your eyeballs. The damage to your eyes can be separated into two categories, long-term and acute, and if you want to race at your best and ensure long-term eye health, protecting your eyes should be a priority for any athlete.
UV Damage to your eyes

Just as your skin can face short term (sunburn) and long-term damage from the sun, the tissues inside your eye sockets also should be protected from exposure. Visual light only occupies a small range of the electromagnetic spectrum, with ultraviolet rays sitting just below those we can see. UV radiation can be separated into three segments, UV-a, UV-b, and UV-c, all three of which can cause short- and long-term damage to your eyesight. That long-term damage can take the form of macular degeneration, cataracts, or other small tissues forming on the surface of your eye. All three of those conditions can lead to impaired eyesight as you age, so put on some eye protection, making sure that your shades carry the "UV400" designation, meaning they protect against the whole range of UV light.


Photokeratitis and corneal edema

If your eyes can suffer similar long-term consequences from sun exposure as your skin, they can also feel short term effects just like getting sunburned. If "a sunburn for your eyes" sounds bad, well — it is. The condition is called photokeratitis, and — like the whole -itis family — represents a swelling of the affected tissue. Symptoms can range from mild (tearing or watery eyes) to complete short-term blindness. The condition is also painful, and if you're competing in any long-distance event (70.3 and beyond), you don't want to be distracted by a sunburn on your cornea. One symptom, photophobia, will make further sun exposure uncomfortable, and if you still have a marathon ahead of you, you certainly won't be at your best.

A second affliction, perhaps linked to UV radiation, is corneal edema, where your cornea swells and disfigures, affecting your eyesight. This condition appears often enough in ultra-running that it has a sonorous acronym: UAVI (pronounced "ooh-ah-vee"), or "ultramarathon-associated visual impairment." The cornea swells through a series of reactions, but one of them is UV exposure. UAVI occurs toward the end of ultra-marathons and has appeared at the Leadville 100 MTB, events that have similar finishing times as IRONMAN. Multiple factors contribute, but you can take care of one of them by simply remembering your shades.


Fatigue from squinting

Everyone knows that it takes more muscles to frown than smile, and it certainly requires more muscles to squint than ... not squint. The chief memory of my day at SBT GRVL, other than the literally breathtaking altitude, is how tired my face felt, how little I wanted to turn my head away from the ground. My face felt as if it had been balled up in a fist and clenched for eight hours, which certainly didn't help my performance. Your performance in these races — whether triathlon or ultra-endurance cycling and running — hinges on minute differences in energy, and you should spend that energy on something other than squinting.


Literal (and figurative) lack of focus

When you achieve flow state in sports, that semi-mythical state in which you'll have your best performances, you stop over-analyzing the past and future, instead experiencing a kind of hyper-focus on the present. You react at your best to what is happening around you, making good decisions without having to think about them. If you can't see, however, you're unlikely to perceive events around you, limiting your ability to react. High-quality sunglasses protect you from photokeratitis and squinting fatigue, but they also — literally — sharpen your focus. Good lenses work to heighten resolution, allowing you to take in more information and react faster to that information. Eyesight aside, success in endurance events relies upon the ability to focus on the task at hand. If you're thinking about the headache you have, or the flashing light behind your right eye, you will not be able to stay focused on your target wattage.


Superficial concerns

I hate to use the term superficial in this context, but as endurance athletes we already put our skin through a significant amount of stress: you will experience sun, wind, salt, abrasion, and cold during an endurance event, all damaging your skin. If you forego sunglasses, you can add wrinkles to the list.

Finally, you have all probably heard that the clothes make the person, or that a clean bike is a fast bike. If you look and feel your best, you will carry a little edge into your next race, a small swagger, and that can transform into extra spring in your step. Who wouldn't want a reservoir of strength at mile 24 of an IRONMAN marathon?
If you're looking to protect your short-term and long-term eye health while improving your triathlon performance, Rudy Project has been providing athletes with eyewear that does it all. Check out what they can do for you here. Most Rudy Project eyewear come with fully adjustable nosepieces and temple tips, incorporate venting in the frames and lenses, and offer an expansive range of lens options – from polarized to photochromic to standard lenses, in a range of colors.
USA Triathlon members receive a 25% discount on Rudy Project gear at rudyprojectna.com/USAT.
References:
Schooler, Matt. Spalding University. ProQuest Dissertations Publishing, 2017. 10602254; https://search.proquest.com/openview/f9ac614bdc729c4ff0711af8e06ada0a/1?pq-origsite=gscholar&cbl=18750&diss=y
Possible Unilateral Ultraviolet Keratoconjunctivitis During an Expedition-Length Desert Race
https://doi.org/10.1016/j.wem.2010.01.008
Acute Effects of UVR on Human Eyes and Skin, https://doi.org/10.1016/j.pbiomolbio.2006.02.005 Progress in Biophysics and Molecular Biology, Volume 92, Issue 1, 2006, Pages 80-85, ISSN 0079-6107
Moshirfar, Majid et al. "Ultramarathon-Induced Bilateral Corneal Edema: A Case Report and a Review of the Literature." Ophthalmology and therapy vol. 7,1 (2018): 197-202. https://www.ncbi.nlm.nih.gov/pmc/articles/PMC5997605/
Christopher Bagg has been an actor, cook, teacher, freelance writer, professional triathlete, and coach. He lives in Portland, Oregon, with his fast wife Amy VanTassel, but he grew up in Massachusetts and New York (he's a Red Sox fan, though). He played soccer in college and then taught high school English for a while before turning to the thing he discovered he loves to do: being a P.E. teacher for adults.