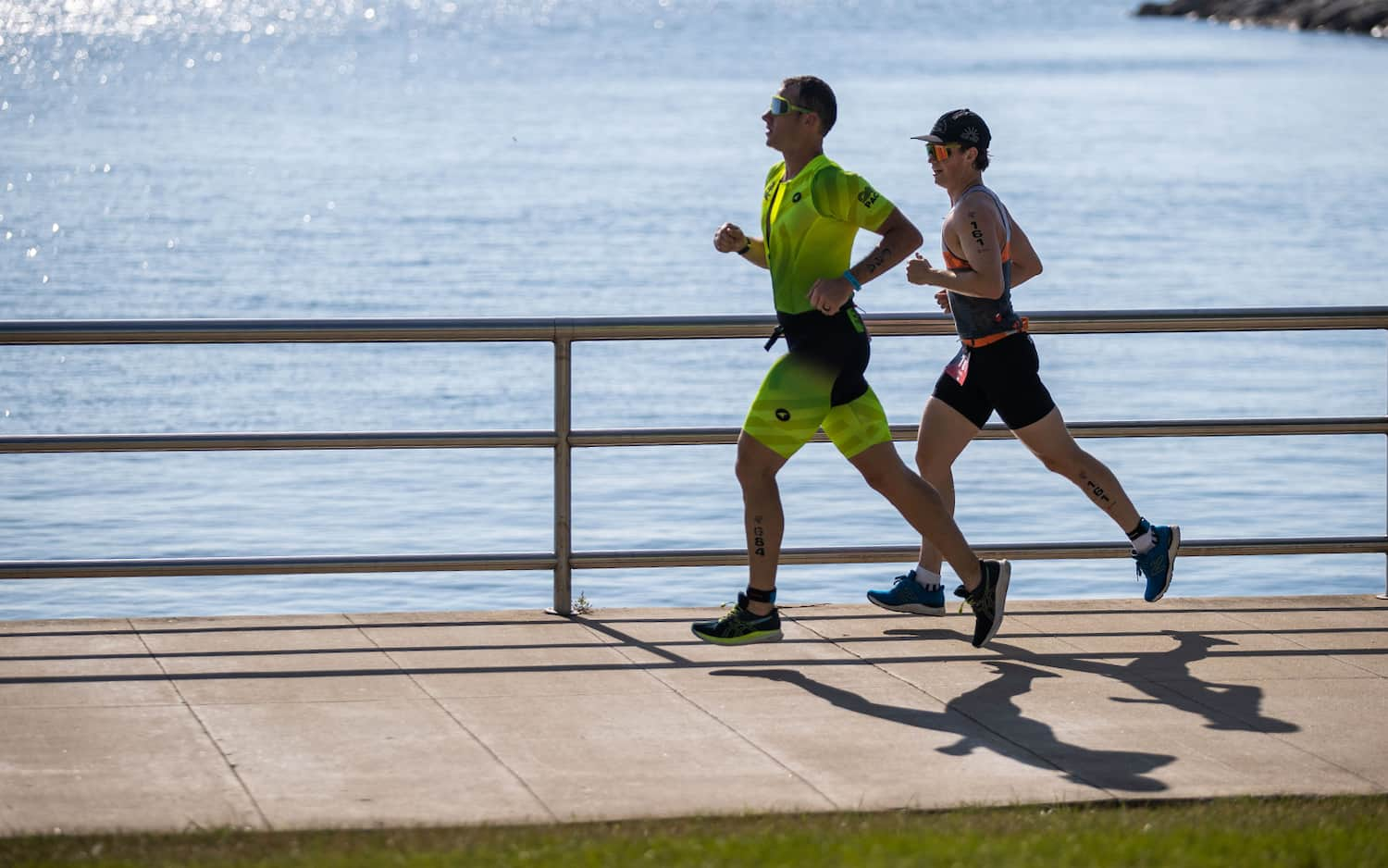 Plateaus are very frustrating for triathletes. Addressing them can be challenging because the sport is full of complexity and each person defines a plateau differently. If you are concerned about a plateau, begin by comparing one or more seasons against races, benchmarks, etc., within a single season to ascertain if you are truly experiencing a plateau. Addressing longer-term plateaus is not a simple matter. There are several factors to consider, and these factors cannot be viewed in isolation since they interact with and influence one another.
Each athlete must define what a plateau means to them. Are your race times stagnating or getting worse? Are you not training or wanting to train as much? A combination of the two? Once you define what a plateau means to you and whether you're in one, addressing it becomes much easier.
One of the best ways to assess if you are hitting a plateau is to use benchmark assessments. Benchmark metrics – times, wats, etc. – are easy to quantify and track. They are often tightly controlled to eliminate variability so the measurements are accurate and reliable from one assessment to another. This approach gives you a clearer picture of your progress or lack of progress. It is important when completing benchmarks to follow some key guidelines:
Pick benchmarks appropriate for your race distance
Determine benchmark goals that match what is needed to race well and meet your performance goals
Complete them routinely: every 4-8 weeks is fine
Strive to keep conditions for each benchmark test as similar as possible
Complete benchmarks during a period of training where you're more rested, usually at the end of or immediately following a low-volume week
Track and chart the results along with qualitative metrics (how you felt during the test, etc.)
Be wary of focusing on your benchmark results more than your race results. What's more important: strong benchmarks or strong racing? That said, there a few scenarios to consider when using benchmarks as a progression measurement tool.
Benchmarks plateauing but race performance is
strong/improving
Your benchmarks are stagnating but you're excelling in races. What gives? This scenario is likely to be short-lived – your race performances will likely plateau, too, if you don't address all the factors that could be causing the benchmark plateaus. You should also evaluate your race performance goals during your benchmark tests: are your race goals too easily accomplished, leaving yourself at risk to underperform?
Benchmarks improving but race performance is
plateauing
If your benchmarks are improving but that's not correlating with stronger race performance, a few things may be happening. Assess if you're emphasizing benchmark performances too much and not doing enough race-specific training. Moreover, there may be issues leading up to race day that manifest in poor performance, including sleep, fatigue, stress, nutrition, mental state, etc.
Benchmarks plateauing and race performance is
plateauing
When your marks in both benchmark testing and racing are likely plateauing. Follow the suggestions below to address your plateau.
I'm in a Plateau. Now
What?
To address any plateau, consider your goals for participating in the sport. Are you primarily looking to achieve performance-based goals, or is something else motivating you (like social, health/fitness, or other reasons)? Hopefully your goals are a blend of both, but if you fall more in the performance camp, then plateaus need to be addressed with more specific measures and means. Make adjustments to your routine based on your goals.
Below are factors that may be contributing to a plateau:
Training Limiters – Review training-related factors that may be contributing to your plateau. These may include volume, frequency, duration, intensity, workout sequence, program periodization, biomechanics, technique and more. Are you putting in enough volume with the right intensity in each discipline? How about your program over time to avoid injury and burnout? Reviewing your program to answer these and other training questions is critical to addressing plateaus.
Non-training Limiters – Consider non-training limiters as well. Race anxiety, nutrition, sleep and demands from family, work, travel or other competing interests can all impact your performance. Managing everything can be difficult, but it's necessary for strong multisport performance.
Training Specificity to Meet Race Demands - There are specific training considerations related to your primary race distance that need to be thought out to address a plateau. Below are two examples for races at the opposite end of the spectrum. First, complete short, hard swim sets 2-3x a week if you are racing Sprints and Draft-Legal races. For long course athletes, you must complete several multi-hour bike and run workouts to enhance your endurance and stamina and to train your gut to manage fuel intake on race day.
Race Results/Performance – How well you place in races year over year (overall and age group) is another area to consider when you feel you're plateauing. This requires some analysis of results through platforms such as Training Peaks or similar services. This analysis should also include metrics such as sleep, stress, fatigue, etc., leading into the race along with the level of competition. Avoid using these time comparisons to address a plateau unless you race the same courses and under the same conditions yearly. Since courses and conditions vary, race times – even those across the same distances – cannot be properly compared without a structured and detailed training and racing log.
Many factors must be considered to determine if you're in a plateau. If you are in one, multiple changes to your training plan and approach may be necessary to escape. Escape is possible, though, and many athletes before you have done so. Look at where your deficiencies lie and address those. Reassess and decide whether you need further changes. Good luck!
The views expressed in this article are the opinion of the author and not necessarily the practices of USA Triathlon. Before starting any new diet or exercise program, you should check with your physician and/or coach.
John Hansen, USAT Level II, and USA Swimming Level 1 Coach and USA Cycling Level 3 Certified coach, Folsom California. Hansen has an MS in Exercise Physiology and previously worked at the UC Davis Sports performance lab for five years. Hansen currently coaches the UC Davis Collegiate Club Triathlon team for Short course, Draft Legal and Olympic distance events. Hansen also has his own coaching business, primarily coaching long course athletes, 70.3 and 140.6. Visit HansenMultisport.com or email john1hansen@sbcglobal.net.