Race Day Routine – Ways to Minimize Stress and Ensure You're in the Zone
by USA Triathlon Certified Coach: Stacy Musunuru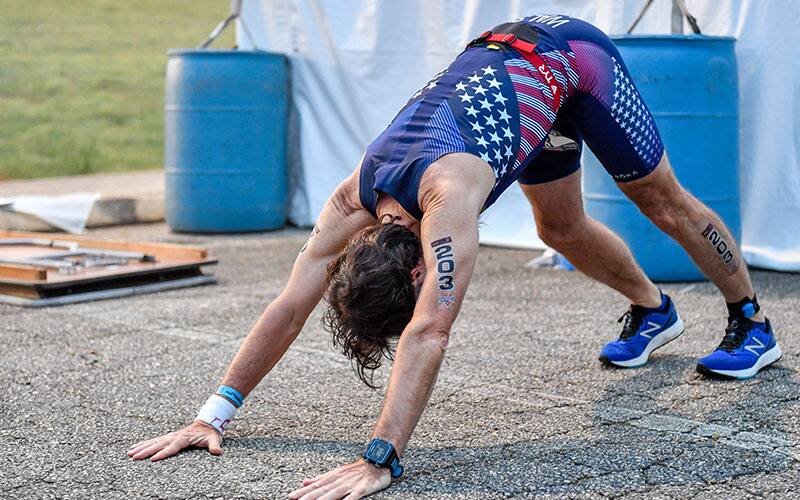 Race stress is real for every triathlete — even the most seasoned triathletes get nervous. You've put the time in training and have been commitment to reaching your goals, so you want this day to go as well as it possibly can.
The week leading up to race morning is when race preparation should start. Here are some ways to reduce stress at the beginning of race week.
Take your bike to your local bike shop for check-in or tune-up. Make sure it can be ready in time!

Do a dress rehearsal workout in what you will wear on race day (if racing long course, this should be done during those longer training sessions).

Practice anything you might still be nervous about. Run through some transition sessions in your driveway or practice that bike dismount a few more times.

Organize your thoughts and write down what you still need to do or equipment you need this week.
Keep your sleep normal, or get more of it! Just because you don't have a long ride/run in the morning, doesn't mean you can stay up late and skimp on sleep during the taper. Limit alcohol and caffeine for better sleep each night. Stay healthy leading up to your race and minimize as much life and work stress as possible.
If you are able to arrive to your race destination a couple days early, you can:
Drive the bike course and know what to expect on race day.

Grocery shop to get what you need for race morning. Bottled water, what you eat for breakfast, etc. Do not rely on the hotel to have what you're accustomed to during your training. The hotel won't have breakfast prepared by the time you'll be heading out.
Get great sleep two nights before. Most people do not sleep well the night before a race, so ensure to get great sleep two nights before race morning.
The Day Before
Get out for a quick swim at the race start, if allowed. Get a feel for the temperature of the water and swim at the time your wave will be starting in the morning. Get your pre-race brick done. Check that your bike is working properly and take this opportunity to bike a section of the run course, so you know what to expect. Drop your bike off (if allowed) in transition and get a feel for the transition area. Locate landmarks, count which rack your bike is on and memorize the layout, so you can continue to mentally practice T1 and T2, later this day. Spend your afternoon focusing on the rest of your race preparation, so that you can eat an early dinner and relax your mind and body.
Prep as much as possible, so there's not much you need to think about in the morning when the alarm goes off. The day before, you can:
Layout your race outfit

Pack your transition bag after you double check you have everything you need for T1 and T2

,

including Body Glide to seamlessly get in and out of your wetsuit, plus ensure you're protected from chafing and blisters

. Place your bike pump next to your bag, so you don't forget it.

Pack extra nutrition, goggles, tubes, CO2, water and contacts (if you wear them)

Put your race numbers on your helmet, bike and race belt

Fill up your water bottles and have them in the fridge ready to go

Read your race packet and course maps

Know where to park in the morning and enter the address into your phone now.

Know when transition opens and closes in the morning and where to pick-up your timing chip.
Relax the rest of the day. Kick your feet up, listen to music and focus on the positive outcomes you want from this race. Close your eyes and visualize things going well. There will be things out of your control. Instead, think about all of the things you can control for a successful race and how will you mentally get through challenging moments.
Race Morning
Get up early! Don't underestimate the time you need on race morning. Allow yourself enough time to get ready, eat breakfast, get to the race venue and park without rushing.
Get to transition early. Again, you do not want to be rushed setting up your transition. This is when panic can set in and you don't think through things, you forget things and it will be difficult to get back to a calm mental state pre-race.
During your time in transition:
Check your bike functions again and pump up your tires

Set your transition up exactly the way you want it for T1 and T2

Take a few more minutes to become familiar with the transition area. This will not only help reduce race stress but will help shave time. Walk the transition area and memorized the direction you will need to run when coming in and out of T1 and T2.
Do not be intimidated by other racers. Focus on what you need to be mentally and physically ready. Once you're out of transition, head down to the start. Take a few minutes for deep breathing and visualize again how your race will go. Look out to the swim course and visualize yourself out there and how it will feel. Have a mantra to tell yourself before and during the race to help you stay calm, relaxed and motivated.
We never really know what race day will bring but remember that racing is supposed to be fun! Before the start horn goes off, think of all the reasons why you love to race. Remember everything you did to get to this start line. Think of how amazing you are and the abilities that your body has. Triathlon is a community and no matter what pre-race state we are in, we are all in this together.
About the Coach
Stacy Musunuru is a USA Triathlon Certified Level II Coach and has been coaching endurance athletes for 12 years and has 15 years of racing experience. She has her MS in Kinesiology, in addition to her Certified Strength and Conditioning Specialist (NSCA-CSCS) certification. Stacy is a current NCC member with USAT, is the coach of the Golden Tri Team (www.goldentriteam.com) and a member of Dirt 38 mountain biking team. She resides in Golden, Colorado, with her family.
Body Glide products help prevent rubbing that causes irritation, rash, chafing, blisters and raw skin. They are non-oily, invisible and blend into your skin. They stand up to sweat, humidity and water, and your skin breathes even as perspiration escapes. The products are used by the U.S. military, combat tough, yet safe and gentle for children. To learn more visit bodyglide.com.