Jorgensen Closes 2016 Season with Silver in the ITU World Championships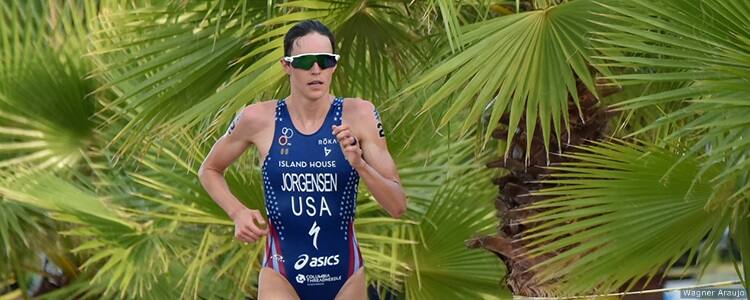 COZUMEL, Mexico — Olympic champion Gwen Jorgensen ended her ITU season on Saturday with a pair of silver medals, finishing second at the ITU World Triathlon Grand Final Cozumel and in the 2016 Columbia Threadneedle Rankings, which serve as the season-long ITU World Championships.
Jorgensen (St. Paul, Minn.) crossed the line in 1 hour, 59 minutes, 16 seconds for second behind points leader and first-time ITU World Champion Flora Duffy of Bermuda. Duffy's time of 1:57:59 clinched her individual title, as well as the first world title for Bermuda at the elite level in triathlon. Australia's Charlotte McShane sprinted through the finish chute to earn the bronze in Cozumel, her first WTS podium, and Japan's Ai Ueda finished third in the season rankings for the ITU World Championships bronze.
Jorgensen brings her career world championship medal total to three, matching Sarah True for total world championship medals won. Two-time Olympian Laura Bennett holds the most in history for U.S. women with four (one silver, three bronze). Jorgensen's career WTS medal total now stands at 23.
Also racing on Saturday were U.S. Olympians True (Hanover, N.H.) and Katie Zaferes (Hampstead, Md.), who finished seventh and 13th, respectively. Zaferes ended her season ranked No. 4, improving one spot on her final ranking from 2015, and True also finished the season ranked in the top 10 with a ninth-place overall ranking.
Duffy had a commanding performance from start to finish, coming out of the water in third position and working with Great Britain's Jessica Learmonth and Lucy Hall to gain a 30 second advantage after the first bike lap. The scene was similar to earlier this season when the trio rode off the front at World Triathlon Leeds. The gap to the chasing group, which included Jorgensen, True and Zaferes, grew slowly, climbing to more than a minute by the second transition.
Once out on the run, Duffy kept the lead pace rich and never let her fellow competitors within a minute of the lead. Jorgensen tried to match Duffy's speed, but was unable to close the gap.
"I said all year if I won nothing but the Olympics I'd be happy," Jorgensen said. "Obviously I'm not too happy right now, but Flora outperformed me today. She had a great swim, a great bike and she outran me. She had a phenomenal performance and she deserved it today. I think after the Olympics everyone has some highs and lows. You always want to win, but this year the sole focus was Rio. I came out here and I gave it my all. Flora was better and she was a deserving athlete."
The U.S. had six women finish the 2016 season ranked in the top 20 in the Columbia Threadneedle Rankings for the 2016 season, the only nation to do so. View the complete 2016 rankings, which also serve as the positions for the 2016 ITU World Championships, at wts.triathlon.org/rankings/2016.
"I feel like this season I never got into the rhythm that I wanted to," Zaferes said. "I had sporadically good things but I don't know what was off, so I'm kind of excited to restart and get back to it, after a break. There were good parts of today, and it was kind of one of those races where I had to make the best of how I felt, and did an OK job of it. I just know all the pieces are there. This was another year of learning, and I'm going to take all the things I learned this year for the good and the bad races and put it together for next year to be more fierce."
World championship action at Cozumel's Marina Fonatur comes to a close on Sunday with the age-group Standard Triathlon World Championships and the elite men's ITU World Triathlon Grand Final.
ITU World Triathlon Grand Final Cozumel
1,500m swim, 40k bike, 10k run
Elite Women — Complete Results
1. Flora Duffy (BER), 1:57:59
2. Gwen Jorgensen (St. Paul, Minn.), 1:59:16
3. Charlotte McShane (AUS), 1:59:25
U.S. Finishers
7. Sarah True (Hanover, N.H.), 1:59:58
13. Katie Zaferes (Hampstead, Md.), 2:00:59
18. Renée Tomlin (Ocean City, N.J.), 2:01:48
29. Kirsten Kasper (North Andover, Mass.), 2:02:48
DNF Summer Cook (Thornton, Colo.), Lindsey Jerdonek (Cleveland, Ohio), Erin Jones (Hood River, Ore.)
2016 ITU World Triathlon Series – World Championships Podium
1. Flora Duffy (BER), 4,691 points
2. Gwen Jorgensen (St. Paul, Minn.), 4,435 points
3. Ai Ueda (JPN), 3,616 points
U.S. Women
4. Katie Zaferes (Hampstead, Md.), 3,437 points
9. Sarah True (Hanover, N.H.), 2,855 points
15. Kirsten Kasper (North Andover, Mass.), 2,346 points
18. Renée Tomlin (Ocean City, N.J.), 1,771 points
19. Summer Cook (Thornton, Colo.), 1,668 points
37. Lindsey Jerdonek (Cleveland, Ohio), 1,090 points
About USA Triathlon
USA Triathlon is proud to serve as the National Governing Body for triathlon, as well as duathlon, aquathlon, aquabike, winter triathlon, off-road triathlon and paratriathlon in the United States. Founded in 1982, USA Triathlon sanctions more than 4,300 races and connects with nearly 500,000 members each year, making it the largest multisport organization in the world. In addition to its work with athletes, coaches, and race directors on the grassroots level, USA Triathlon provides leadership and support to elite athletes competing at international events, including International Triathlon Union (ITU) World Championships, Pan American Games and the Olympic and Paralympic Games. USA Triathlon is a proud member of the ITU and the United States Olympic Committee (USOC).