Seven-Time World Champion Aaron Scheidies Finally has his Paralympic Triathlon Opportunity
by Nick Hehemann, USA Triathlon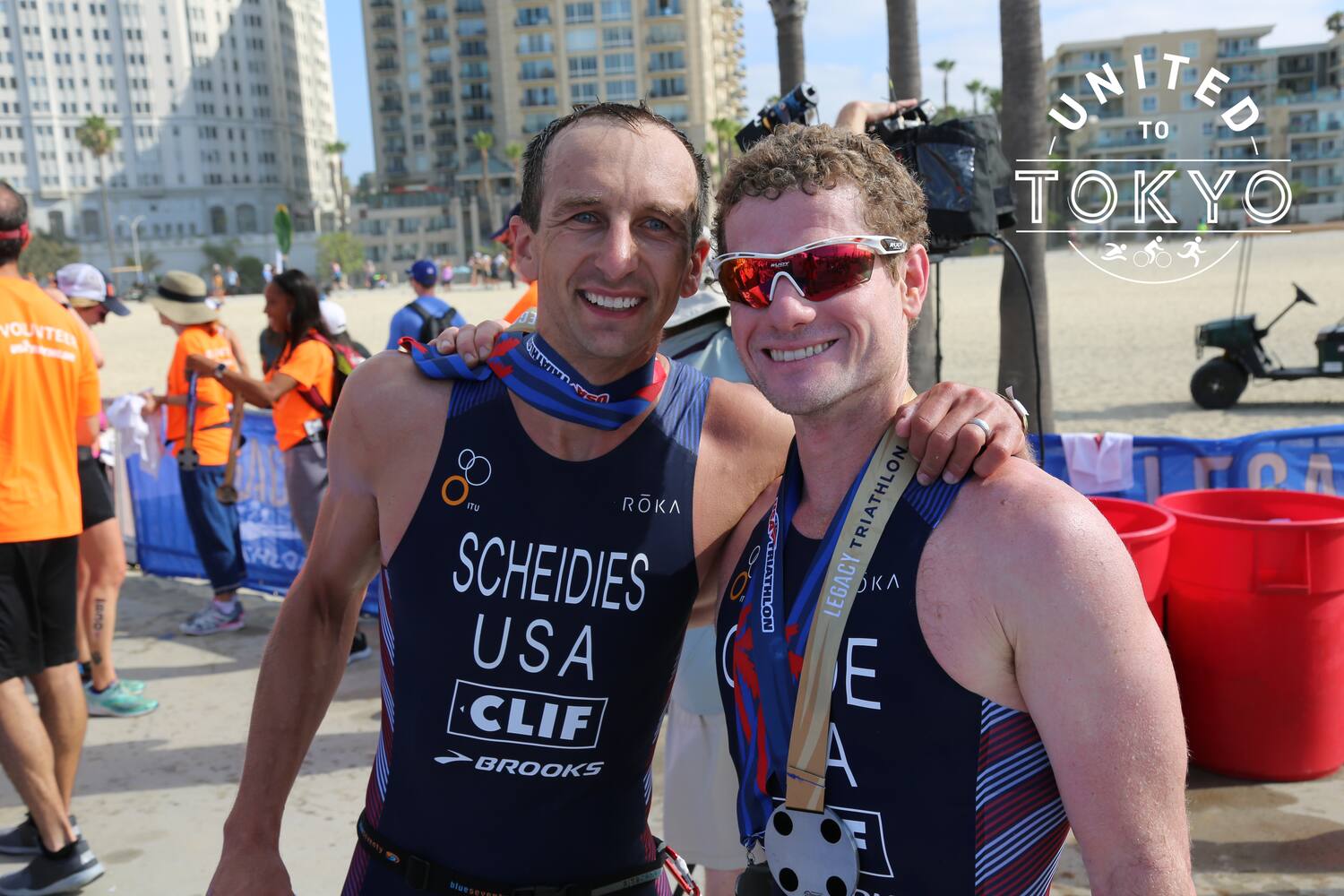 Aaron Scheidies already has one of the most impressive resumes of any U.S. triathlete ever. But there's still one dream the 39-year-old has yet to realize: a chance to compete in the Paralympic Games in a sport he has dominated for nearly two decades.
"My goal is to win gold," Scheidies told USA Triathlon in a late March Zoom interview. "This is the reason I've stayed competitive in the sport."
Scheidies has roughly 10 percent of the vision of a fully sighted person due to a disease called Stargardt's that came on at an early age. He first started noticing the signs when he was in the second grade, and his eyesight has progressively declined ever since. It didn't stop him from becoming a world-class athlete.
A seven-time ITU Paratriathlon World Champion and eight-time USA Paratriathlon National Champion, Scheidies competes in the men's visually impaired (PTVI) paratriathlon division on the World Triathlon circuit. While paratriathlon as a whole made its Paralympic debut in Rio in 2016, the men's PTVI classification was not included — so Scheidies' category will be featured for the first time at the postponed Tokyo 2020 Olympic and Paralympic Games this August.
Scheidies won his first world paratriathlon title in 2002, and 19 years later, he finally has his chance to compete on sport's biggest stage.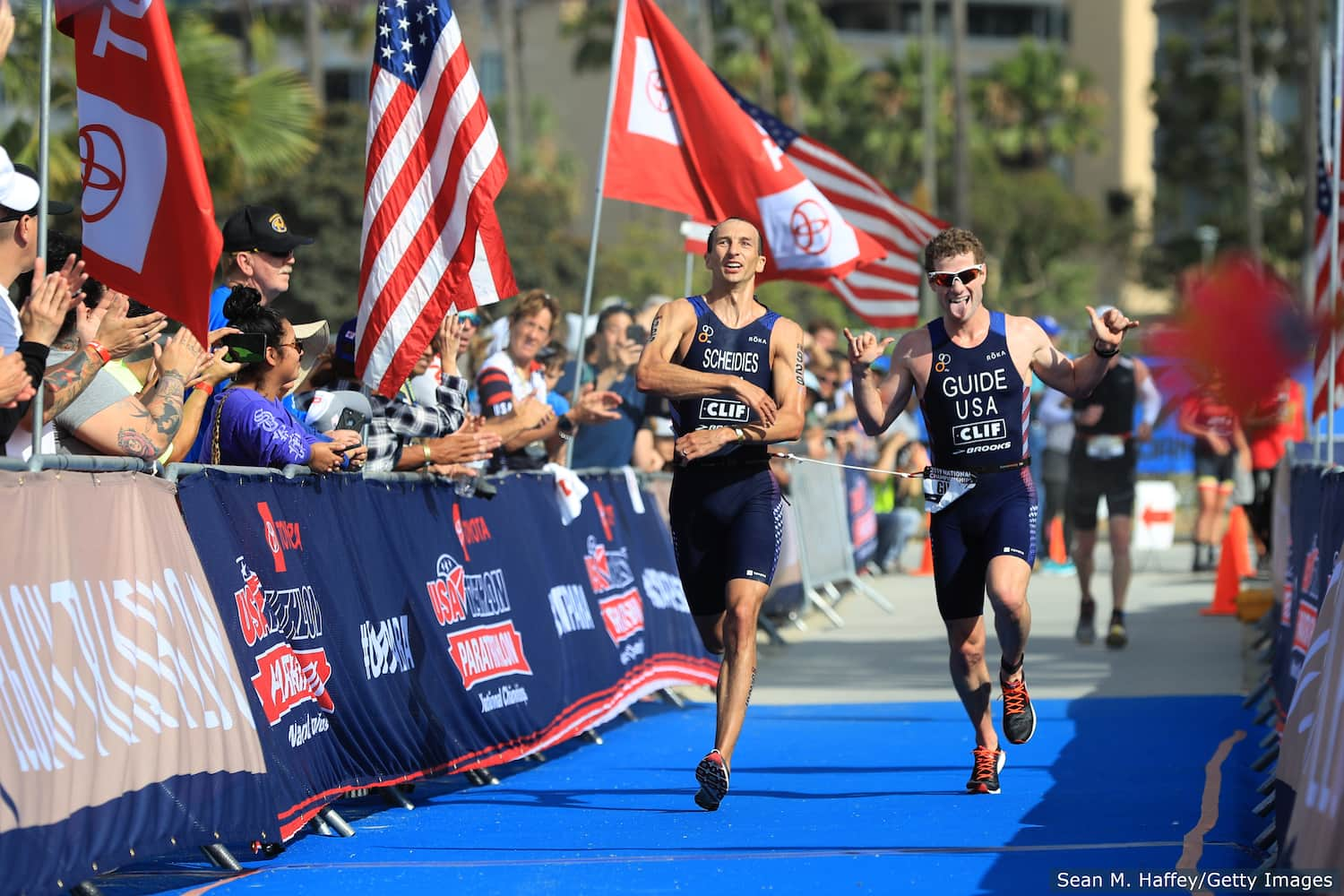 "This is about instilling my legacy in the sport," said Scheidies, a member of the Toyota U.S. Paratriathlon National Team. "Over my career, I'd hope that I've built my legacy. But this is the culmination."
His goals of qualifying for Tokyo and winning a Paralympic gold medal for Team USA won't be easy. The PTVI triathlon division continues to become more competitive around the world, and even right here in the U.S.
After all of his success, Scheidies can feel the target on his back.
"In many (paratriathlon) classifications, you've had one person dominate for a long time," Scheidies said. "And over the years, that person has become the hunted."
It's a challenge he welcomes.
Competition Heating Up
Scheidies notices what's happening in the sport. For him, the growth of paratriathlon is encouraging and exciting, and he's happy to have played a major role in its explosion around the world.
But he also recognizes that the gap between him and his competitors is closing.
"I'm 39. Pretty much everyone I'm racing against is much younger than me," Scheidies said. "You know, I've had some injuries over these last couple years. Sometimes, you have the will to do something, but your body doesn't follow you along."
Scheidies was 34 when paratriathlon made its Paralympic debut at the Rio Games in 2016. But because his PTVI classification wasn't one of the listed events, he didn't get the chance to compete.
He did, however, have the opportunity to represent the U.S. in Rio as a Paralympian. He competed in para-cycling that year, placing 11th in the road cycling event and 12th in the road time trial, along with his guide and pro triathlete Ben Collins. The two have been racing together for over a decade.
"If you've raced with a guide for a while, you have a lot more trust built," said Scheidies.
As a visually impaired triathlete, he races tethered to his guide on the swim and run, while riding a tandem on the bike.
"A guide relationship is kind of like a marriage," Scheidies laughed. "Having that connection of knowing each other can be a really good (or bad) thing. If you've been with someone longer, you want things to become a routine and automatic."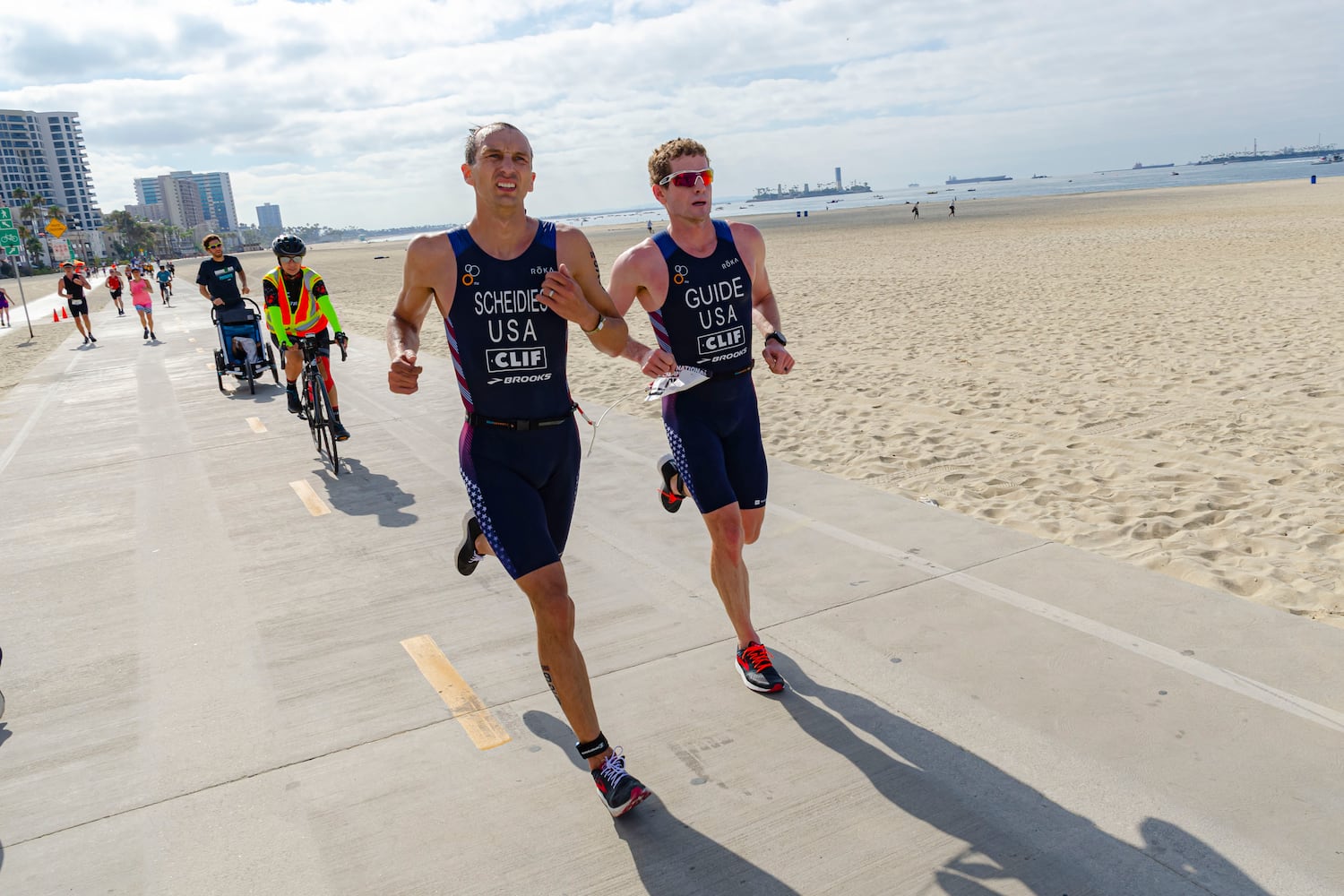 He's hoping that chemistry can pay off in Tokyo.
Scheidies was without his normal race partner in March when he competed at the Sarasota-Bradenton Triathlon — his first race in about a year. Collins was recovering from a minor injury, and the two thought it'd be best to play it safe in the lead up to the Paralympics.
So, 2016 U.S. Olympian triathlete Greg Billington joined Scheidies at the event instead. The pair took second place behind Toyota U.S. Paratriathlon Resident Team athlete Kyle Coon and his guide, 2004 U.S. Olympian Andy Potts.
Coon, along with Toyota U.S. Paratriathlon National Team athlete Brad Snyder, is showing just how strong the field of visually impaired elite triathletes has become in the U.S.
"It's becoming harder and harder to overcome. What we've seen over time is the depth of the field is getting better," Scheidies said. "Any time a sport gets into the Olympics and Paralympics, it becomes a lot stronger."
It's a worldwide trend. In 2019, Scheidies took third place at the World Paratriathlon Championships in Lausanne, Switzerland, behind Spain's Héctor Catalá Laparra and Great Britain's Dave Ellis.
The challenge is greater than ever, but Scheidies is ready for it — even as he moves forward after an incredibly difficult year.
Family Trauma
On top of being an elite athlete training for the Paralympic Games, Scheidies is also a physical therapist, husband to his wife, Brittney, and father of two young boys.
This hasn't been an easy past couple of years for the family.
At the end of 2019, their youngest son, Asher Tutwiler (nicknamed Tut), developed Respiratory syncytial virus (RSV) when he was about eight months old. While a common virus with typically minor symptoms, it can sometimes be serious for infants. It was in this case.
Tut spent several weeks in the ICU. Things got so bad that he had to be put on a ventilator. That's when it got truly scary.
"They (the doctors) messed up," Scheidies said. "They put the ventilator tube down his esophagus and not his windpipe. That's when he coded."
What followed were seven and a half terrifying minutes as doctors performed CPR in an attempt to revive him. Scheidies and Brittney, who were in the room when it happened, could only watch in horror.
"It was traumatic," Scheidies said. "When that kind of thing happens, you realize how valuable your life is and how valuable your kids are to you."
Thankfully, Tut survived and left the hospital a few weeks later. He's now healthy and just celebrated his second birthday earlier this month.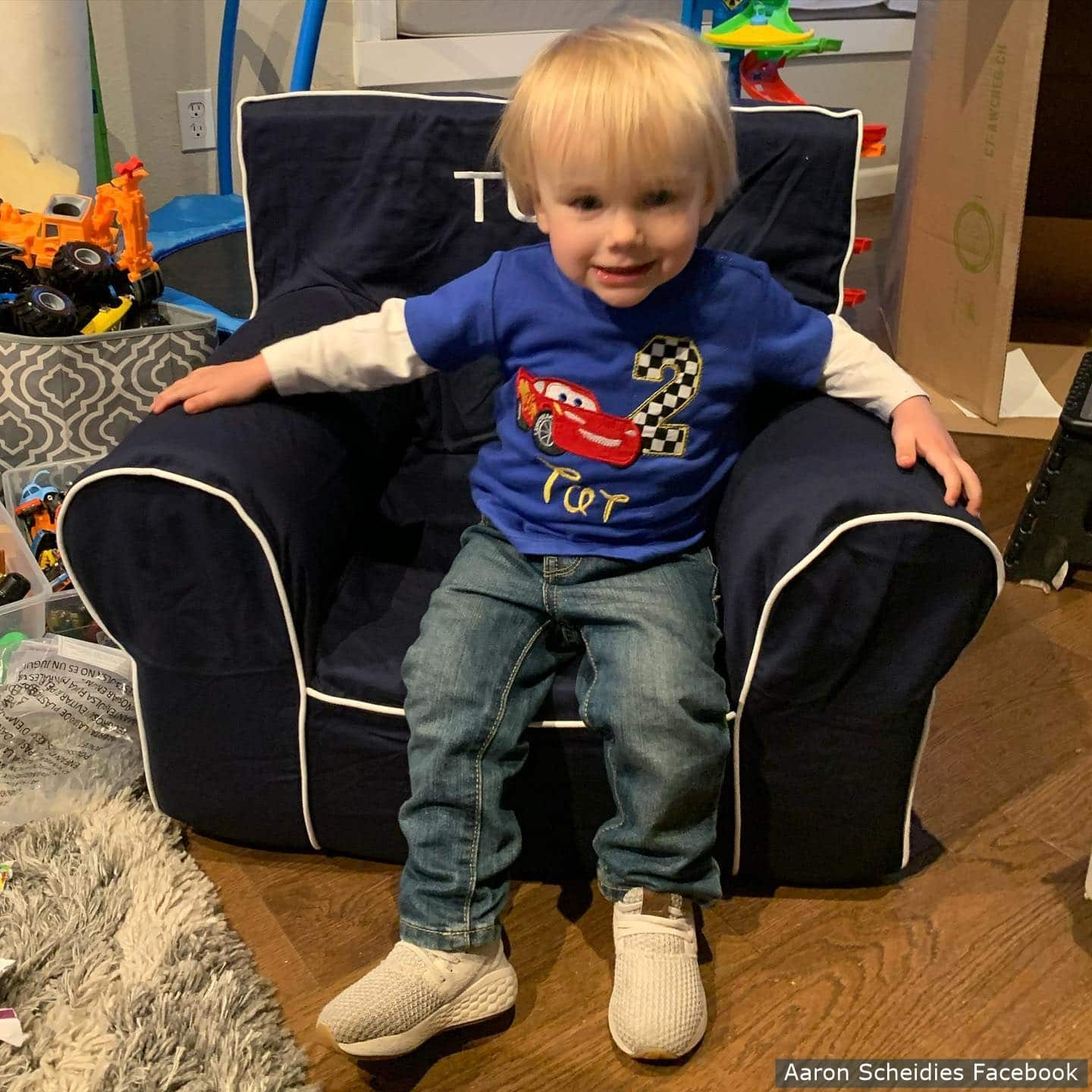 Still, the experience understandably left a lasting impact on the family — especially when the COVID-19 pandemic arrived a few months later.
"COVID has instilled fear in a lot of people, and rightfully so," Scheidies said. "It's hard because you have to be careful with your children, especially after that incident happened. (Tut) was one of those rare few who had a bad case of RSV.
Mentally, you can't think about something like that happening again. You can't shelter completely of course and worry every day, but you have to be careful. Every decision has been some sort of risk management. It's been a challenge."
Finding babysitters, managing work-life balance, all while training for the Paralympics, all during a global pandemic — a "rollercoaster" is how Scheidies describes it.
Right now, he's just happy for his family's health. And he's hoping 2021 can end on an upward swing as he prepares for the biggest moment of his athletic life.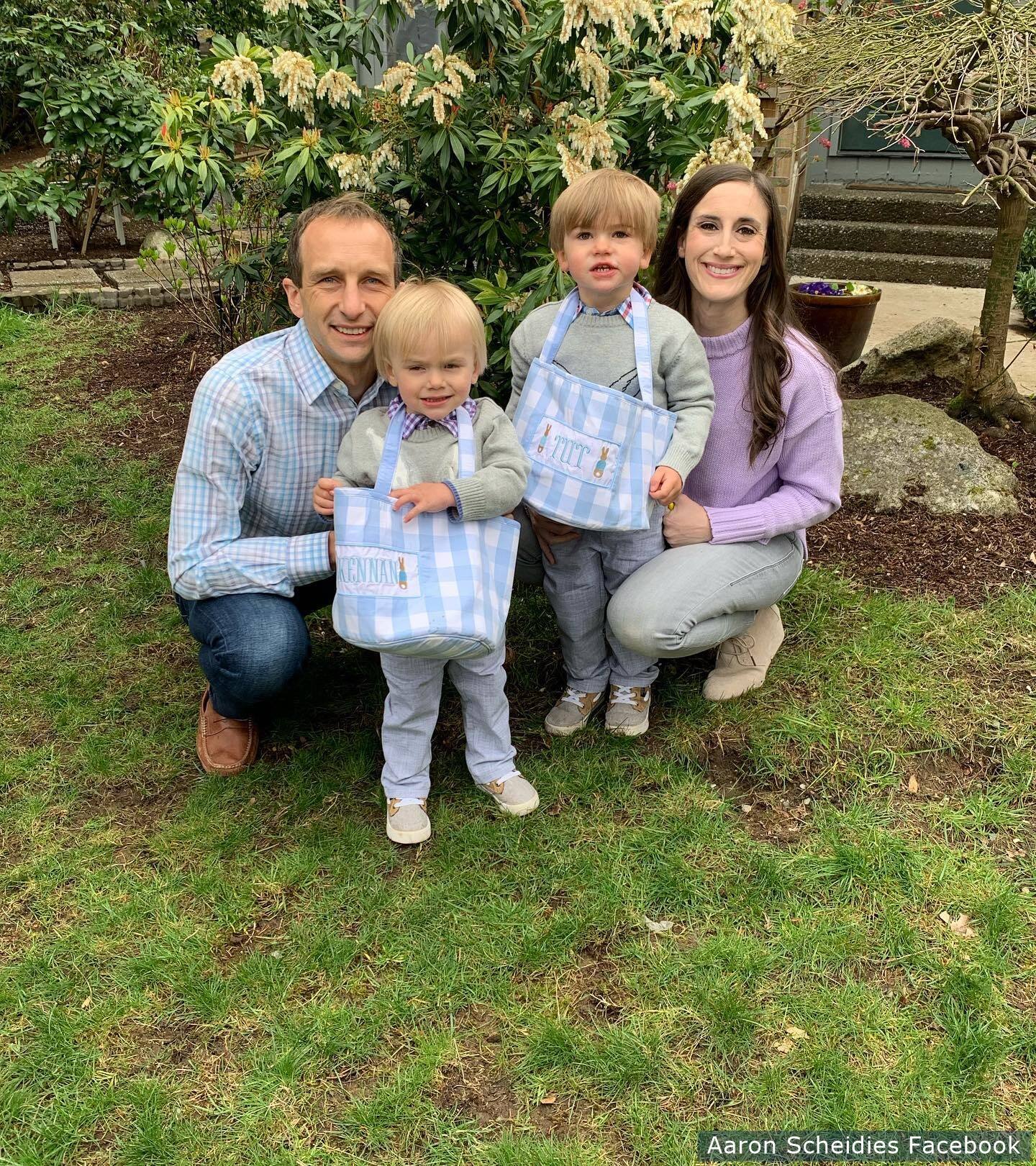 Leaving a Legacy
Scheidies has had a lot of time to consider what type of mark he'll leave on the sport when his elite career is over.
After 15 years of success racing professionally around the world, he understands this is his big Paralympic shot. He's already waited a long time for this moment, so what was one more year, really?
In March 2020, the International Olympic Committee and International Paralympic Committee made the decision to postpone the Olympic and Paralympic Games a full year for the health and safety of everybody involved. It was a decision Scheidies supported.
The extra year has been a strange and difficult one, as he continues to train as hard as ever while preparing for his next opportunity to race.
Regardless of what happens in 2021, he hopes he can be remembered for more than what he did on the course — from mentoring and coaching other blind athletes to growing the number of guides in the sport, as well as his work in providing rules guidance for visually impaired athletes to the World Triathlon Rules Committee.
"I'd like to say that I've given back to the sport in a lot of ways, trying to do everything the right way in terms of attitude and sportsmanship," Scheidies said. "I'd like people to know me not just by winning, but how I got there."
Aaron Scheidies has already had a remarkable triathlon story. He'll hope to add one more chapter in 2021 — perhaps the best one yet.
Follow Aaron Scheidies on Facebook, Instagram and Twitter to cheer him on in his journey to Tokyo.
As part of USA Triathlon's #TokyoUnited campaign, we are sharing the stories of U.S. elite triathletes weekly in the lead-up to the Tokyo Olympic and Paralympic Games this July and August. Follow @usatriathlon on Instagram, Facebook and Twitter to find these stories and more Olympic- and Paralympic-themed #TokyoUnited content.