USA Triathlon's Olympic Alumni Share Their Advice for Tokyo-Bound Athletes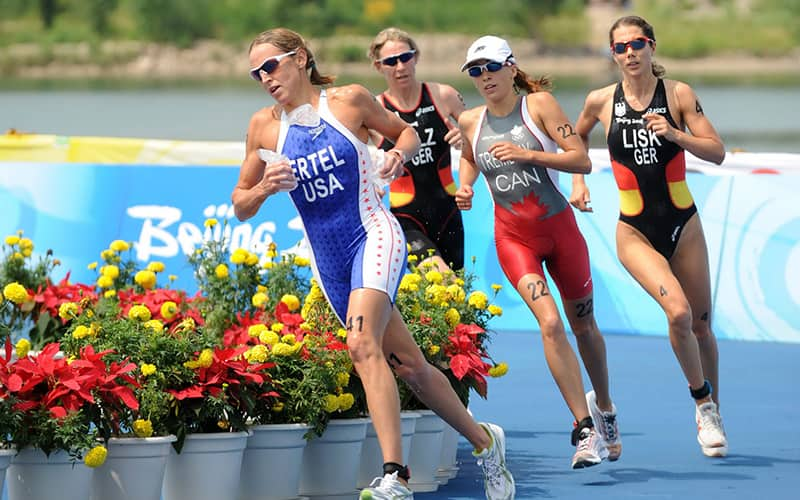 The triathlon events of the Olympic Games Tokyo 2020 are less than a week away! The five members of the 2020 U.S. Olympic Triathlon Team — Taylor Knibb, Kevin McDowell, Morgan Pearson, Summer Rappaport and Katie Zaferes — are now arriving in Tokyo and beginning their final preparations to represent Team USA on sport's biggest stage. USA Triathlon caught up with Olympian alumni to share a few words of advice for the athletes about the momentous experience that lies ahead. This is what they had to say:

Nick Radkewich, Sydney 2000
Keep in mind that as hard as the last year-and-a-half was for you in training and preparation, it was just as hard or harder for athletes in other countries. Set your expectations to how you prepared and know that with the Olympics, it's only once every four years — and maybe a once-in-a-lifetime opportunity. Give it everything you have on the day, and if you don't finish in the medals, at least you know you gave 100 percent. Enjoy the experience and figure out a way to share that experience with others.

Joanna Zeiger, Sydney 2000
Most importantly, be safe and stay healthy. That is always something that athletes need to wary of going into a big event, but particularly this year. Enjoy the experience, take it all in. And remember, the Olympics is merely just another race, so don't put yourself in a pressure cooker and turn yourself inside out with anxiety over your event. The best athletes with the best results are those who are able to maintain "looseness," enjoy their event, and don't look to others for validation.

Barb Lindquist, Athens 2004
Don't let the race itself define your whole Olympic experience. Your worth as an athlete and as a person is not defined by this one event! I didn't have my best race, but I've learned to compartmentalize and separate that from the rest of my Olympic experience. That Olympic experience ranges from the media attention months before the race, to watching other events at the Olympics and the Closing Ceremony, and to my experience today of still being an Olympian! The U.S. Olympians & Paralympians Association motto is "Once and Olympian, Always an Olympian; Never Former, Never Past" (memorize this!), so let your heart soar that you will always be an Olympian!

Andy Potts, Athens 2004
Leave no stone unturned! Put everything you know into your pursuit. Believe in yourself and allow others to help.

Julie Swail Ertel, Beijing 2008
Write a journal of your experiences. Much of it will be crystal clear, but as the years pass, some of the memories will fade (like what the dining hall was like, who were your neighbors in the Village, how you spent your days leading up to your competition, etc.) Put down the devices and look around. Take it all in, and experience as much as you can. Don't assume that you will make it back again. Savor each moment. Use the excitement to give your competition the extra boost. And, of course, plan for the low when you return home. Plan a trip, journal or make a photo album, enroll in school, start a job. With so many hours dedicated to training and travel, it is a good idea to have a plan to fill that void when you return.

Sarah Haskins, Beijing 2008
Enjoy the process just as much in the triathlon event as outside the triathlon event. I'm not sure if the athletes will be able to watch the other sports due to the pandemic, but I would encourage them to watch as many other events as they can. Also, whenever I started to feel really nervous about the Olympic triathlon process, I would tell myself it's still just a triathlon race that you do all the time; swim, bike, and run. This mantra of sorts would help give me perspective in the race and help me to take away any anxiety I was having about the event.

Jarrod Shoemaker, Beijing 2008
Soak in every moment of the journey, step back and take a deep breath when you are at the Olympics — and thank all the people who helped you get to where you are. It is an amazing experience!

For more information about USA Triathlon at the Tokyo Olympic and Paralympic Games, visit usatriathlon.org/tokyo2020.

About Tokyo United
USA Triathlon is promoting its elite athletes in the lead-up to, during and beyond the Tokyo Olympic and Paralympic Games with its Tokyo United campaign. Tokyo United showcases the resilience, determination and teamwork shown by U.S. Olympians and Paralympians, and the communities surrounding them, on their path to the Games. Tokyo United also refers to the common experience shared by the USA Triathlon family over the last year — from amateur athletes, race directors, coaches and clubs whose racing plans were upended, to U.S. Olympic and Paralympic hopefuls whose dreams were deferred — and the many ways we lifted each other up in hopes of a more promising 2021. The three-phased campaign begins with United to Tokyo, showcasing each U.S. Olympic and Paralympic triathlon hopeful's journey from childhood to the biggest stage in sport — along with the family and support systems that helped them along the way. The second phase, United in Tokyo, brings together the entire multisport community and the global Olympic and Paralympic family to support Team USA at the pinnacle of competition, and to revel in the long-awaited Olympic and Paralympic moment. The final phase, United Beyond Tokyo, will celebrate the achievements of the 2020 U.S. Olympic and Paralympic Teams before passing the torch to aspiring triathletes with Olympic and Paralympic dreams for the Paris 2024 and Los Angeles 2028 Games.