USA Triathlon's "United in Tokyo" Olympic and Paralympic Media Guide Now Available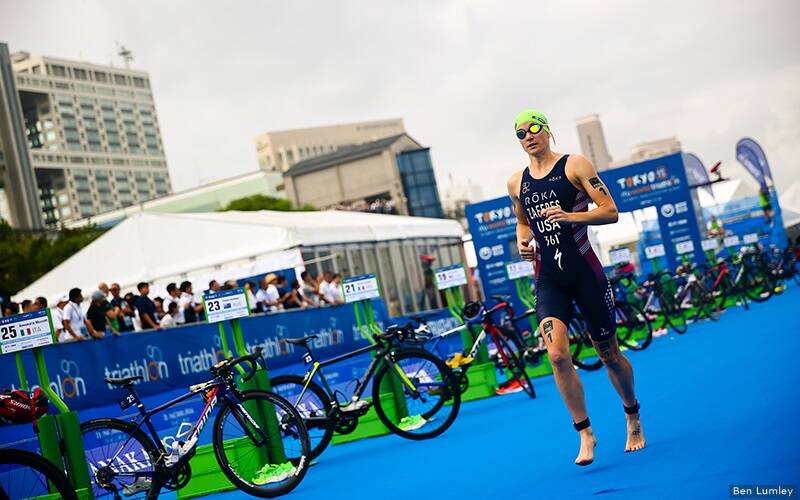 COLORADO SPRINGS, Colo. — USA Triathlon's "United in Tokyo" Olympic and Paralympic Media Guide for the Tokyo 2020 Games is now available for media and fans at usatriathlon.org/tokyo2020.

Click here for direct access to the Media Guide.

The guide features comprehensive information about triathlon at the Games, including course maps and an introduction to the new Mixed Relay Olympic medal event. It includes a description of how athletes qualified for Tokyo, a complete history of the sport at the Games, information about USA Triathlon as a National Governing Body, and media contact details. The guide also has athlete bios with statistics and personal storylines for the five members of the U.S. Olympic Triathlon Team and the 17 members of the U.S. Paralympic Triathlon Team. The publication is viewable on desktop and mobile devices through any browser, or printable as a PDF.

The Olympic Games get underway this week, with Morgan Pearson (Boulder, Colo.) and Kevin McDowell (Geneva, Ill.) competing in the men's individual triathlon event and Taylor Knibb (Washington, D.C.), Summer Rappaport (Thornton, Colo.) and Katie Zaferes (Cary, N.C.) taking the stage for the women. The triathlon Mixed Relay will debut as a medal event at the Tokyo Games, with each country fielding a four-person team of two men and two women. The final roster for the Mixed Relay will be unveiled on race morning.

All Olympic triathlon events will air live on USA Network, and will also be livestreamed on the NBC Sports App and NBCOlympics.com.

Olympic Games Triathlon Schedule

A cast of triathlon legends and industry leaders are also providing pre- and post-race commentary from the USA Triathlon Facebook page surrounding all Olympic and Paralympic triathlon competitions. Click here to learn more.

Media Opportunities from Tokyo
Photos and video footage of all U.S. Olympic Triathlon Team members are available for media use here (credits included in the filename for each). USA Triathlon will share flash quotes, photos and team updates via its press release distribution list throughout the Olympic Games. USA Triathlon is not holding a pre-competition press conference from Tokyo, but media can contact Caryn Maconi at caryn.maconi@usatriathlon.org or 443-534-5954 (or via the same number on WhatsApp) to request interviews with individual athletes and to be added to the distribution list. Press releases will be held for all triathlon medalists following each event, and media can join in-person or virtually.

Paralympic Games
Later in August, 17 U.S. paratriathletes will compete in Tokyo across eight medal events (PTS4 men, PTS2 women, PTS5 men and women, PTVI men and women, PTWC men and women). The members of the U.S. Paralympic Team include: Elizabeth Baker (Signal Mountain, Tenn., PTVI) and guide Jillian Elliott (Gig Harbor, Wash.), Jamie Brown (Oceanside, Calif., PTS4); Kyle Coon (Colorado Springs, Colo., PTVI) and guide Andy Potts (Colorado Springs, Colo.); Hailey Danz (Colorado Springs, Colo., PTS2); Amy Dixon (Encinitas, Calif., PTVI) and guide Kirsten Sass (McKenzie, Tenn.), Kelly Elmlinger (San Antonio, Texas, PTS5); Kendall Gretsch (Downers Grove, Ill., PTWC); Chris Hammer (Elkins, W.V., PTS5); Eric McElvenny (Pittsburgh, Pa., PTS4); Grace Norman (Jamestown, Ohio, PTS5); Allysa Seely (Glendale, Ariz., PTS2); Brad Snyder (Princeton, N.J., PTVI), and guide Greg Billington (San Francisco, Calif.); and Melissa Stockwell (Colorado Springs, Colo., PTS2).

Paralympic Games TV broadcast information will be added to USA Triathlon's Tokyo 2020 Media Guide once available from NBC.

Paralympic Games Triathlon Schedule (broadcast information to come)

PTS4 men, PTS2 women, PTVI men and women: Friday, Aug. 27 at 5:30 p.m. ET (Event date/time in Tokyo is Saturday, Aug. 28 at 6:30 a.m.)
PTWC men and women, PTS5 men and women: Saturday, Aug. 28 at 5:30 p.m. ET (Event date/time in Tokyo is Sunday, Aug. 29 at 6:30 a.m.)
Visit usatriathlon.org/tokyo2020 for more on the U.S. Olympic and Paralympic Triathlon Teams.

About Tokyo United
USA Triathlon is promoting its elite athletes in the lead-up to, during and beyond the Tokyo Olympic and Paralympic Games with its Tokyo United campaign. Tokyo United showcases the resilience, determination and teamwork shown by U.S. Olympians and Paralympians, and the communities surrounding them, on their path to the Games. Tokyo United also refers to the common experience shared by the USA Triathlon family over the last year — from amateur athletes, race directors, coaches and clubs whose racing plans were upended, to U.S. Olympic and Paralympic hopefuls whose dreams were deferred — and the many ways we lifted each other up in hopes of a more promising 2021. The three-phased campaign begins with United to Tokyo, showcasing each U.S. Olympic and Paralympic triathlon hopeful's journey from childhood to the biggest stage in sport — along with the family and support systems that helped them along the way. The second phase, United in Tokyo, brings together the entire multisport community and the global Olympic and Paralympic family to support Team USA at the pinnacle of competition, and to revel in the long-awaited Olympic and Paralympic moment. The final phase, United Beyond Tokyo, will celebrate the achievements of the 2020 U.S. Olympic and Paralympic Teams before passing the torch to aspiring triathletes with Olympic and Paralympic dreams for the Paris 2024 and Los Angeles 2028 Games.

About USA Triathlon
USA Triathlon is proud to serve as the National Governing Body for triathlon, as well as duathlon, aquathlon, aquabike, winter triathlon, off-road triathlon and paratriathlon in the United States. Founded in 1982, USA Triathlon sanctions more than 4,000 events and connects with more than 400,000 members each year, making it the largest multisport organization in the world. In addition to its work at the grassroots level with athletes, coaches, and race directors — as well as the USA Triathlon Foundation — USA Triathlon provides leadership and support to elite athletes competing at international events, including World Triathlon Championships, Pan American Games and the Olympic and Paralympic Games. USA Triathlon is a proud member of World Triathlon and the United States Olympic & Paralympic Committee (USOPC).