Summer Rappaport pushes on toward the Tokyo Olympic Games
by Nick Hehemann, USA Triathlon
Amid all the uncertainty over the past year, one thing has remained certain. Summer Rappaport will represent Team USA at the Tokyo Olympic Games this summer.
She's the lone U.S. triathlete currently qualified — a spot she secured with a fifth-place finish at the Tokyo ITU World Olympic Qualification Event in August of 2019. That was 18 months ago.
Life looks a whole lot different now.
"It's been a rollercoaster, for sure," Rappaport told USA Triathlon in a late February Zoom interview. "It's so funny looking back (to the qualification event), because I remember being in the ice bath after the race with some of my training partners. We were hugging. It was uncontrollable joy. And I just feel like everything in the last 12 months has been the emotional opposite of that moment."
Not to mention, hugging friends in an ice bath in 2021 might go against CDC guidelines. Such is life during a global pandemic, one that upended the sports world and dramatically altered the day-to-day life of elite triathletes like Rappaport.
The Olympic and Paralympic Games were two of the many sporting events impacted by COVID-19 — originally scheduled to begin in July 2020, the Games were postponed by the International Olympic Committee and Tokyo Organizing Committee in March 2020 for the health and safety of all involved.
Rappaport remembers having mixed emotions when she got the news.
"While I was disappointed, I was relieved to have an answer and it made it easier for me personally," Rappaport said, acknowledging she didn't have pool access for two months while many international athlete friends of hers still did. "It didn't seem possible to properly train for the Games at that point. So, it was helpful knowing that what I was working toward was in 2021 and not 2020."
Knowing she was already qualified for the U.S. Olympic Team also gave her comfort.
"It would have been incredibly stressful, trying to perform for races that may or may not happen," Rappaport said. "It's been really helpful for me to just be focused on July 27, 2021."
You don't have to remind her the date for the women's Olympic triathlon event. It's a day she could have never imagined six years earlier, when she first thought about quitting the sport.
Working Through Fear and Doubt
In April of 2015, Rappaport was out on the streets of Poway, Calif. for a regular training bike ride, just like any other day. Until she went around a blind corner and was hit by a car.
Physically, she healed rather quickly from her shoulder and back injuries. She was able to race just six weeks later at the Chengdu ITU Triathlon World Cup.
It was the mental effects of the crash that stayed with her much longer.
"I really lost focus after the accident," Rappaport said. "I was having a lot of anxiety and panic attacks on the bike. I was really thinking about leaving the sport."
A collegiate swimmer and runner at Villanova, Rappaport transitioned to triathlon after graduating in 2013 and entering USA Triathlon's Collegiate Recruitment Program. Learning the nuances of riding and racing on the bike was Rappaport's greatest challenge in becoming a triathlete. But this bike crash was different than those learning curve struggles.
"I didn't think I could ever get over the anxiety and the panic I felt when I would get on the bike and try to perform simple tasks," Rappaport said. "It was really difficult to work through, but I eventually did. I'm fortunate to have a fantastic support team."
She'd need to rely on that support system again when doubt creeped back in a few years later.
Prioritizing Mental Health
The second time Rappaport thought about quitting the sport she'd eventually become an Olympian in came during the 2018 World Triathlon circuit — an admittedly tough season, by her standards, on the international stage. She placed 41st at the ITU World Triathlon Grand Final in Gold Coast, Australia, finishing the seasoned ranked 25th in the World Triathlon Series.
"I was starting to feel like I was at a crossroads in my life," Rappaport said. "I understood that I needed to increase my commitment to the sport if I wanted to achieve what I wanted to achieve. But it was difficult for me to pinpoint what that meant."
She began questioning whether or not she belonged at such a high level of international competition.
She knew she needed help. That's when she started working with a sports psychologist.
"We were able to take those setbacks from those poor races and learn from them," Rappaport said.
The next year in 2019, something clicked. She started the season with a strong silver-medal performance at the Cape Town ITU World Triathlon Cup event on Feb. 10. She earned another silver in April — this time at a World Triathlon Series race in Yokohama, where she was part of a U.S. podium sweep with Katie Zaferes (gold) and Taylor Spivey (bronze).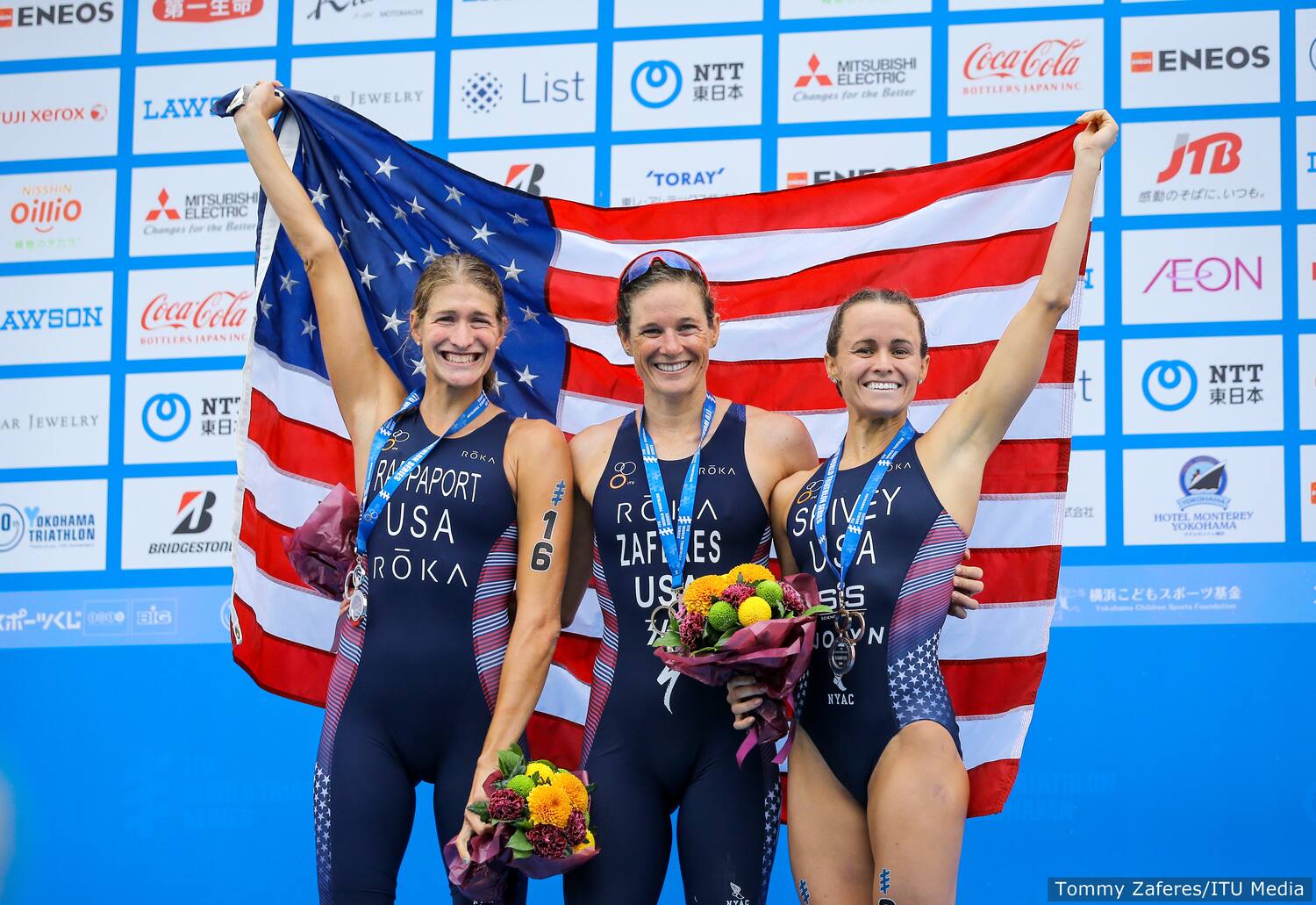 The success didn't stop there. In total, across all ITU World Cup, World Triathlon Series and World Triathlon Mixed Relay events, she stood on the podium seven times that year. She capped her strong season by qualifying for the U.S. Olympic Team and eventually finishing fifth overall in the 2019 World Triathlon Series rankings.
She credits the turnaround to the training with her elite coach, Paulo Sousa, as well her increased focus on the mental aspect of sport. She now meets weekly with a mindfulness coach, and every one to two weeks with her sports psychologist.
"I kind of think of (mental health training) as training that is similar to what we do for triathlon," said Rappaport, who explains how learning to live in the present moment has helped with her anxiety. "It's something that takes a while to build a feel for and become competent. Once you develop the feel, you can grow your skills and branch out from there.
"You don't always get it right at first. It takes a lot of patience, coming back every day."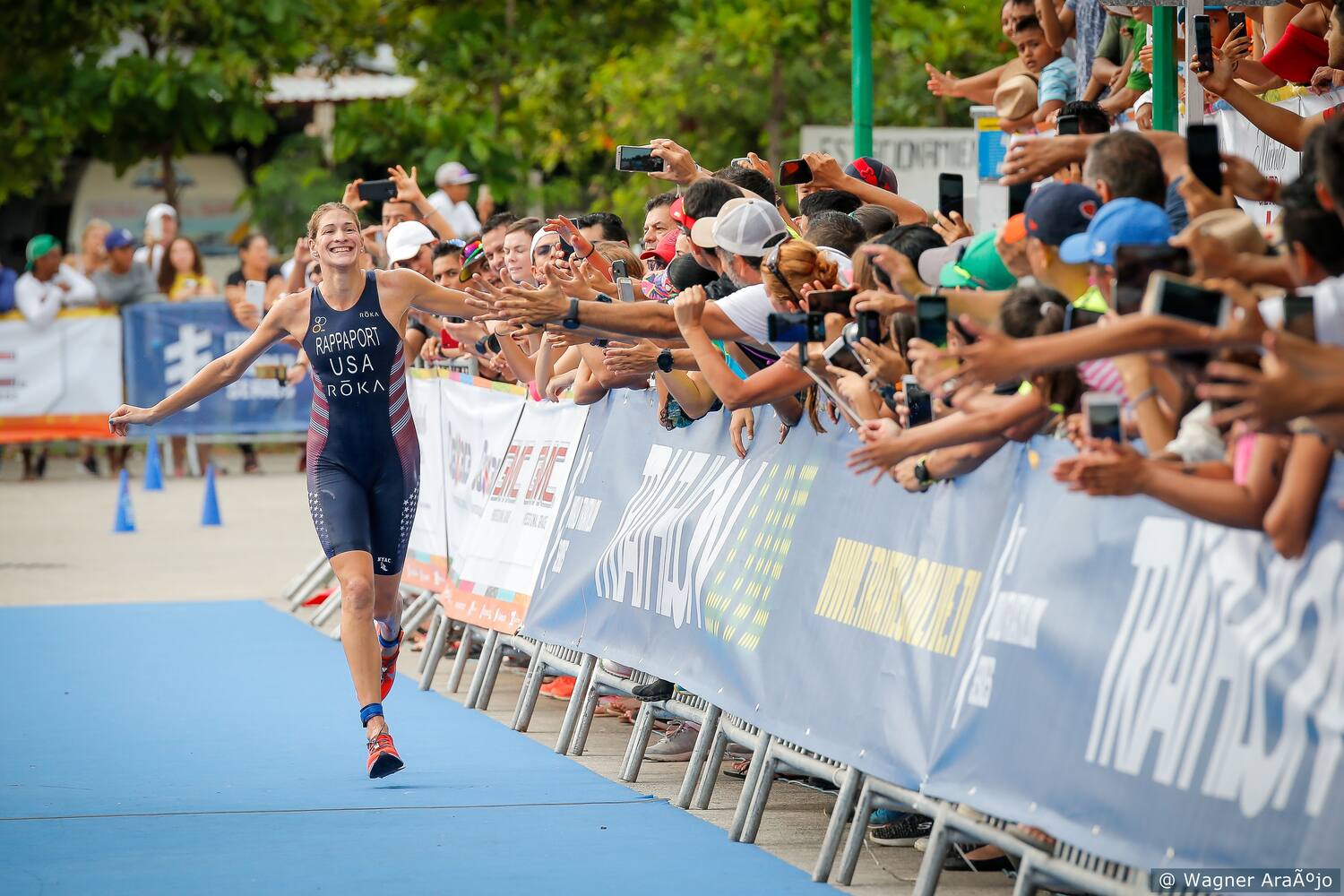 That approach has paid off as she continues to train for Tokyo, thousands of miles away from her husband and family.
Training in Portugal
The long distance is hard, being so far away from her partner.
Her husband, Ian Rappaport, lives and works a full-time job in North Carolina. He's an age group triathlete himself, so he understands the commitment this sport requires.
"We FaceTime every day. That's the biggest key to doing long distance," said Rappaport, mentioning the virtual Valentine's Day dinner date the two had in February. "But it's definitely the hardest thing about what I do as a professional athlete."
Since mid-January, she's been living and training every day in Monte Gordo, Portugal, with The Triathlon Squad — a high-performance training camp environment for elite triathletes, led by Sousa. She'll likely stay out there until she heads to Tokyo this July, she said.
The diverse training group brings together 14 triathletes from 11 countries, including fellow U.S. National Team Athlete Seth Rider.
Rappaport says the combination of the weather, accessible training routes and the competition and camaraderie from fellow athletes make it the ideal place to prepare for the Games.
"I definitely feel like I need the squad environment," Rappaport said. "(Ian) is really supportive, and he has a unique understanding of my desire to fully dedicate myself to seeing what I'm capable of. To me, I don't want to race as a professional if I'm not going to see how far I can go and be fully committed. I want to be all the way in and do everything I can to maximize my potential."
Back from the brink of quitting twice, and stronger for it, Rappaport will show all of us what she's truly capable of when she competes for Team USA on sport's biggest stage this summer.
As part of USA Triathlon's #TokyoUnited campaign, we are sharing the stories of U.S. elite triathletes weekly in the lead-up to the Tokyo Olympic and Paralympic Games this July and August. Follow @usatriathlon on Instagram, Facebook and Twitter to find these stories and more Olympic- and Paralympic-themed #TokyoUnited content.
Check out Summer Rappaport's Instagram page here to follow and cheer her on in her Olympic journey.