Kevin McDowell, Gina Sereno Earn Victories at Sarasota-Bradenton Triathlon Elite Cup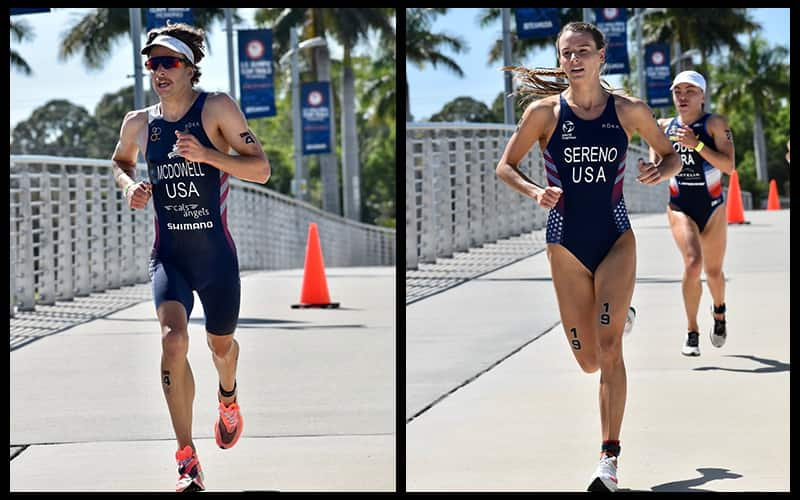 SARASOTA-BRADENTON, Fla. — U.S. Olympic hopeful Kevin McDowell (Geneva, Ill.) and up-and-coming elite triathlete Gina Sereno (Madison, Wis.) claimed gold medals Saturday at the Sarasota-Bradenton Triathlon at Nathan Benderson Park, capping back-to-back weekends of season-opening elite races in Florida. Austin Hindman (Wildwood, Mo.) also podiumed for the U.S., placing third in the men's event.

McDowell and Sereno both improved upon their second-place finishes from last weekend at the Clermont Draft-Legal Challenge in Clermont, Florida, which served as the season debut for most athletes.

Saturday's events in Sarasota also included races for junior elite and youth elite athletes. The action continues Sunday with age group draft-legal and elite paratriathlon races. For complete results from all races at the Sarasota-Bradenton Triathlon, visit srqtrifest.com.

Stringent COVID-19 safety measures were in place at Nathan Benderson Park according to USA Triathlon's Safe Return to Multisport guidelines, including face coverings at all times except when actively racing; contact reduction for athletes, staff and volunteers; and increased cleaning and disinfecting practices onsite.

The elite races featured a 750-meter swim, draft-legal 20-kilometer bike and 5-kilometer run. In the men's race, McDowell was second out of the water, two seconds behind fellow American Darr Smith (Atlanta, Ga). He pushed the pace with the lead group on the bike, positioning himself at the front of the pack heading into the second transition. On the run, McDowell broke away from the field with a 14-minute, 53-second 5k. He crossed the finish line in first in 49 minutes, 15 seconds — nearly 20 seconds ahead of runner-up Matthew Sharpe of Canada (49:34). Just a step behind Sharpe, Hindman snagged the last podium spot (49:35).

Smith and U.S. National Team member Eli Hemming (Kiowa, Colo.), who won last weekend's event in Clermont, rounded out the top-five, finishing in 49:59 and 50:02, respectively.

In the women's race, Sereno was 16th out of the water — 25 seconds behind swim leader Vittoria Lopes of Brazil. Most of the field converged on the bike, and a large group barreled into the second transition together. It would come down to a footrace, and Sereno used her signature run speed to clock a 16:40 5k. She was the only athlete in the field to run under 17 minutes.

Sereno ultimately broke the tape in 55:49 to claim her first-ever elite victory, more than 10 seconds ahead of runner-up Sandra Dodet of France (56:01). Iceland's Edda Hannesdottir (56:11) and Canada's Amelie Kretz (56:13) were third and fourth across the line, respectively. Anne Kelly (Atlanta, Ga.) completed the top-five with a time of 56:24.

The World Triathlon international season is set to begin in Japan with the World Triathlon Cup Osaka from May 8-9, followed by the World Triathlon Championship Series opener in Yokohama on May 17. Throughout the first half of the season, U.S. elite athletes will be chasing qualification for the postponed Olympic and Paralympic Games Tokyo 2020, due to take place July 24-Aug. 9. Fans can take part in the action by following USA Triathlon's Tokyo United campaign, and by using #TokyoUnited and tagging @usatriathlon on social media.

Sarasota-Bradenton Triathlon
Elite and Junior Elite: 750m swim, 20k bike, 5k run
Youth Elite: 375m swim, 10k bike, 2.5k run

Elite Men — Complete Results
1. Kevin McDowell (Geneva, Ill.), 49:15
2. Matthew Sharpe (CAN), 49:34
3. Austin Hindman (Wildwood, Mo.), 49:35

Elite Women — Complete Results
1. Gina Sereno (Madison, Wis.), 55:49
2. Sandra Dodet (FRA), 56:01
3. Edda Hannesdottir (ISL), 56:11

Junior Elite Male — Complete Results
1. Keller Norland (Corvallis, Ore.), 52:14
2. Andrew Shellenberger (Indianapolis, Ind.), 52:32
3. Nicholas Holmes (Glendale, Wis.), 54:13

Junior Elite Female — Complete Results
1. Gabby Martin (Fircrest, Wash.), 59:21
2. Alexandra Poole (Farmington, Conn.), 59:22
3. Jenna Buchanan (Bartlett, Ill.), 59:25

Youth Elite Male — Complete Results
1. Eli McWard (Prosper, Texas), 33:11
2. Evan Mahrous (Sioux Falls, S.D.), 33:50
3. Jake Adler (Jamestown, N.C.), 34:15

Youth Elite Female — Complete Results
1. Clara James-Heer (Grand Rapids, Mich.), 35:02
2. Marley Andelman (St. Charles, Ill.), 36:50
3. Jenna Topott (Allen, Texas), 37:02

About USA Triathlon
USA Triathlon is proud to serve as the National Governing Body for triathlon, as well as duathlon, aquathlon, aquabike, winter triathlon, off-road triathlon and paratriathlon in the United States. Founded in 1982, USA Triathlon sanctions more than 4,000 events and connects with more than 400,000 members each year, making it the largest multisport organization in the world. In addition to its work at the grassroots level with athletes, coaches, and race directors — as well as the USA Triathlon Foundation — USA Triathlon provides leadership and support to elite athletes competing at international events, including World Triathlon Championships, Pan American Games and the Olympic and Paralympic Games. USA Triathlon is a proud member of World Triathlon and the United States Olympic & Paralympic Committee (USOPC).