Duathlon National Championships Head to Tuscaloosa, Alabama, This Weekend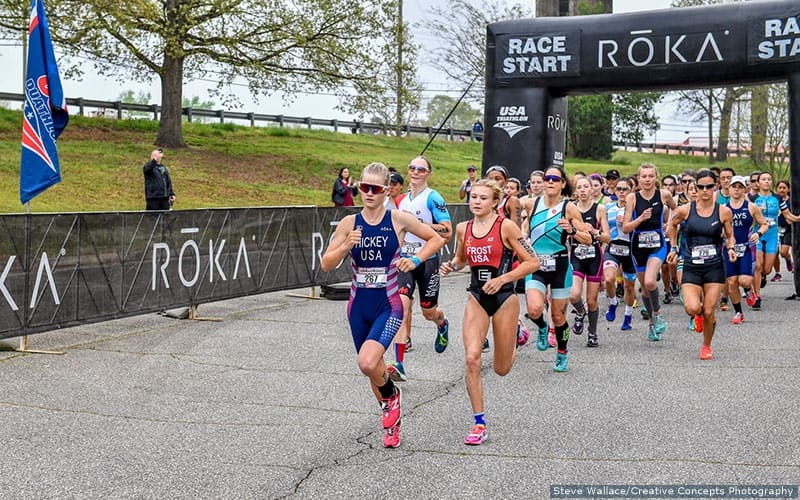 Cassidy Hickey is the two-time defending women's overall champion in the Non-Drafting Sprint.
COLORADO SPRINGS, Colo. — The most competitive run-bike-run event in the nation is set to take place in Tuscaloosa, Alabama, this weekend, as athletes from across the country ages 14-85 will convene on the Tuscaloosa Amphitheater for the USA Triathlon Duathlon National Championships.

The event is USA Triathlon's first owned National Championship to be held since 2019, as COVID-19 forced the cancellation of the majority of the 2020 calendar. This weekend's races will be held with ample COVID-19 safety measures in place according to USA Triathlon's Safe Return to Multisport initiative — including self-screening and temperature checks before entrance to the race venue; face coverings at all times except while actively racing; contact reduction for athletes, staff and volunteers; and increased cleaning and disinfecting practices onsite through ByoPlanet International.

The Tuscaloosa Amphitheater will serve as the primary race venue, housing USA Triathlon's iconic red-carpet finish line. The course will take athletes on the Tuscaloosa River Walk along Black Warrior River and onto Jack Warner Parkway, before finishing at the Amphitheater.

Racing begins Saturday at 7:30 a.m. CDT with the Non-Drafting Standard-Distance National Championships, which feature a 10-kilometer run, 39.6-kilometer bike and another 5.4-kilometer run. Next up are the Non-Draft Sprint-Distance National Championships at 1:05 p.m., featuring a 5k run, 20k bike and 2.9k run. The non-drafting race format rewards individual effort versus group tactics on the bike, as athletes must be separated by several bike lengths during the cycling portion.

The action continues Sunday at 7:30 a.m. CDT with the Draft-Legal Sprint National Championships, which include a 5k run, draft-legal 20k bike and 2.9k run. The fast-paced draft-legal format, which encourages riding in packs and working together on the bike, is strategic and technical. This format is common in elite-level racing and is growing in popularity at the age-group (amateur) level.

Click here for a detailed schedule of events for race weekend.

Todd Buckingham (East Lansing, Mich.), the 2019 Non-Drafting Sprint men's overall champion and Draft-Legal Sprint men's 30-34 champion, returns to the start line in both events. Buckingham is a familiar sight on the Duathlon Nationals podium, as he also captured the men's overall Draft-Legal Sprint title in 2018. Cassidy Hickey (Parker, Colo., F15-19), the 2018 and 2019 Non-Drafting Sprint overall women's champion, will compete in both the Non-Drafting and Draft-Legal Sprint events this weekend.

For all three races, top finishers in each age group will qualify to represent Team USA in duathlon competition at the 2021 and 2022 World Triathlon Multisport Championships. The 2021 edition is set for Sept. 3-12 in Almere, the Netherlands, and the 2022 event will head to Townsville, Australia, from Aug. 18-28. For more information about qualifying for and representing Team USA, visit usatriathlon.org/teamusa.

Duathlon Nationals participants, fans and media can access event information and track athletes' progress on course via the USA Triathlon Events App. The app, which features detailed athlete tracking, live leaderboards and results, event schedules and more, is free to download on the Apple App Store and Google Play Store. A desktop version of the app is also available by clicking here.

For complete 2021 Duathlon National Championships information, visit usatriathlon.org/du2021.

TOGETHER WE THRIVE: SPORT IS A HUMAN RIGHT CAMPAIGN
USA Triathlon will launch an awareness, education and impact campaign entitled "Together We Thrive: Sport is a Human Right," alongside the 2021 Duathlon National Championships in Tuscaloosa, Alabama.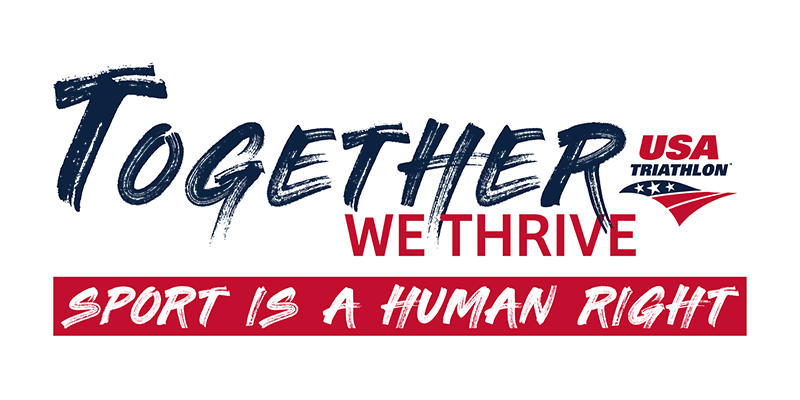 The campaign is part of USA Triathlon's overarching "Together We Thrive" initiative, which was launched in summer 2020 to combat discrimination, challenge inequalities and champion social justice in the multisport community and throughout the endurance sports industry. To learn more, visit usatriathlon.org/thrive. Individuals interested in becoming more involved with USA Triathlon's DEIA efforts are invited to email diversity@usatriathlon.org.

"At USA Triathlon, we believe that access to sport is a human right," said Rocky Harris, USA Triathlon CEO. "We recognize the positive impact sport has on living a happy and healthy life, and we believe it must be accessible and inclusive to all — which is why Diversity, Equity, Inclusion and Access is a guiding principle in USA Triathlon's Strategic Plan. This campaign will resonate across many communities and is particularity poignant when looking at the discriminatory legislation recently passed in the state of Alabama toward transgender individuals that is inconsistent with the inclusive nature of our sport. While we are in Alabama for Duathlon Nationals, our mission is to make it clear that the multisport community is a place where transgender individuals of all ages and their allies can feel safe, welcome and invited to participate freely as themselves."

USA Triathlon is committed to taking the following actions in support of the transgender community — in an effort to create both short- and long-term impact not only in Alabama, but also nationwide across all areas of multisport:
Visible Sport is a Human Right awareness and education campaign onsite in Tuscaloosa
Amplifying the work of LGBTQIA+ advocacy groups in Alabama, and connecting these groups with the local multisport community for collaboration and resource sharing
Activating the wider multisport community to drive change in our sport through ongoing proactive Diversity, Equity, Inclusion and Access education
Creating a long-term Together We Thrive: Sport is a Human Right program for coaches, clubs and race directors across the country that provides them with resources, tools and recognition to help build a future for the sport that all people can see themselves being a part of. While initially focused on states impacted by this discriminatory legislation, we will implement the program nationwide to empower, educate and engage everyone in multisport to drive actionable change in their respective local communities.
This will include, among others: Diversity, Equity, Inclusion and Access best practices; tips for raising awareness and fostering impactful conversations; explanation of transgender terminology and pronouns; SafeSport and anti-bullying resources; guide to creating a trans-inclusive club, event or coaching practice; tips for engaging all youth athletes while navigating this legislation; a pledge program for coaches, clubs and race directors to commit to inclusive practices, and public recognition for coaches, clubs and race directors that openly welcome ALL athletes.
MEDIA ACCESS AND PARKING
Media are permitted to enter the Tuscaloosa Amphitheater and access the finish line and other select coverage areas with a media credential. All members of the media must wear a face covering at all times and have their temperature checked by a USA Triathlon staff member or volunteer upon entry to the race venue. To request a media credential for onsite coverage, please contact Caryn Maconi, USA Triathlon Marketing & Public Relations Senior Manager, at caryn.maconi@usatriathlon.org or 443-534-5954.

Media are encouraged to park in the lot adjacent to the Tuscaloosa Amphitheater (near the train trestle bridge). Access to this lot on race days is only from the south via 28th Ave. It is not accessible from Jack Warner Parkway or Martin Luther King Jr. Blvd.

About Together We Thrive
Together We Thrive is USA Triathlon's Diversity, Equity, Inclusion and Access initiative. USA Triathlon and the USA Triathlon Foundation are dedicated to combating discrimination, challenging inequalities and championing social justice in the multisport community and throughout the endurance sports industry. Both organizations are committed to taking immediate and long-term action to encourage a culture of equality in the sport, build a future for the sport that all people can see themselves being a part of, break through barriers of entry to the sport for underserved and underrepresented individuals and communities, and take responsibility for empowering, exposing, educating and engaging the multisport community to drive actionable change in their respective local communities.

About USA Triathlon
USA Triathlon is proud to serve as the National Governing Body for triathlon, as well as duathlon, aquathlon, aquabike, winter triathlon, off-road triathlon and paratriathlon in the United States. Founded in 1982, USA Triathlon sanctions more than 4,000 events and connects with more than 400,000 members each year, making it the largest multisport organization in the world. In addition to its work at the grassroots level with athletes, coaches, and race directors — as well as the USA Triathlon Foundation — USA Triathlon provides leadership and support to elite athletes competing at international events, including World Triathlon Championships, Pan American Games and the Olympic and Paralympic Games. USA Triathlon is a proud member of World Triathlon and the United States Olympic & Paralympic Committee (USOPC).